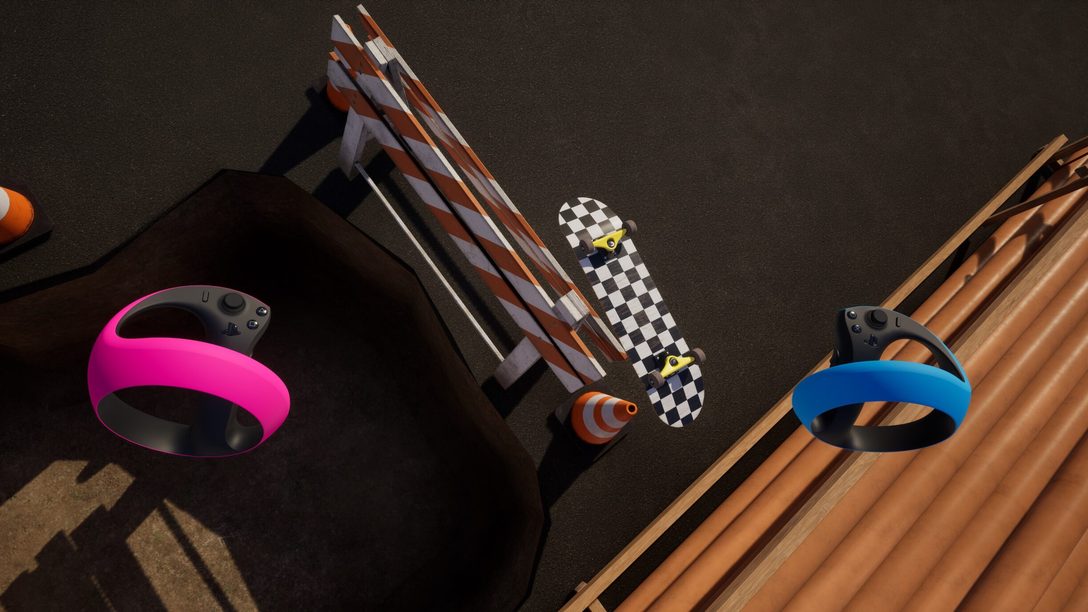 Plus details on customization, adaptive trigger support and more.
VR Skater is a highly immersive street Skateboarding game coming to PlayStation VR2 this Summer! It's a finely tuned mix of both arcade and simulation. Easy to learn but hard to master, the feeling you get after landing a difficult trick is like no other!
Today we're talking new features, experiences, and everything PlayStation VR2!
One thing all Skaters need to experience in VR is the Mega Ramp! From a gameplay point of view, the mega ramp allows Players to catch air like never before, pulling off insane flip tricks and huge grabs over the iconic Mega Ramp, made famous by Skateboarding Legend Danny Way. Usually, the key gameplay dynamic of VR Skater is all about street skating. So, as well as being highly impressive and something the community wants, it offers a different gameplay mechanic in this separate immersive experience. Something completely new to the world of VR.
Adaptive triggers
Announced first today on the PlayStation Blog, VR Skater will use the power of the PS VR2 to push immersion further! We plan to use the adaptive triggers to adjust tension when steering in-game. Giving the sensation of resistance you'd feel in a skateboard's trucks and bushings in real life. VR fans and skaters will love this announcement as we're trying to replicate even the most minor details of skating.
The controls replicate how tricks would be performed in real life. Swiping and scooping your hands as if they were feet to perform iconic skate tricks like kickflips, tre flips, hardflips, and many more! Feeling intuitive if you've ever stepped foot on a skateboard before. To perform grinds and slides, the player will hold buttons to apply rotation and pressure to individual sides of the board, giving players the freedom to skate how they want to. Whether it be tail or nose slides, 50-50 grinds, or many more. You can also work a series of grabs and the finger flip into your combos.
Customization
Skateboarding is a very creative outlet. From the tricks you perform, to the fashion and music embedded in the sport's history. Customizing your board is an essential part of Skateboarding. Announced first here on the PlayStation blog, players will be able to customize their boards and grip tape using the Print Tablet! Reach a certain XP level and you'll unlock the Print Tablet, allowing you to upload custom textures, and arrange them however you desire. This is a highly requested feature that we're stoked to announce today!
But how does customization in VR Skater work? Head to the VR Skate shop where you can find all new decks, trucks, wheels, and grip tapes that you physically apply to create your perfect setup. You'll be able to unlock new coloured decks, trucks, wheels & grip tapes by completing challenges and levelling up in-game. A feature that all skate fans are sure to love.
Who are Deficit Games?
Deficit Games is a small indie VR game studio from the Bavarian countryside founded in 2017. Before VR Skater, they released smaller mobile VR titles. Since founder and VR enthusiast Andi has strong roots in the skate and punk rock scene, looking at possible designs for a VR skateboarding game was a very organic decision. Then everything took its course and in 2022 the Early Access version of VR Skater was nominated for the German Games Award in the category of Technology and Innovation.
Both Perp Games and Deficit Games can't wait to release VR Skater into the wild this Summer on PlayStation VR2!
You can Wishlist the game now on PlayStation Store.