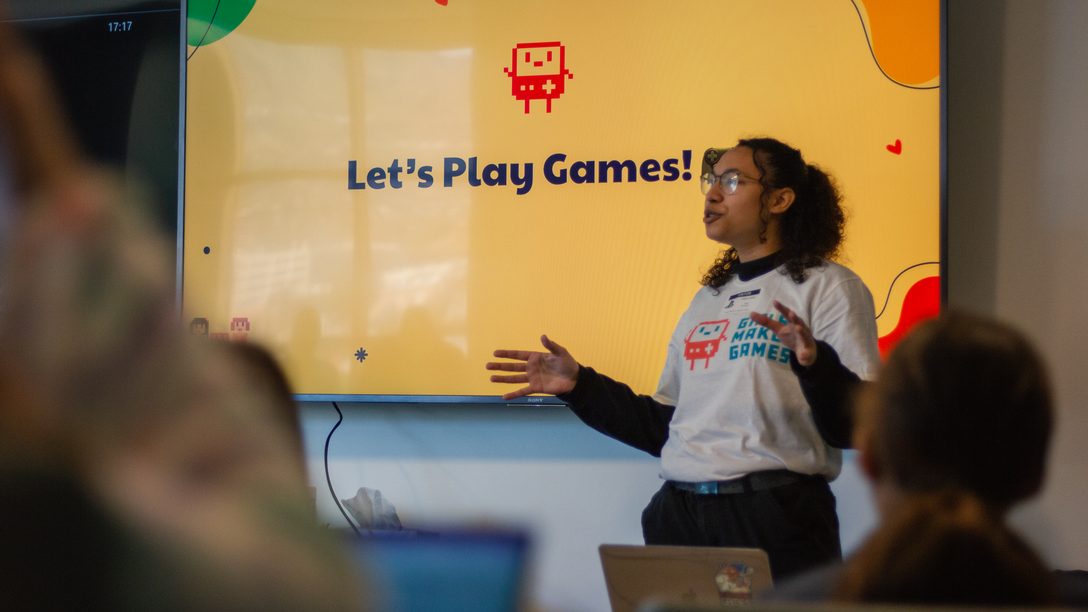 Aspiring developers visit Insomniac Games, Bend Studio, and Sucker Punch to learn with talented teams.
Each year, the workshops and activities from Girls Make Games (GMG) leave me feeling more proud, surprised and excited about the gaming industry than the last. Last year, women accounted for 48% of gamers in the United States, and at every level of the industry, women are accounting for more and more of the gaming workforce. Whether in development, publishing, marketing, competitive esports, journalism, or any other area of the gaming sphere, women are making their collective presence known and their individual voices heard.
Girls Make Games was founded to help cultivate the voices of the next generation of women in games, giving them a platform and the resources to pursue their passions. For this year's iteration, and in celebration of Women's History Month, Sony Interactive Entertainment provided participants with an unprecedented opportunity to visit with one of three development studios—Sucker Punch Productions, Insomniac Games, and Bend Studio—to learn, listen and connect with other young creatives in a welcoming and instructive environment.
Let's take a closer look at how each event went:
Sucker Punch Productions
This event invited attendees to participate in interactive workshops hosted by GMG instructors, allowing them to learn the nuts and bolts of game design, like art, sound and coding. Every GMG event is open to girls of all skill levels, but in this case, many attendees had already begun developing their craft.
"I was surprised by how many of our participants were so experienced already," said Brian Fleming, founder of Sucker Punch Productions. "For [some], it was perhaps their second or third event with GMG, and they were pushing well beyond the curriculum for the day. It was awesome to see!"
At its core, GMG is about engagement at the grassroots level, as part of a wider push throughout the industry to challenge an outdated culture of homogeneity. "I see GMG and similar efforts as the most impactful solution to the profound gender imbalance in our business," Fleming said. "It requires patience and a long-term view, but to my mind it's [a] real solution."
The workshops held at Sucker Punch's studio in Bellevue, Washington were broken into two groups, accounting for the different experience levels of each participant. Within those groups, each attendee was able to practice their skills and make their own individual contributions to a collaborative project.
Joanna Wang, Production Art Director for Sucker Punch Productions, highlighted the importance of encouraging each girl's specific interests. "They may like art, they may like coding—a little piece of how to make a game. And what we can do is give them the big picture view, explaining how those pieces fit together."
She continued: "We're showing them some of the tools needed to make a video game, and they can see what part of that process interests them. So hopefully, they can identify a personal strength, and start thinking about how they can apply that to their future."
Sucker Punch is known for many hit PlayStation titles, like the beloved Sly Cooper series and their most recent success, Ghost of Tsushima. But they still retain a tight-knit work environment. "We're big enough to have some exciting facilities: mocap, our foley studio—and of course snack bins in the kitchen," Fleming laughed. "But we're also small enough that I don't think it was overwhelming for them."
The welcoming environment helped encourage a creative mindset for each participant. "We really valued the fresh perspectives they brought, the questions they'd ask," Wang said. "One girl was into traditional painting, but wanted to translate that skill to video games. That motivated me in turn to bring that same creative energy to our own games—she wanted to be one of us, right? And that made me proud of what I do, but also proud of what she'll bring to the industry in the future."
She added: "Another girl asked me about what internships Sucker Punch offers! She was so ready, so into it. In moments like that, I can feel the passing of the torch to the next generation."
Insomniac Games
Located in sunny Burbank, California, Insomniac Games was founded in 1994, and their offices provided the perfect environment for the GMG workshops. "We had around twelve eager kids come through, from our local community here in Burbank to as far out as New Mexico," said Aaron Jason Espinoza, Sr. Community Manager at Insomniac Games. "We wanted them to learn not just about making games, but how games can affect players' emotions, and the importance of thinking about the player's experience."
After a brief tour of the studio and some photos with Ratchet's Omni-wrench and Rivet's hammer, participants sat down to meet with several key employees—or Insomniacs—to ask questions and learn about the many hands involved in making games. Animators, writers, audio designers, programmers, community managers; all of these and more shared their experiences with the group, and highlighted their contributions to the team's projects.
"It was a brilliant look at how game dev is a collaborative effort," Espinoza explained. "The kids were amazed at all the avenues they could take to pursue a life and career as a game developer." Participants then were given a chance to apply what they'd learned by developing their own side-scrolling platformer, and Espinoza was impressed by the results. "They were thinking about platform placement, enemy locations, and what worked best for the player's experience."
"The experience was awesome, and our team was delighted to host it," said Espinoza. "We can't wait to see what these kids do with the knowledge they'll develop as they grow into game developers themselves!"
Bend Studio
This workshop marked the first time that Bend Studio had ever hosted a Girls Make Games workshop, inviting thirteen participants from the local community to their offices in central Oregon. Like the other two events, this day of activities centered around the hands-on workshops that provided real experience in the basics of game development, as well as the opportunity to pick the brains of the women of Bend Studios.
"We started the workshop with a tour, showing the kids around the multiple floors of the building where our different departments sit and collaborate," said Kevin McAllister, Community Manager at Bend Studio. "Of course, the big Rager Bear statue received a lot of attention," he added with a laugh. After the tour's completion, participants settled in to start creating their own side-scrolling platformer, with the goal of realizing a finished product by the end of the day.
"They were so excited to see their work come to fruition and how their creativity turned into something they were truly proud of," McAllister said. "From cute little foxes to a blinking frog, the characters they created to implement in their level even had our own developers impressed by what they achieved in such a short amount of time."
As with the workshops held at the Insomniac and Sucker Punch offices, the developers encouraged each individual participant to identify a personal strength as it relates to game design and development, and sharpen that skill through the workshop's exercises. Following a lunch break, members of the Bend team from various disciplines within the studio hosted a dev panel to talk about their journeys into the gaming industry, share their roles and responsibilities, and answer questions from the attentive group.
Between the creative activities and the conversational discussions about finding a career in the gaming industry, the Bend team worked hard to deliver a well-rounded, informative, and fun experience for every attendee. "It was an absolute privilege for our team to host this incredible experience," McAllister said. "We had a lot of fun talking about games with the next generation of game developers. Maybe one day, we'll even see them working on a future project at Bend Studio!"