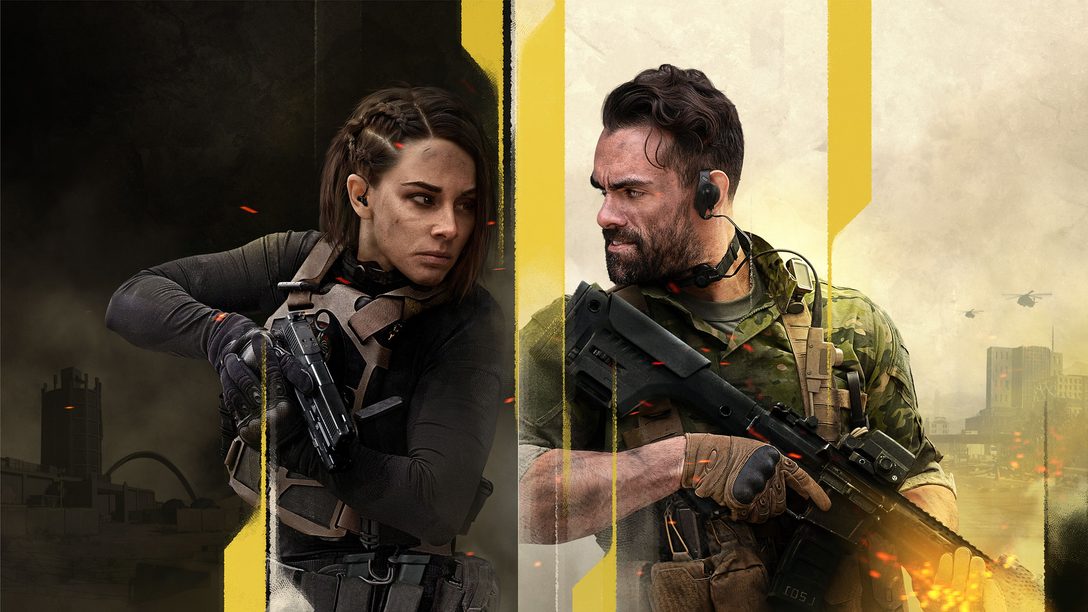 This season marks the return of Plunder, Gunfight, Cranked, and GW Infected, plus battle across four new Multiplayer maps and more.
With five new Multiplayer maps, four new game modes, and a new Special Ops Raid, prepare for a massive content offering in Season 03 of Call of Duty: Modern Warfare II and Call of Duty: Warzone 2.0. Alejandro and Valeria return to settle the score, Resurgence expands to Al Mazrah, and Ranked Play for Warzone 2.0 sets the battleground for the most competitive Operators.
Season 03 launches on PlayStation on April 12. Now onto the intel.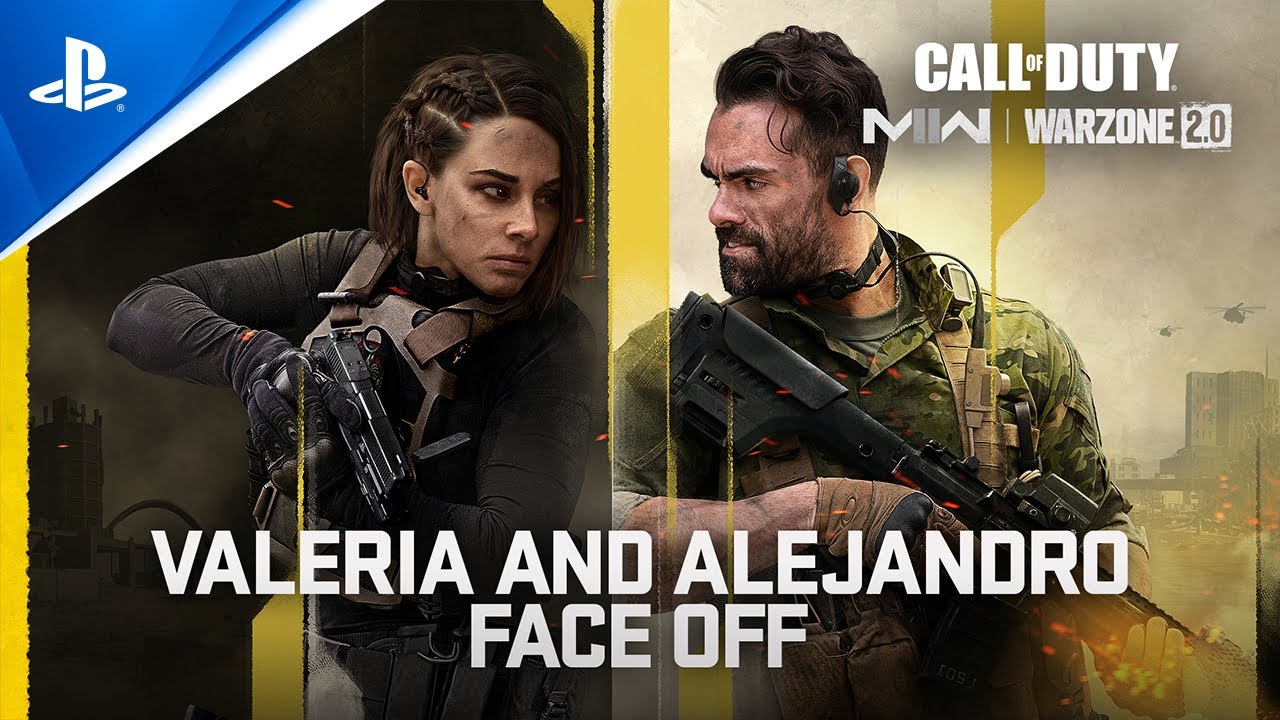 Modern Warfare II Brings Gunfight, New Maps and Modes
Gunfight
Prepare for 2v2, multi-round cage matches as Gunfight makes its debut in Modern Warfare II. Players start each round with the same random Loadout, which changes every other round. Eliminate the enemy team or capture the Overtime flag to win the round. The first team to win six rounds takes the match.
Gunfight will support four maps at launch, including new maps Alley, based somewhere in Al Mazrah, and Blacksite, which is the new Gulag in Battle Royale.
New Core and Battle Maps
Pelayo's Lighthouse (Core Map, Launch): A storm rages over this island battleground as Operators take position in the Main Building, set up in one of the scattered maintenance buildings throughout, or brave it in the open.
Black Gold (Core Map, Launch): Infiltrate Al Mazrah's Rohan Oil in Black Gold, the first iteration of night ops in Modern Warfare II. Use your night vision goggles and the available light sources to track down and eliminate the enemy team.
Rohan Oilfields (Battle Map, Launch): Expanding on Black Gold, the Rohan Oilfields Battle Map widens the arena around this Warzone 2.0 point of interest, adding vehicles for rapid transport.
Sattiq Cave Complex (Battle Map, Launch): Explore a network of caves, battle through small buildings, and set up by the downed plane in an area that should recall fond memories for longtime fans of the series.
A fifth brand-new Core Map will additionally launch in the midseason.
Get Cranked, Fight the Horde in GW Infected
Two series-favorite game modes are making their way to Season 03:
Cranked (Launch): Eliminating an enemy activates a timer. Get another elimination before it hits zero or — boom! — you're out.
GW Infected (In-Season): Experience Infected on a bigger stage as you fight to survive against the horde on GW maps. Coordinate with your teammates to set up a defense. When you're infected, take them down.
New Multiplayer Ranked Play Rewards
A new season brings new Multiplayer Ranked rewards. Earn rewards for winning Ranked Play matches, plus get new Operator Skins and cosmetics for placing within the Gold Division or above. Get extra rewards for placing in the Top 250 or finishing the season as the top-ranked player in the world.
Raid Episode 03 Comes to Special Ops
Take on the Las Almas Cartel in a new Special Ops mission and regroup with Task Force 141 as they embark on Raid Episode 03 in the midseason update.
Call of Duty: Warzone 2.0 Adds Massive Resurgence, Plunder
Massive Resurgence (Launch): Massive Resurgence is coming to Al Mazrah; taking place across the entire map, this mode features a higher player count to better fit the playing field.
Plunder (In-Season): Eliminate enemy Operators, scavenge Supply Boxes, complete contracts and in-game events, and search out loose Cash. In Plunder, it's all about who can get the richest, quickest. Respawns are enabled and Loadouts are available from the start so you can get right to the money on deployment.
New Gulag: Set to replace the current version, a new Gulag is coming to Al Mazrah. Modern Warfare II players who drop into Gunfight will get a taste of the map in Blacksite.
New Features and Items
Al Mazrah Redeploy Drones (Launch): The Redeploy Drones currently flying over Ashika Island are making their way to Al Mazrah. Use their power to launch toward your next target objective.
UAV Towers (Launch): Sweep the surrounding area for enemy positions using the new UAV Towers, first discovered in DMZ and coming soon to Battle Royale. Note that activating the tower alerts enemy squads, so be ready.
Tempered Plate Carriers (In-Season): Tempered Plate Carriers require fewer Armor Plates to fill, so replating is speedier and more efficient.
Decontamination Station (In-Season): Gas closing in fast? Set down this Field Upgrade, which provides a safe atmosphere within the gas that lasts several seconds. This is a vital strategy in surviving the final circle collapse.
Perk Package Items (In-Season): Players who prefer looting up in the environment instead of calling in a Loadout Drop will now have a means of securing Perks with preset Perk Packages found in Supply Boxes and at Buy Stations.
Deployable Buy Station (In-Season): Even in the farthest reaches of the map, you can still buy the necessary items by activating the Deployable Buy Station. This portable version features limited stock.
Gulag Entry Kit (In-Season): Eliminated again? You're not out of luck yet. Operators with a Gulag Entry Kit on hand can battle in the Gulag for a second time for another chance to return to the field.
High-Capacity Plate Carrier (In-Season): Carry more Armor Plates for those drawn-out fights.
Arriving Soon — Battle Royale Ranked Play
Launching in the midseason, Call of Duty: Warzone 2.0 Ranked Play takes Battle Royale to new competitive heights as Trios climb the ranks to the Top 250. Watch and learn from the best in the upcoming World Series of Warzone, featuring the tournament's first ever in-person Global Final.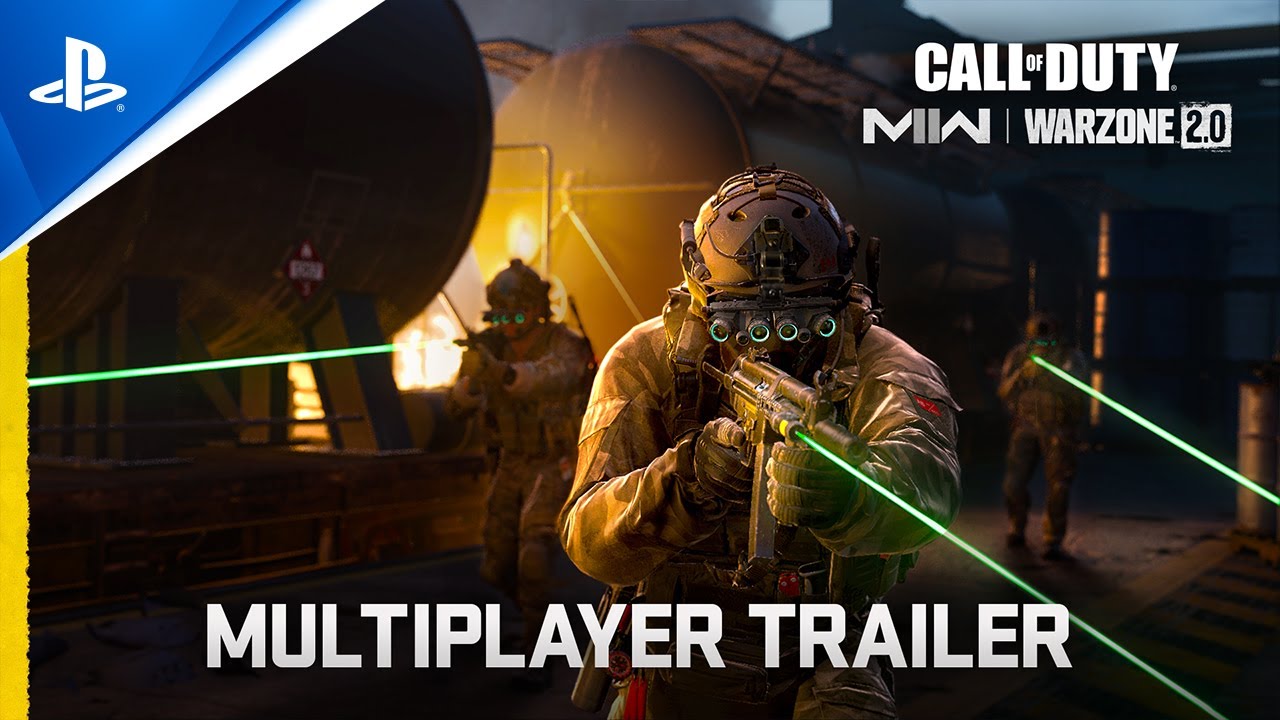 New DMZ Features: Barter System, Workbench, New Faction and Missions
Barter System: Trade unwanted items in your inventory using the new Barter Systen feature found at Buy Stations.
Workbench: For a small fee, add and remove attachments on Contraband weapons. Equip any unlocked attachment on that weapon's platform. Found near Buy Stations.
Active Duty Operator Slots: Select from three different Operators when deploying to the DMZ, each with their own inventory, Backpack, Plate Carrier, Killstreaks, Self-Revive, and Gas Mask. Decide whether you want to deploy your best-equipped Operator or a raw recruit.
New Faction, Missions, and Bosses: A new faction enters the fray, offering three tiers of faction missions and more to come in-season. Brace for new bosses being deployed around the exclusion zone, and seek out concrete intel on the rumors circulating about something deep underground in Al Mazrah.
With other features coming, like new Backpack and Plate Carrier types, you know you're in for some big battle in Season 03.
New Operators, Including Rivals Alejandro and Valeria
Formerly fighting side by side in the Los Vaqueros unit of the Mexican Special Forces, Alejandro Vargas and Valeria Garza are now bitter rivals.
Alejandro: Born and raised in Las Almas, Alejandro spent over a decade as a high-ranking member of Los Fuerzeas Especiales, the Tier 1 Mexican Army Special Mission counterterror unit. His unit, Los Vaqueros, is the only one in the country authorized to work alongside international Special Operations Forces, including those at the CIA headed by station chief Kate Laswell.
Valeria: A former Mexican Army commando who used to work alongside Alejandro, Valeria defected to enforcing cartels in 2014 and ultimately ascended to power as the leader of the Las Almas Cartel. She now works under the name El Sin Nombre — the Nameless One.
Expect more Operators to join the ranks throughout the season.
New Weapons
Season 03 brings four new weapons in total. Once you earn these, you can use them across all modes. Two of them are earned for free within the Battle Pass:
FJX Imperium Sniper Rifle: Engineered destruction at its finest, this anti-personnel, bolt-action sniper rifle intervenes in tense situations with hard-hitting .408 rounds.
Cronen Squall Battle Rifle: A bullpup, semi-automatic rifle chambered in 6.8 Wrath and designed for distance shooting and exceptional damage output.
Earn two more weapons launching in the midseason either by purchasing a Store Bundle or completing a weapon unlock challenge.
New Seasonal Event and Camo Challenges
During the Season 03 Trophy Hunt event, enemy Operators will drop a trophy whenever they are eliminated in any mode. They can also be found by other means, such as within Supply Boxes. Exchange these trophies for event rewards like Weapon Blueprints, Vehicle Skins, and even Battle Pass Token Tier Skips.
Look for the midseason Camo Challenge event, too, giving players the opportunity to earn new seasonal camos.
PlayStation Combat Pack
Beginning April 19, PlayStation Plus members will be able to download the Season 03 Combat Pack, featuring a new Operator Skin for Oni consisting of an updated gold face mask and high-tech shoulder padding.
The Season 03 Combat Pack also includes the "Striking Distance" Assault Rifle and "Show Stopper" SMG Weapon Blueprints, the "Prepared to Fight" Sticker, "Tusk to Horn" Emblem, "Oni Ready" Weapon Charm, and the "Crumbling" Calling Card.
Out-of-Combat Improvements
BlackCell: Set to replace the current Battle Pass Bundle, the BlackCell offering includes everything in the original Bundle and more, including a BlackCell Operator with Animated Camo plus a Weapon Blueprint, Vehicle Skin, and Finishing Move. Begin your Battle Pass journey in an alternate BlackCell Sector, which offers a unique entry point to the rest of the Battle Pass Map that allows you to unlock higher value items more quickly. In addition to all this exciting content, BlackCell will also include a BlackCell Bonus Topper of 12 Operator Skins as well as the Season 03 Battle Pass plus 20 Battle Token Tier Skips– 25 if you are a PlayStation player – access to the BlackCell Sector provides something for everyone.
Automatic Pathing: If you'd rather unlock Battle Pass items in a linear fashion, the new pathing feature offers an automatic path through the different Sectors. Players can switch between Automatic and Manual pathing at will.
Season 03 of Modern Warfare II Launches April 12
Purchase Modern Warfare II on PlayStation today, and get access to a load of content across three modes, including the ability to unlock 14 exclusive Operators for use across both games. Modern Warfare II owners also get Premium XP while playing Call of Duty: Warzone 2.0, awarded at the end of every match.
Stay frosty.