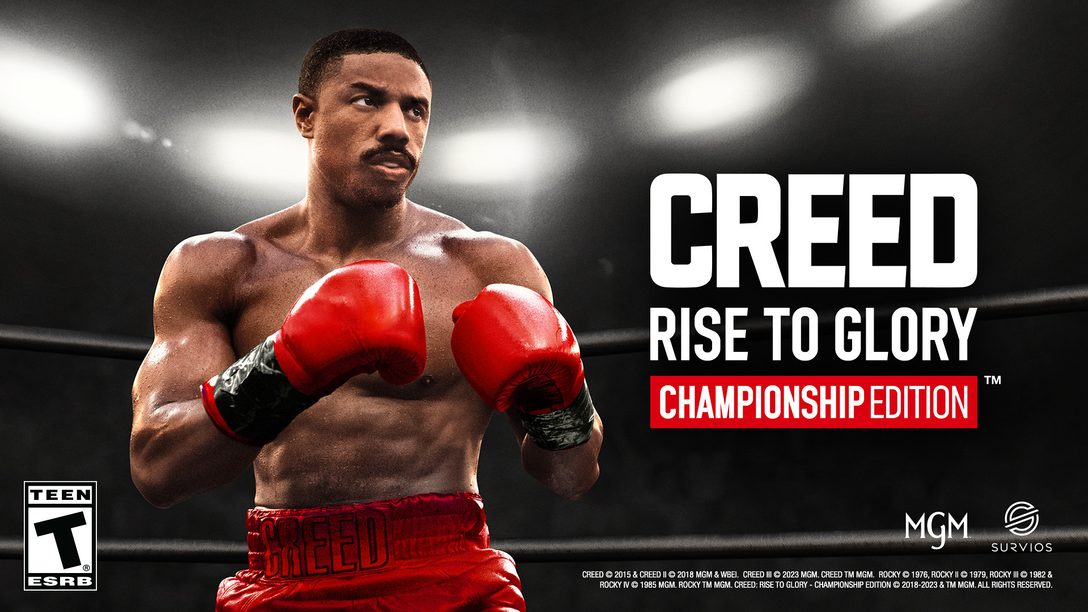 In-depth gameplay details including Fitness Mode, Endurance Mode, and cross-platform PVP.
Hey Internet people, this is Yasmine from the Community team at Survios. We're excited to bring PS Blog readers an in-depth look at Creed: Rise to Glory – Championship Edition, the upcoming remaster of the 2018 Creed: Rise to Glory where you train as Adonis Creed under the tutelage of the legendary Rocky Balboa on your journey to become a boxing champion, coming April 4 for PS VR2. Following the release of Creed III in theaters nationwide, Creed: Rise to Glory – Championship Edition will feature new boxers, a Muscle Beach location based on the film, plus plenty of additions that will deliver an enhanced and expanded version of the original. With the weekend coming, we want to share what makes this remaster special with an in-depth look at the new game content PS VR2 players can get their hands on this Tuesday.
Endurance Mode to pull no punches
Want to take a step further and test your boxing skills to the limit? That's where Endurance Mode comes in, making its debut on PS VR2. By removing the virtual stamina system, your character only gets tired when you're tired, resulting in a more intense and realistic bout.
Further tailor your experience in fight settings to scale your opponent's difficulty by adjusting their health and damage modifiers. Practice your chops in Rookie Mode or scale up to Pro to lock horns with boxers of all calibers – the fight is yours to own.
Fitness Modes for the ultimate workout
Give them the ole' one-two with the addition of Fitness Mode for either Calorie Sparring or Timed Sparring. Fitness goals are unique to everyone, so we created settings that allow you to meet your personal calorie or time targets, and build a training regimen that best fits your needs. We've also included the option to bake in rest periods to trigger as often and as long as you prefer.
PvP Mode
We don't take the "Championship Edition" part of our title lightly, which is why we optimized PvP Mode in our remaster with new and improved matchmaking algorithms. Take the championship title from friends and foes as you strive to make it to the top. We're thrilled to support cross-platform play, so you can go tit-for-tat against Meta Quest 2 opponents. We also included Codematching for players to set custom codes and share with others to streamline connection, no friend's lists required.
New arenas, characters, and costumes
Beyond the plethora of new and improved modes we've brought to Championship Edition, we have included 3 new arenas, 8 new characters, and a costume system with nearly 100 looks sure to shake up a crowd. For the Deluxe Edition, receive an additional 22 "Glow" costumes that are sure to draw some eyeballs.
We're so excited at Survios to bring you Creed: Rise to Glory – Championship Edition and we hope you'll be able to get your fight on, no matter how you want to play. PlayStation Plus users can pre-order now to receive a 10% discount and a timed exclusive Adonis Creed costume.
Until then, let us know in the comments what you're most hyped about!