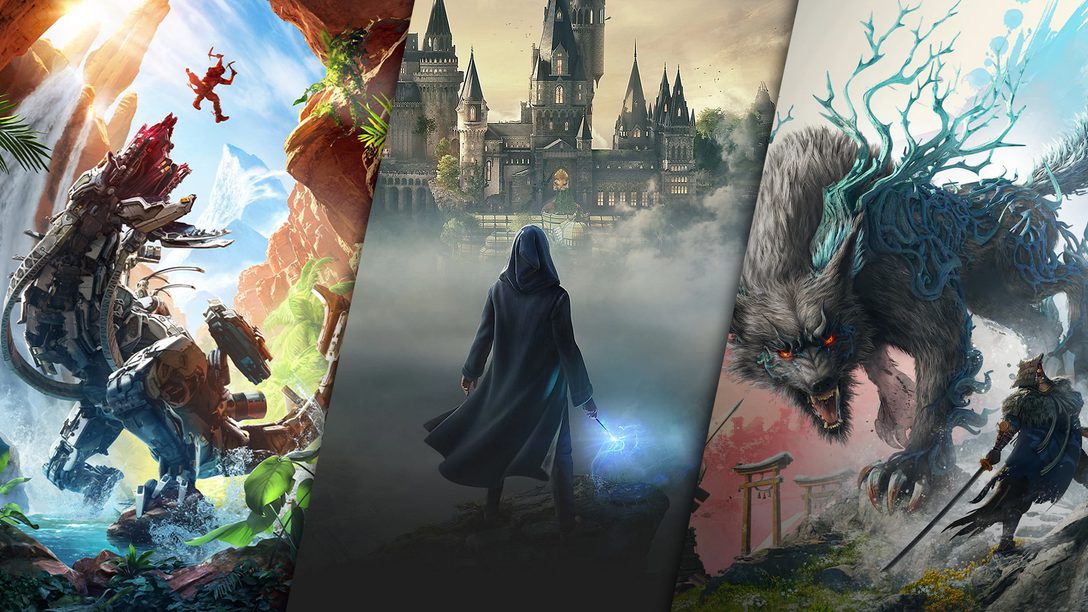 What titles received the most love?
It's time to see which top downloads for PS5, PS4, PS VR2, and F2P received the most hearts and candy. The US and EU PS5 charts have the same top pick for February, while the US and EU PS4 charts also had the same front-runner. Newcomers Wild Hearts, Football Manager 2023, and Hogwarts Legacy all landed in the top ten.
Check out the full listings below. Next month, we'll reveal the top downloads for March 2023.
PS5 Games
| | | |
| --- | --- | --- |
| | US/Canada | EU |
| 1 | Hogwarts Legacy | Hogwarts Legacy |
| 2 | NBA 2K23 | Grand Theft Auto V |
| 3 | Grand Theft Auto V | Football Manager 2023 |
| 4 | Madden NFL 23 | FIFA 23 |
| 5 | Call of Duty: Modern Warfare II | Call of Duty: Modern Warfare II |
| 6 | The Last of Us Part I | NBA 2K23 |
| 7 | FIFA 23 | The Last of Us Part I |
| 8 | Dead Space | GRAN TURISMO 7 |
| 9 | Atomic Heart | Atomic Heart |
| 10 | Wild Hearts | It Takes Two |
| 11 | GRAN TURISMO 7 | Need For Speed Unbound |
| 12 | Gotham Knights | Resident Evil Village |
| 13 | Need For Speed Unbound | F1 22 |
| 14 | Marvel's Spider-Man: Miles Morales | Dead Space |
| 15 | NHL 23 | Assassin's Creed Valhalla |
| 16 | WWE 2K22 | Wild Hearts |
| 17 | Like a Dragon: Ishin! | Among Us |
| 18 | God of War Ragnarök | Madden NFL 23 |
| 19 | Resident Evil Village | WWE 2K22 |
| 20 | It Takes Two | Cyberpunk 2077 |
*Naming of products may differ between regions
*Upgrades not included
PS4 Games
| | | |
| --- | --- | --- |
| | US/Canada | EU |
| 1 | The Last of Us Part II | The Last of Us Part II |
| 2 | Minecraft | Minecraft |
| 3 | NBA 2K23 | The Forest |
| 4 | Red Dead Redemption 2 | FIFA 23 |
| 5 | Madden NFL 23 | Red Dead Redemption 2 |
| 6 | Call of Duty: Modern Warfare II | Grand Theft Auto V |
| 7 | Grand Theft Auto V | The Last of Us Remastered |
| 8 | The Forest | NBA 2K23 |
| 9 | The Last of Us Remastered | Mafia II Remaster |
| 10 | FIFA 23 | Call of Duty: Modern Warfare II |
| 11 | Gang Beasts | A Way Out |
| 12 | Mafia II Remaster | Gang Beasts |
| 13 | Need for Speed Heat | Monopoly Plus |
| 14 | Batman: Arkham Knight | Need for Speed Heat |
| 15 | WWE 2K22 | WWE 2K22 |
| 16 | ARK: Survival Evolved | Need for Speed Hot Pursuit Remastered |
| 17 | Sekiro: Shadows Die Twice | F1 22 |
| 18 | A Way Out | ARK: Survival Evolved |
| 19 | EA Sports UFC 4 | Among Us |
| 20 | theHunter: Call of the Wild | EA Sports UFC 4 |
*Naming of products may differ between regions
PS VR2 Games
| | | |
| --- | --- | --- |
| | US/Canada | EU |
| 1 | Kayak VR: Mirage | Kayak VR: Mirage |
| 2 | Pavlov | Pavlov |
| 3 | Horizon Call of the Mountain | Horizon Call of the Mountain |
| 4 | Star Wars: Tales from the Galaxy's Edge | Star Wars: Tales from the Galaxy's Edge |
| 5 | PISTOL WHIP | Moss: Book II |
| 6 | Moss: Book II | PISTOL WHIP |
| 7 | Swordsman VR | Job Simulator |
| 8 | Drums Rock | Swordsman VR |
| 9 | NFL PRO ERA | Drums Rock |
| 10 | The Light Brigade | After the Fall |
*PS Store purchases only. Game upgrades or games bundled with hardware not included
Free to Play (PS5 + PS4)
| | | |
| --- | --- | --- |
| | US/Canada | EU |
| 1 | Call of Duty: Warzone 2.0 | Call of Duty: Warzone 2.0 |
| 2 | Fortnite | Fortnite |
| 3 | Apex Legends | Rocket League |
| 4 | Destiny 2 | Fall Guys |
| 5 | Rocket League | Destiny 2 |
| 6 | Overwatch 2 | The Sims 4 |
| 7 | Fall Guys | Apex Legends |
| 8 | The Sims 4 | eFootball 2023 |
| 9 | eFootball 2023 | Overwatch 2 |
| 10 | MultiVersus | Genshin Impact |