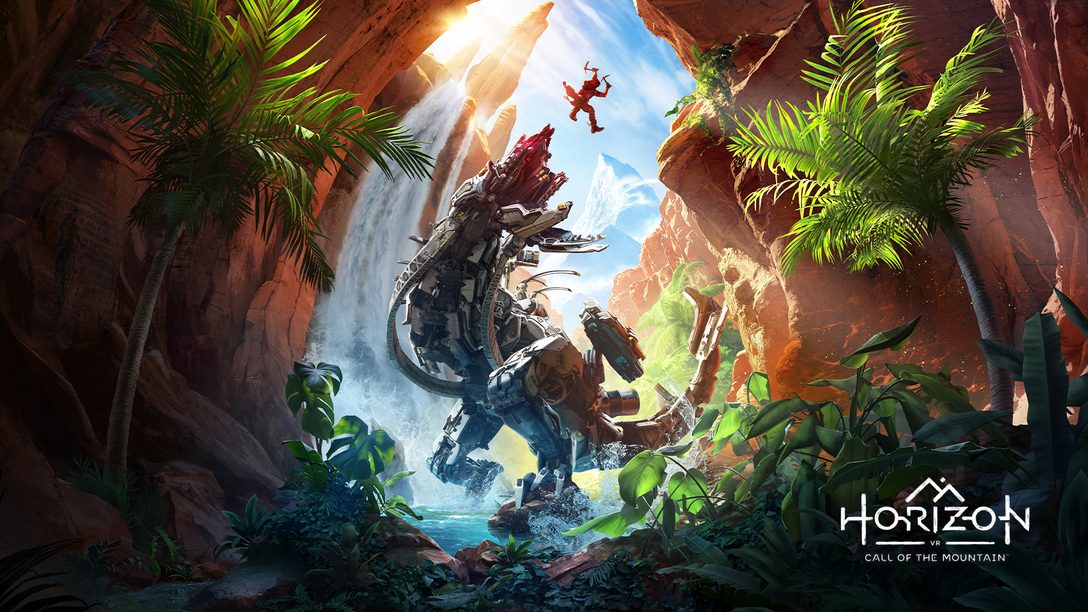 Guerrilla and Firesprite talk redesigning machine combat, haptic feedback and welcoming a new composer to the Horizon soundscape.
PlayStation VR2's launch is fast approaching, and it'll be bringing a whole new wave of stunning, wholly immersive experiences to the PlayStation ecosystem. Among the most anticipated launch-window titles is Horizon Call of the Mountain, an all-new adventure set in the world of Horizon. As you become Ryas, a disgraced soldier seeking a path to redemption, you'll experience the beautiful landscapes and fearsome machines of Horizon like never before. Guerilla and co-developer Firesprite have specially crafted this PlayStation VR2-exclusive adventure to showcase PlayStation VR2's features.
We talked with several members of the development teams at Guerrilla and Firesprite to learn about the processes and challenges of creating Call of the Mountain's vast VR world, as well as what players can expect from this spectacular launch title.
Haptic feedback and headset feedback immerses you in the world:
Alex Barnes, Associate Game Director at Firesprite, was chomping at the bit to integrate PS VR2 features into the game in a big way. "The PS VR2 Sense controllers and headset haptic feedback have been integral for us in building a world that feels alive around you in PS VR2," he says."From feeling the weight of an enormous Thunderjaw slam down beside you to the building tension as you pull back a bowstring to unleash an arrow, the state-of-the-art haptics allows us to show what it feels like to be fully immersed in the world of Horizon. This is a whole new medium to give feedback to the player in VR that feels incredibly rewarding."
Seeing players and their reactions to all the big and small events is particularly satisfying to Barnes. "It's always special seeing people react to moments like the sensation of a Stormbird's wings beating as it flies by," he adds.
Redesigning machines for a new POV:
Since you see the action from the eyes of Ryas, the developers had to make some adjustments to Horizon's famous mechanical terrors. "The team wanted to ensure that the impressive machines were elevated to new heights in Horizon Call of the Mountain," notes Richard Oud, Studio Animation Director at Guerrilla. "When seeing them up close, they feel even more imposing and realistic thanks to the added sense of scale. This level of immersion, achieved by the virtual reality space, brings each machine to life in a way players haven't experienced before."
Because of the first-person, all-surrounding point of view, the models and animations for several machines had to be re-adjusted, Oud explains."The VR headset allows for a more detailed and interactive experience and for players to see the machines from new angles. A lot of work went into redesigning the combat and animations to allow for this. And even more attention has been put into readability during combat to make sure the attacks and behavior of machines are clear from a new perspective. Players can now use their physical movements to strafe around, aim, and shoot, adding an extra level of realism and action to the battles."
What it's like working with a new composer to create a new soundscape:
As Guerilla's Audio Director Bastian Seelbach describes, making new audio that fits the mood and style of the Horizon series for a VR game like Call of the Mountain was another challenge. "We wanted our approach to Horizon Call of the Mountain's soundtrack to connect closely to the style we established for Aloy's adventures in Horizon Zero Dawn and Horizon Forbidden West."
The team sought out the expertise of composer Alistair Kerley. "Our goal was for players familiar with the franchise to feel at home instantly. [Kerley] quickly convinced us with his take on our themes that beautifully found that balance between Aloy's journey and what we were doing with Call of the Mountain. Ryas' Theme immediately fits into the Horizon world while having its own fresh, recognizable, distinct sound. We couldn't be happier with the results, and we're looking forward to our players experiencing the world of Horizon through the musical lens of Ryas."
Adapting the world of Horizon to VR:
The Horizon series is known for its beautiful landscapes and engaging gameplay, but it's also known as a tightly-made third-person, flatscreen experience. Why bring the series out of its "comfort zone," so to speak? "Horizon Call of the Mountain is a unique, new Horizon adventure that the team has built from the ground up for PlayStation's next-gen VR hardware," says Jan-Bart van Beek, Studio Director and Studio Art Director at Guerrilla. "VR tends to be an intense gaming experience, and it has been great to leverage the new PS VR2 hardware as it offers players an authentic experience where they're immersed in the game world on a whole other level."
The development team saw creating a new type of Horizon gameplay experience that stayed true to a series as an exciting prospect. "With Horizon Call of the Mountain, we challenged ourselves to make a game that would be a fantastic gaming experience, not just for veterans of VR but for newcomers as well," van Beek points out. "We're looking forward to players stepping into a world that feels alive and immersive and allows them to enjoy a deep level of interaction with the world through their own hands."
Designing Ryas' bow:
The weapon Ryas will be using most frequently is his trusty bow. With the player seeing the weapon frequently from a first-person perspective, nailing the design and functionality of the weapon was tantamount, as Firesprite's Associate Art Director Rob Sutton explains. "When designing Ryas' bow, we took inspiration from Horizon Zero Dawn's Shadow Sharpshot Bow due to Ryas' connection to the Shadow Carja. As time has passed, Ryas has made his own upgrades and customizations, partly to make a more effective weapon but also to distance himself from his Shadow Carja past."
The designers knew that the bow would be one of the most common sights during the game and wanted it to feel like a character. "As the player would never see Ryas' face, we started to think of the bow as a representation of him. We knew it had to feel awesome and realistic in VR. All the mechanisms and joints needed to function correctly, as you would be able to see them up close." Sutton ensured no details were spared: "For example, when the bow is fully drawn, small carbon fiber feathers at the top open out; I always thought of these as some kind of threat display you might see in birds!"
As you can tell, Call of the Mountain was designed as a special experience for series fans and newcomers–one that the developers poured much thought, love, and effort into. Come February 22, you'll be able to experience the amazing technology powering PS VR2 and take Ryas' destiny directly into your hands with the most immersive Horizon game yet.