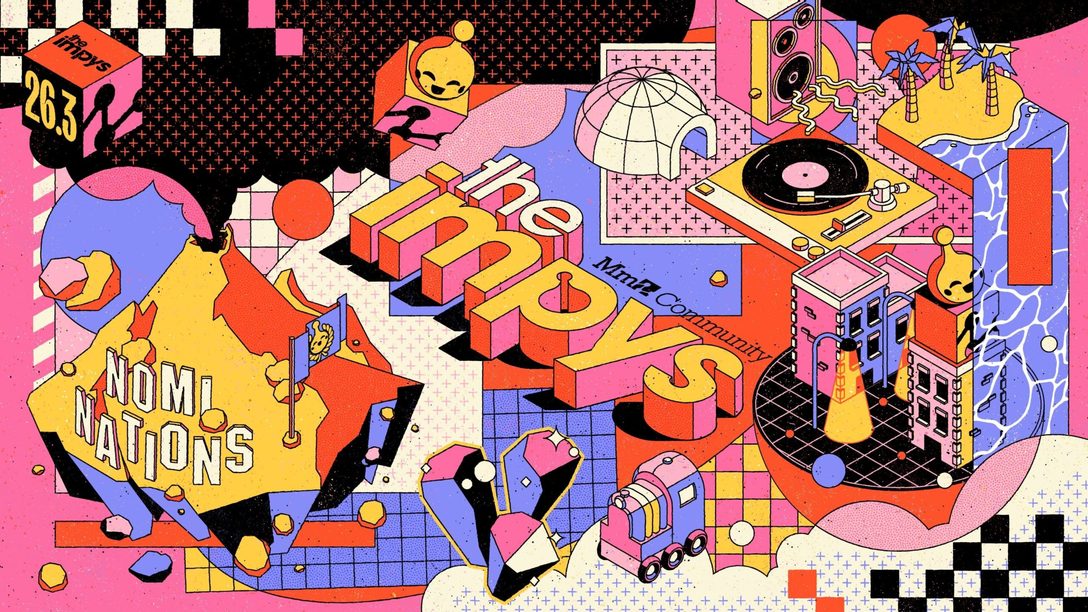 This year's shortlist revealed, plus everything you can expect from our livestream celebrations.
Huge, possibly day-altering news: It's nearly time for the 4th Annual Impy Awards! The Impys is our yearly event where we celebrate the very best things made in Dreams over the past year, as well as the lovely coMmunity in and around it. Back in November, we opened up nominations – and loads of you submitted your favorite creations, creators and coMmunity members for awards consideration across a whopping 23 categories. Cheers for doing that!
We're currently in the middle of putting together a fabulously over-the-top awards show on Sunday March 26 at 9am PT / 5pm GMT to announce the winners of this year's Impy Awards – some judged by us with the help of friends from across the creative industries, with others voted on by the CoMmunity. (More on how to vote in a bit!)
How fabulously over-the-top, you ask? Well, we couldn't seem to find the perfect venue for our awards show this year, as some places have very strict safety rules around fire and giant flesh-monsters (honestly, you can't have any fun these days). So we simply created our own in Dreams! A whole archipelago, in fact. Here's a cheeky little peak at some of the virtual sets we'll be livestreaming from:
'Peak'? Eh? Because of the mountain? …Wow, tough crowd. Fine, here are some more:
We thought we'd take advantage of all this extra space by turning this year's Impys season into a multi-day festival – and combining our real-world selves with the virtual world. In the lead-up to the main awards show on March 26, we'll be hosting several livestreams from the beautiful Nomi Nations on our Twitch channel. We've got all sorts of events on the schedule, from behind-the-scenes interviews with our developers and coMmunity artists, to musical performances, highlights reels from the past year and much more.
Our first stream on the road to this year's Impys kicks off today. Join us at 9am PT / 5pm GMT over on Twitch, where we'll be celebrating Dreams' 3rd birthday with a look back at the year just past – and a very special coMmunity quiz.
Meanwhile, if you'd like to secure some coveted real estate of the Nomi Nations for yourself, why not get involved in our latest coMmunity challenge in Dreams by customizing your very own floating island? Imagine what you could build on your very own piece of paradise. A frog pond filled with lemonade! Seventeen cars! Another identical, but much smaller, island! The possibilities are truly endless. Head to the front page of DreamShaping in game to get started with one of our handy island templates. We'll be featuring your creations in–game and, of course, checking them out on our Impys livestreams.
Time to bring you out of the clouds and back down to Earth, though. Let's reveal which amazing Dreams creations and creators made the final shortlists for the 4th Annual Impy Awards.
Before we get into it, a reminder: the following categories are coMmunity–voted, meaning the winner is decided by all you arbiters of good taste out there.
Community Collaboration
Most Helpful Dreamer
Breakthrough Dreamer
Curation Star
Contribution Beyond Dreams
Evolving Experience
Innovation in Create
Community Star
Don't forget to vote for your winners via this survey by 23:59 GMT on Tuesday February 21 for your vote to be counted!
And now, without further ado… the nominees.
Creation of the Year
HeliTaxi – atheistsw, arepera, Zodira
DreamsFest 22 – The DreamsFest Team
Bo's Island – byvsen, Fr0d0_FragginS79
Trip's Voyage – Eupholace, Aevox23, actualjimmyjam
Friend_Request – Frostadoodle
RID – Memories of the Elders – LordBruce, Camian
SWORD OF AKAANA: Final Demo – luke_972, rukkurt
GAIA HAWK – talc33
ZED EXODUS II – TRIX9, shandyboy1975, oLiamS47o, RAKeogh, talc33, Joeycutts83
Tides – venwave
Creator/Team of the Year
Bohalaa
The DreamsFest Team
Eupholace
The InfiniDreams Team
RedSeikatsu-
Todu
Tricobalt
The ZED EXODUS Team
venwave
willow_the_bob
Community Star
MrCaseyJones
NotreDamin
Nephrendil
Yah_Deh
InfiniDreams
KeldBjones
Elca_Gaming
UglySofaGaming
xMightyViciousx
RedSeikatsu-
Community Collaboration
Community Garden Events – Nephrendil
GIBLETS 2 – TRIX9
DreamFlix Season 2 – KeldBjones
Il était une fois… – Infinidreams
DreamsFest 22 – The DreamsFest Team
Most Helpful Dreamer
TAPgiles
VYZiUM-
OgTheEnigma
Intrattackout
LucidDreamChaser
Breakthrough Dreamer
MarshallsAccount
BOOMAN_2284
franzeboy
PickleWickle0
Orue223
Curation Star
UglySofaGaming
Orue223
FlashMedallion
LadyLexUK
FluffynSassy
Contribution Beyond Dreams
xMightyViciousx & James_Wilson11
Elca_Gaming
Keduko_
The InfiniDreams Team
Kimerakii
Excellence in Sculpture
Introducing: Fly-Million! – dinox11
Giga Bust – iDexTiGer
Imp – lillouakola81
Sooty's Flower Shop – SootyPinions
Portraits – ZIIQ
Excellence in Art Direction
Trip's Voyage – Eupholace, Aevox23, actualjimmyjam
WEB OF METAL – Intrattackout
Jungle Bill 2 – NibblersBox
The Quest For Self Confidence – Todu
Housewave (+ TreeHouse) – venwave
Excellence in Environment Art
Somewhere Between, Part 1: A Walk in the Park – BADROBO82
Epsilum – Jaavaa, MultiMoo, IansaneArtist
Vineland 2 – ZIIQ, VitaminG_90
Into the Mist – Parkderk
SWORD OF AKAANA: Final Demo – luke_972, rukkurt
Excellence in Animation
AstroThumb Stories 2 – arseny3d
Duet II – bvysen
Scraps – MitterMak
Caféwave (Animated Painting) – venwave
Animals Gone Missin' – willow_the_bob
Excellence in Gameplay
HeliTaxi – atheistsw, arepera, Zodira
Trip's Voyage – Eupholace, Aevox23, actualjimmyjam
Friend_Request – Frostadoodle
Housewave (+ TreeHouse) – venwave
Chip Off The Old Block – VinceKully, ghostfruit64
Most Original Gameplay
metA Innocence – FeyzPS
R.I.F.7 (Spot the difference) – KabarudonphaN18, xMorpheuus
A Kid's Journey to One-Shot Everything Idle – Nicco555, Computer_Cat
STRAIN | DreamsCom22 demo – Orksom
Cubus – StinoAlpino, DeDefourkes
Music Track of the Year
goth egg | slip and fall – Cfulljames, KaTMalenjamz
THE INVENTOR'S MACHINE – Gianni_no_Mitaka, I–AURA–I
Let the Real You Reappear – Prince_Tahra
The Voyage for Golden Anchors – VinceKully, ghostfruit64
DarkSide [Live @ DreamSounds Amphitheater] – WileyisCOOL, Tricobalt
Musician of the Year
Asian-Roro
CFulljames
duckenomics
Helekosi
M-molecul
Excellence in Audio Design
Trip's Voyage
NOGUCHI'S BELL EPISODE 2
Touch Everything
Tides
Excellence in Voice Acting
ApesOnFire in Ye Olde Opposite Daye
Zodira in HeliTaxi
RedSeikatsu- in Red and the Phantom Castle Remake
Elfiooh in Il était une fois…
kimerakii in Cosmic Tale 3
Excellence in Character Design
Introducing: Fly-Million! – dinox11
Agatha Grindel (MODEL SHOWCASE) – kaifraz4048
Scraps – MitterMak
Nuhlm the Harold – Suthurnur, chelsea_mb712
Dragon Slayer – Tinydiorama
Excellence in Narrative
Scelerophobia – Grothraw
Ye Olde Opposite Daye – MrCaseyJones
Epsilum – Jaavaa, MultiMoo, IansaneArtist
The Quest for Self-Confidence – Todu
Tides – venwave
Excellence in VR
Base VR Template for Moves/Dualshock – gauffreman
THE RANGE – KarstenStaack
N0 WAY HOME – ZERO GRAVITY (VR) – PIXELTUNER_92
Jungle Bill 2 – NibblersBox
A strange encounter in the forest – Orksom
Innovation in Create
LOOKING THROUGH – A Visual Puzzle Game – Todu
Endless Crowd Experiment – olit123
Bendyman (VyzPaint) – VYZiUM-
Pic Importer Templates (Dreams Picture Importer) – coynem
Mine'A'Day – oooDORIENooo
Evolving Experience
Trip's Voyage – Eupholace, Aevox23, actualjimmyjam
The Backrooms – MarshaIIsAccount
liminal mystery box – JohnnyBiscotti, MrCaseyJones, mattizzle1
R.I.F.7 (Spot the difference) – KabarudonphaN18, xMorpheuus
TricoBiddy Bus Company – Tricobalt, blackcat_tracks
We saw an incredible number of submissions from Dreams coMmunity members this year, played a lot of quality creations during the shortlisting process – and read so many heartfelt messages from people explaining why particular creations and creators were the highlights of their year. Regardless of whether you made it to the final shortlist or not, a huge congratulations to everyone who received a nomination: You really made an impact on your fellow dreamers this year.
Right – back to the Nomi Nations we go. Fortunately, the phone signal up there is quite good: why not get in touch via our social channels? We'll be checking out the hashtag #ImpyAwards, so pop that on your Twitter, Instagram and Tiktok posts if you've got any questions/comments/loud noises about the upcoming livestreams.
See you on the islands very soon!