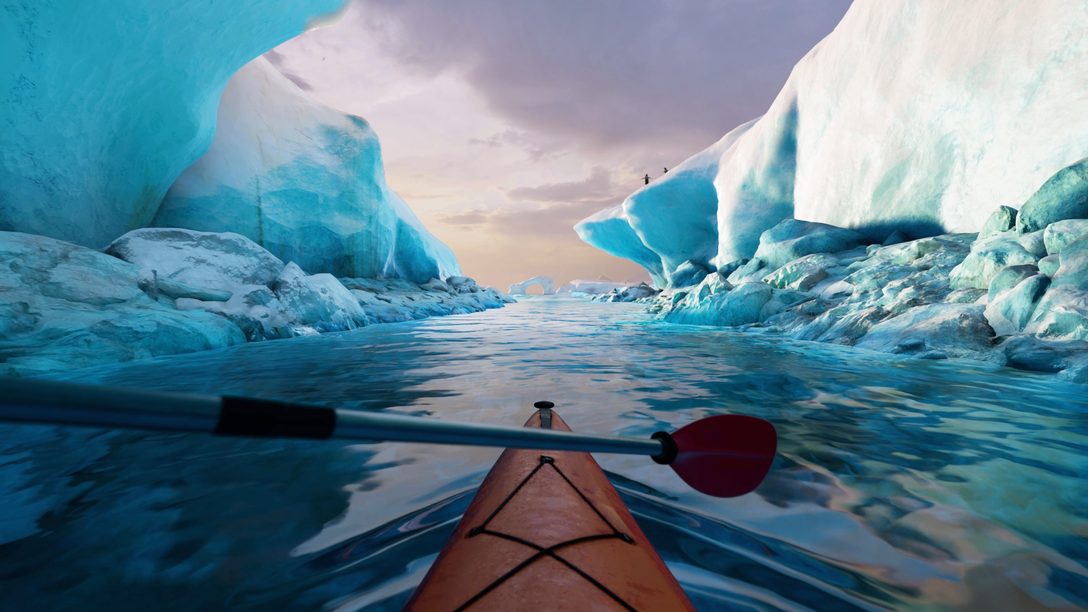 Experience realistic maneuverability, natural physics and marvel at awe-inspiring scenery and sea life. 
Paddle through the ice caves in Antarctica, kayak with dolphins in Costa Rica, conquer a thunderstorm in Norway and discover the canyons of Australia. In our kayaking game, made exclusively for VR, you can explore these real world locations with photorealistic graphics. And it's looking better than ever on PS VR2 as Kayak VR: Mirage joins PS VR2's launch line up.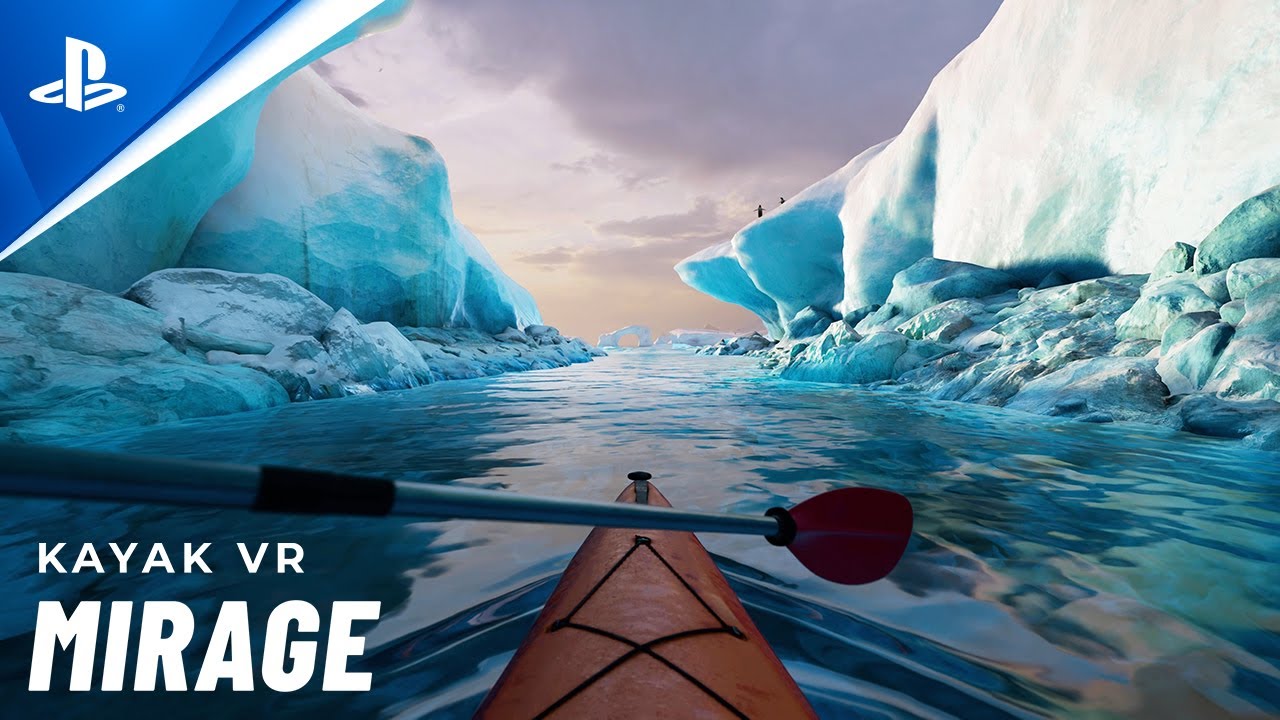 The perfect showcase for PS VR2
Kayak VR: Mirage is a great game for newcomers and veterans of VR alike. Compared to most forms of locomotion in VR, paddling allows for a natural and intuitive way to move through an environment, making it a great game to show off your brand-new headset to friends and family.
Besides the visual fidelity we also spent a lot of time on the game's physics. While new players can quickly get the hang of the kayaking, more experienced kayakers are able to maneuver with the accuracy they'd expect from a real kayak. This focus on natural physics also applies to the rest of the environment: plants, floating ice and debris all respond realistically to your paddle and kayak.
Unwind on the water
When designing the environments, we wanted you to feel like you've arrived at the perfect time. Paddle underneath the Aurora Australis, marvel at a whale that comes up for air or listen to the water breaking on the cliffs. These calming moments were designed to counterbalance the plethora of high intensity games available in VR and help you unwind after a long day or an intense gaming session.
Sea and wildlife are a big part of our design philosophy. Watch penguins jumping off ice cliffs, a turtle making its way from the beach to the water and dolphins swimming alongside you when you pick up speed. You can even try catching a fish with your paddle. But take it gently, like real fish, they'll swim away dynamically based on the location and speed of the impact.
Immersion and sound
Sound is crucial for an immersive VR experience so we really took the time to nail the acoustics of the different locations. Bumping your kayak into a rock sounds different if you're in an ice cave compared to a shore in Norway. The general soundscape also plays a key part in immersing you in the experience, being caught in a thunderstorm doesn't only look intense, it also sounds intense.
The soundtrack is tuned to change with the time of day and weather conditions. If you're racing we give you a push of encouragement with a stronger beat to pick up the pace, whereas when paddling under the stars at night in the free ride mode you hear a more calm and ethereal soundtrack.
Where game and sports meet
Whether you want to take it easy and enjoy the scenery or scratch that competitive itch and get hot and sweaty in the race mode, the game's got you covered. Every environment has multiple tracks that allow you to asynchronously race against your friends or those on the leaderboard. And even if you don't feel like racing, the game also tracks your daily and weekly distance traveled in any mode, so you can challenge yourself to go the distance.
PS VR2's foveated rendering and OLED HDR display
When we first saw the game on the PS VR2 we couldn't believe how vivid the worlds felt. The Foveated Rendering allows the game to look sharper than we have ever seen it and PS VR2's OLED HDR screen gives the night-time levels a new dimension.
We hope this information has got you as excited as we are for the game's release on February 22, 2023! Looking forward to seeing you on the water!