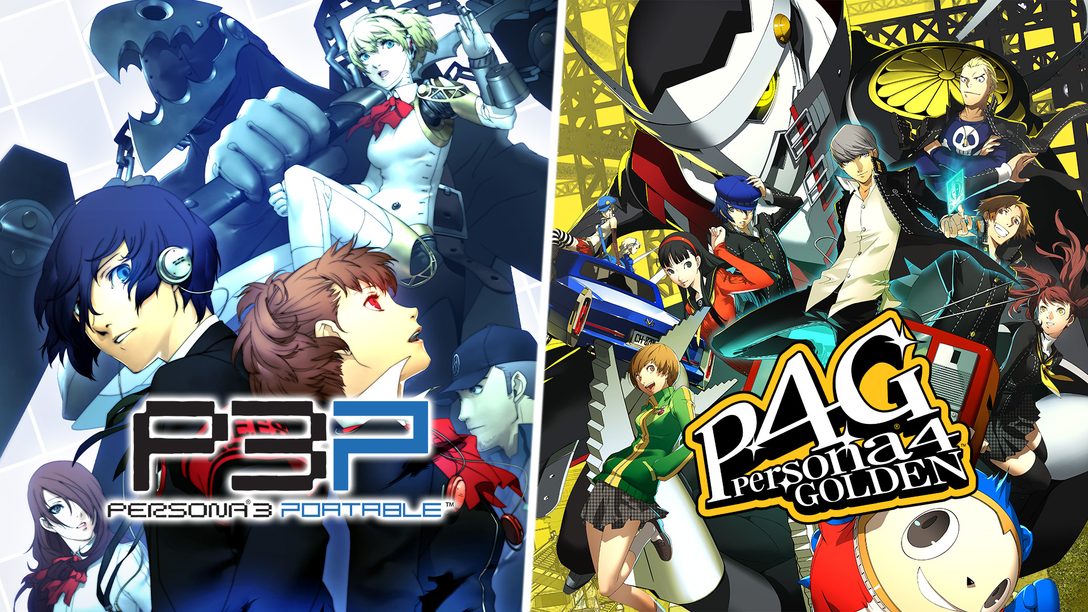 Persona 3 Portable and Persona 4 Golden Remastered Editions Out Now on PS4®. In addition to HD graphics, enjoy enhanced ease-of-use such as the quick save feature and the ability to set difficulty right from the first playthrough!
The Persona series is a collection of games set in modern Japan that revolves around students who have awakened their Persona abilities. These young characters confront supernatural phenomena like mysterious rumors and urban legends while also dealing with the ups and downs of teenage life, like school, friendships, and romances.
After the series reached its 25th anniversary, a remaster of Persona 5 Royal was released in October last year. Now, remastered editions of Persona 3 Portable and Persona 4 Golden have also been released today.
The remastered editions feature revamped, high-definition graphics with bright, crisp visuals and smooth controls, and the difficulty level can be set from the first playthrough. Other ease-of-use features like a quick save function have also been added. What's more, in the remastered Persona 4 Golden, you can now rewatch old Social Link events that occur with the characters you have strong bonds with. To celebrate Persona's 25th anniversary, the game will be sold at a special price of SGD23.90 / MYR 79.00/ IDR 260,000/ THB559!
The Dark Hour begins…
Persona 3 Portable
Persona 3 Portable was first released in 2009 in Japan for PlayStation®Portable. It quickly stood out for being the series' first title that offered the option for a female protagonist. The title continued to garner adoring fans with the production of a four-part animated film series which was first released in 2013 in Japan. Thirteen years later, Persona 3 Portable will be remastered and available on a different platform for the first time! At last, stand alongside the Specialized Extracurricular Execution Squad (SEES) on the PS4®.
If I told you that there are more than 24 hours in a day, would you believe me?
After transferring to Gekkoukan High School, the protagonist experiences something strange the night they arrive at the student dorm.
In a dark, deserted city with no working electricity and countless coffins lining the streets, they form a contract with a mysterious boy.
During the "Dark Hour", the time hidden between one day and the next, creatures called "Shadows" appear and attack humans.
Eventually, the protagonist will have to face their destiny.
▲"Personas" are the strength of heart. These inner, alternate personalities appear in the form of mythical gods and demons and possess immense power.
▲Join forces with your fellow SEES members to face the threats lurking in the Dark Hour!
▲By day, you're a regular high school student. Visit shrines and and go on field trips!
▲Spend time with people you meet to strengthen your bonds with them and become more powerful.
At 12:00 AM, somebody appears on the Midnight Channel.
Persona 4 Golden
First released in 2012 for PlayStation®Vita, Persona 4 Golden is one of the most distinguished titles in the Persona series, amassing countless game awards and achieving a Metacritic score of 93! When it first arrived on Steam in 2020, it sold 1 million copies worldwide! The game continues to boast a massive fanbase and now features improved playability on the PS4®.
You ever hear of the Midnight Channel? While you're staring at your own image, another person will appear on the screen… And they say that person's your soulmate.
A series of murders shakes a small rural town, and a strange rumor begins to spread around the same time.
A mysterious fog envelops the city, seemingly foreshadowing an ominous fate.
While pursuing the truth behind a murder, the protagonist and their friends enter the depths of another world.
The key to this world is their strength of heart, their other self. Their "Personas".
▲On a foggy morning, dead bodies are found hanging from TV antennas and buildings.
▲As the protagonist and co. try to solve the mystery, they end up fighting the monstrous Shadows in the world inside the TV.
▲Jump into the eventful life of an Inaba high schooler!
▲In the P4G remaster, you can now go back and rewatch Social Link events!
---
Persona 3 Portable
・Publisher: SEGA
・Platform: PlayStation 4
・Genre: RPG
・Release Date: Available Now
・Price: SGD23.90 / MYR 79.00/ IDR 260,000/ THB559
・No. of Players: 1
*Digital version only
---
Persona 4 Golden
・Publisher: SEGA
・Platform: PlayStation 4
・Genre: RPG
・Release Date: Available Now
・Price: SGD23.90 / MYR 79.00/ IDR 260,000/ THB559 
・No. of Players: 1
*Digital version only
---
A bundled set containing both Persona 3 Portable and Persona 4 Goldenwill also be available for purchase.
Persona Series Official Website:
URL:https://persona.atlus.com/series/
©ATLUS ©SEGA All rights reserved.