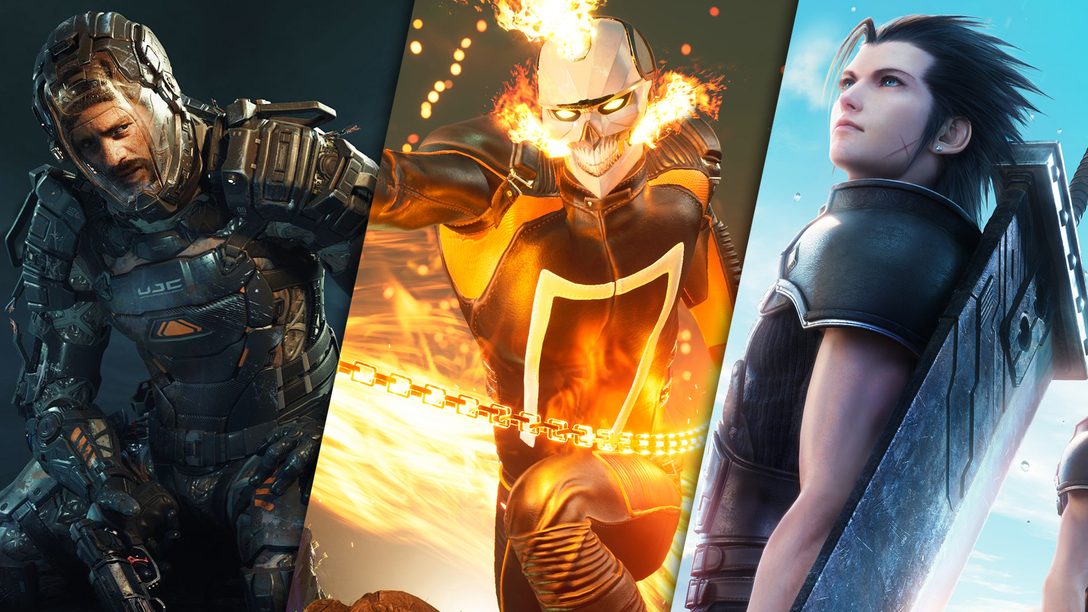 Who came up tops for the last downloads chart of the year?
It's time to reveal the top downloads for PS5, PS4, PSVR, and F2P for this past December. Call of Duty: Modern Warfare II and FIFA 23 trade for top and runner up spots across the US and EU PS5 charts, with those positions replicated in the PS4 charts. December's big new releases The Callisto Protocol, Crisis Core Final Fantasy VII Reunion, and Marvel's Midnight Suns also got a look in.
Check out the full listings below. Next week, we'll reveal the top downloads for the entire year of 2022.
PS5 Games
| | US/Canada | EU |
| --- | --- | --- |
| 1 | Call of Duty: Modern Warfare II | FIFA 23 |
| 2 | FIFA 23 | Call of Duty: Modern Warfare II |
| 3 | NBA 2K23 | Grand Theft Auto V |
| 4 | Grand Theft Auto V | Need For Speed Unbound |
| 5 | Madden NFL 23 | The Witcher 3: Wild Hunt |
| 6 | The Callisto Protocol | The Callisto Protocol |
| 7 | God of War Ragnarök | God of War Ragnarök |
| 8 | Need For Speed Unbound | ELDEN RING |
| 9 | ELDEN RING | NBA 2K23 |
| 10 | CRISIS CORE –FINAL FANTASY VII– REUNION | CRISIS CORE –FINAL FANTASY VII– REUNION |
| 11 | Marvel's Spider-Man: Miles Morales | Cyberpunk 2077 |
| 12 | Gotham Knights | It Takes Two |
| 13 | The Witcher 3: Wild Hunt | Star Wars Jedi: Fallen Order |
| 14 | Marvel's Midnight Suns | Goat Simulator 3 |
| 15 | Cyberpunk 2077 | Assassin's Creed Valhalla |
| 16 | Star Wars Jedi: Fallen Order | GRAN TURISMO 7 |
| 17 | NHL 23 | FAR CRY 6 |
| 18 | GRAN TURISMO 7 | F1 22 |
| 19 | Sonic Frontiers | Gotham Knights |
| 20 | The Last of Us Part I | Marvel's Spider-Man: Miles Morales |
*Naming of products may differ between regions
*Upgrades not included
PS4 Games
| | US/Canada | EU |
| --- | --- | --- |
| 1 | Call of Duty: Modern Warfare II | FIFA 23 |
| 2 | FIFA 23 | Call of Duty: Modern Warfare II |
| 3 | NBA 2K23 | Minecraft |
| 4 | Minecraft | Grand Theft Auto V |
| 5 | Grand Theft Auto V | The Last of Us Part II |
| 6 | Red Dead Redemption 2 | Red Dead Redemption 2 |
| 7 | The Last of Us Part II | Need for Speed Heat |
| 8 | Madden NFL 23 | NBA 2K23 |
| 9 | God of War Ragnarök | A Way Out |
| 10 | Need for Speed Heat | God of War Ragnarök |
| 11 | ARK: Survival Evolved | ARK: Survival Evolved |
| 12 | God of War III Remastered | God of War III Remastered |
| 13 | EA Sports UFC 4 | The Crew 2 |
| 14 | God of War | Tom Clancy's Ghost Recon Breakpoint |
| 15 | A Way Out | God of War |
| 16 | NHL 23 | Marvel's Spider-Man |
| 17 | Marvel's Spider-Man: Miles Morales | Assetto Corsa |
| 18 | ELDEN RING | EA Sports UFC 4 |
| 19 | Call of Duty: Black Ops III | ELDEN RING |
| 20 | Star Wars Battlefront II | F1 22 |
*Naming of products may differ between regions
PS VR Games
| | US/Canada | EU |
| --- | --- | --- |
| 1 | Beat Saber | Job Simulator |
| 2 | Job Simulator | Beat Saber |
| 3 | SUPERHOT VR | SUPERHOT VR |
| 4 | Swordsman VR | Sniper Elite VR |
| 5 | NFL ProERA '22 | Rush VR |
| 6 | The Walking Dead Onslaught | Swordsman VR |
| 7 | The Walking Dead: Saints & Sinners | The Walking Dead Onslaught |
| 8 | After the Fall | Moss: Book II |
| 9 | Astro Bot Rescue Mission | Gun Club VR |
| 10 | Sniper Elite VR | After the Fall |
Free to Play (PS5 + PS4)
| | US/Canada | EU |
| --- | --- | --- |
| 1 | Fortnite | Call of Duty: Warzone 2.0 |
| 2 | Call of Duty: Warzone 2.0 | Fortnite |
| 3 | Overwatch 2 | Rocket League |
| 4 | Fall Guys | Fall Guys |
| 5 | Rocket League | The Sims 4 |
| 6 | Apex Legends | Overwatch 2 |
| 7 | The Sims 4 | eFootball 2023 |
| 8 | GUNDAM EVOLUTION | Apex Legends |
| 9 | eFootball 2023 | Genshin Impact |
| 10 | MultiVersus | MultiVersus |