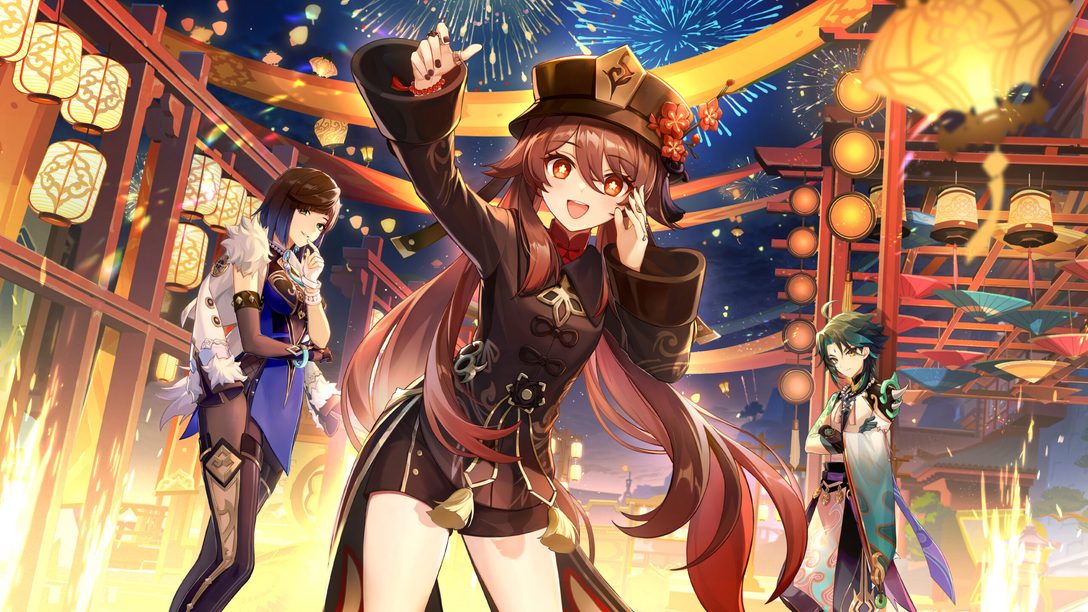 Join Alhaitham and Yaoyao in a series of celebrations and fun events, and explore a new area amid sandstorms starting January 18.
Hello Travelers! The Genshin Impact dev team is excited to share with you the latest information on our first version update of 2023, coming on January 18. As the world of Teyvat ushers in a new year, Version 3.4 The Exquisite Night Chimes will introduce two new playable characters, Alhaitham and Yaoyao as well as lots of fun, events, and rich rewards. While the people of Liyue are busy preparing for annual Lantern Rite celebrations, the Yashiro Commission and Arataki Itto are also planning something exciting and challenging. Players can look forward to claiming the following rewards for free: 10 + 3 Intertwined Fates, a 4-star Liyue character, and Lisa's new outfit! Kamisato Ayaka's new outfit will also be available in store with a limited-time discount.
In addition to celebrations and events, a new area amid sandstorms finally reveals itself among the vast desert of Sumeru, where myths, wonders, and mysteries are buried.
Festivities, games, and rewards
In the annual Lantern Rite celebrations, Liyue Harbor has been adorned with ribbons, lanterns, fireworks, and various festive activities are also in full swing. A special music festival will be hosted this year featuring guests from afar. In the meantime, the locals are ready to share some traditional crafts, such as the Paper Theater Performance, which is a must-see among the children. The performance features the Valiant Bearded Hero Huanguang, and Travelers will assist behind the scenes to ensure that the series of performances runs smoothly. Another event gameplay, Radiant Sparks, allows players to experience the feeling of soaring into the sky like blooming fireworks.
The joy also spreads to Inazuma, where two competitions await challengers. The Yashiro Commission is busy preparing for "Warrior's Spirit," a competition in which participants will duel with blades using Inazuma's traditional skills of "Parry" and "Honed Techniques." During the event, Kamisato Ayaka will wear a new outfit and engage in an extraordinary duel with a special guest. On the other side of the islands, Arataki Itto is also hosting a competition, but it is one that requires contestants to duel with their beetles. During the "Beetle Brawl," you can control your Onikabuto to crush your opponents with techniques and perfect timing.
More events and surprises are yet to come. The "Second Blooming" challenge event will give Travelers an opportunity to redeem Lisa's new outfit for free. Meanwhile, don't forget to check out the daily login and greeting emails to claim up to 10 + 3 Intertwined Fates.
A "Feeble" Scholar of Sumeru and an endearing Soul of Liyue
In Version 3.4, both two new playable characters Alhaitham and Yaoyao possess a Dendro Vision, but their personalities differ in many ways. Alhaitham, the current scribe of the Sumeru Akademiya, is a rational individual in pursuit of truth and wisdom, while Yaoyao indulges herself in nature and people around her, forming close bonds with many creatures, friends, and even the adepti of Liyue.
Serving as the Akademiya's scribe, Alhaitham has been a trusted companion on our journey to rescue Nahida. You can find out more about Alhaitham's current situation in his Story Quest Vultur Volans Chapter, where the story continues after he has taken up the role of Acting Great Sage. Additionally, this self-proclaimed "feeble scholar" can now join your party as a five-star sword wielder, allowing you to apply his wisdom to your own journey. Alhaitham values efficiency in combat. He can create Chisel Light Mirrors with his Elemental attacks and other means. The Chisel Light Mirrors can convert Alhaitham's attacks into Dendro damage, unleash coordinated attacks, and enhance the damage dealt by his Elemental Burst when more Mirrors are present. Therefore, how to manage the number and use of Chisel Light Mirrors is the key to enhancing Alhaitham's capability in combat.
The new four-star character, Yaoyao, is a lovable child who is favored by both the adepti and locals in Liyue. She is an apprentice of Madame Ping and was given a rabbit-shaped adeptus device named Yuegui by Cloud Retainer. In combat, Yaoyao wields a polearm and throws Yuegui to assist her in battle. She also provides healing to the team, or buffs her movement speed and Dendro Resistance. Also, Yaoyao is very familiar with different types of creatures, so she won't spook nearby creatures like small animals and Crystalflies when she approaches them.
Yaoyao, Alhaitham, and Xiao's rerun will take place in the first half of Version 3.4's Event Wishes, and the latter half will feature Hu Tao's and Yelan's reruns. Also, don't forget to invite one of the nine 4-star characters from Liyue, including Yaoyao, to your party for free when you accumulate a certain amount of Festive Fever.
Amidst sandstorms and legends
Amid dust and sandstorms, a perilous area of Sumeru, the Desert of Hadramaveth is finally unveiled. With a perpetual gigantic tornado at its center, the landscape expands and spirals out into the distance. The closer you get to the center, the stronger and harsher sandstorms you may encounter, making it harder to see through the storm. As the adventure progresses, you can also receive protection and help to withstand the raging sandstorms.
Meanwhile, dangers also lurk beneath, where the Wenut seek chances to penetrate through the surface to launch attacks against you. The deadliest among them is the new boss, the Setekh Wenut, a cunning predator that lures its prey using mimicry of flowers on its tail. The Setekh Wenut resurfaces at intervals, taking on various forms during battle, leaping out of the sand like a worm firing powerful Anemo beam attacks in the form of a flower. Here's a little tip: the Swirl Reaction can be the key to weakening the Setekh Wenut at the right time.
However, the relentless wind also brings up buried pieces from different eras. Parts of ruins and thorn-filled caverns scattered in rifts and valleys may lead you to the remains of the city of Gurabad, or even the Orchard of Pairidaeza (now referred to as the Eternal Oasis by the desert dwellers), where legend has it that King Deshret built this eternal space of stillness to commemorate the Goddess of Flowers.
If you've finished the Golden Slumber World Quest, you will team up with Jeht again and a mysterious Magic Bottle in search of the long-lost Orchard of Pairidaeza. Set out from the Tanit Camps – a massive settlement with a unique culture, and witness Jeht's journey in search for her family origins. A history lost in time will gradually be unveiled.
New card game mode
Starting from Version 3.4, each version update will feature a limited-time Genius Invokation TCG gameplay mode. For Version 3.4, the new rule of the limited-time mode is to start with 8 Omni Dice. Meanwhile, two new Character Cards: Klee and Beidou will be joining the duels in this upcoming update.
Last but not least, we would like to express our sincere thanks to everyone who has joined the fantasy world of Teyvat. Thank you, Travelers, and we look forward to spending another brilliant year with all of you!