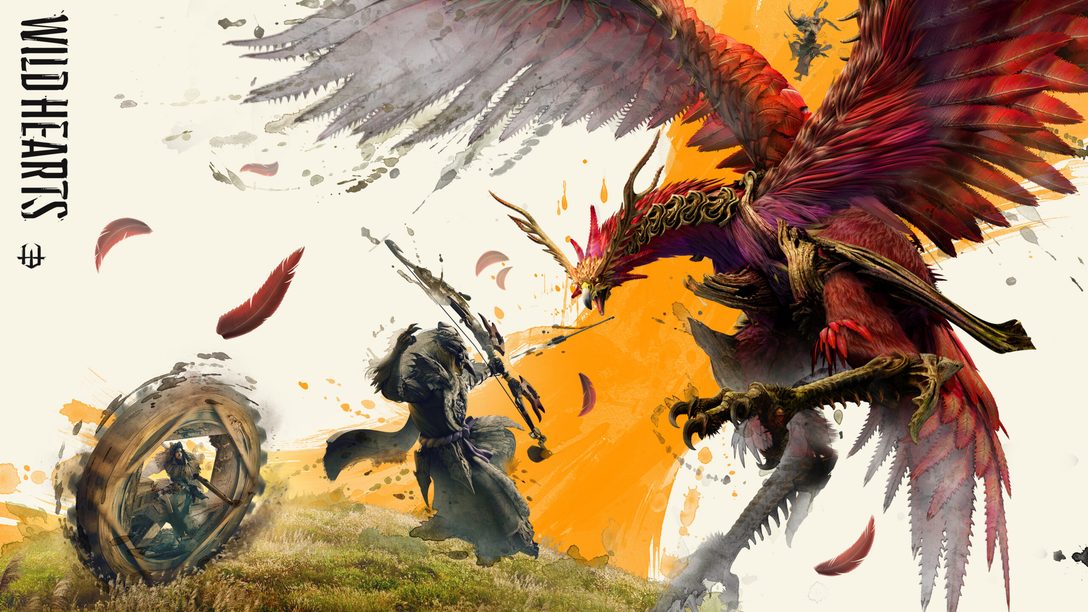 A hunting guide to prepare you for danger from the sky.
Wild Hearts is a unique twist on the hunting genre where technology gives you a fighting chance against massive beasts infused with the destructive power of nature. These beasts are called Kemono, and have fused with natural elements over time, modifying their environment to accommodate their needs, much to the despair of the people of Azuma. What caused them to turn their might and desperation on this once peaceful land isn't known, but they must be stopped and only a hunter of great skill and cunning will stand a chance. You are that hunter.
When fighting these giant beasts you won't be limited to wits and weapons – you also possess the power of Karakuri, ancient technology you must master and wield to turn the tide of battle with these foes. Use the Karakuri to discover weak spots or gain a new attack angle. Some will help you set up defenses against the Kemono's worst attacks, giving you the opportunity to take them down.
It's important to know that each Kemono has both strengths and weaknesses that wise hunters will take note of well before the hunt begins. In this article, we will be discussing one of the most powerful and beautiful enemies you will face in Wild Hearts. One with radiant plumage, a deafening roar, and an unquenchable anger that rages with the heat of a furnace.
The Bird of Auspice is said to have lived for many centuries now…
The majestic Amaterasu has captured the imagination of the people of Azuma for centuries. This winged beast with its fiery plumage is both captivating and terrifying. It draws its power from the life energy around it in combination with its apparently boundless fury. Once sufficiently angered and powered up all hunters should take cover or risk being within range of its explosive attack. Carefully observe the color of this great beast's plumage if you wish to avoid such an attack. The redder it appears, the closer you are to its most dangerous aspect.
When facing an Amaterasu, you will need to beware of more than just its sharp beak and talons, even its feathers can end your hunt prematurely. Your attacks must focus on bringing it down to the earth by striking its wings or using a harpoon to pin it precisely where you want it. Search for this challenging prey in the direction of the setting sun amongst the grassy plains and desolate, ruined temples of the west. It is most striking at dusk when the autumn leaves and pampas grass swirl around its desolate temples.
Once the hunt is finished the Kemono will also provide you with the materials you need to craft items such as stronger armor. The more you hunt, the more materials you will gather, and the bigger the prey you can face next.
You can choose to hunt alone and savor all the spoils by yourself, or in a pack (with up to two other players) enabling you to expand your battle plans and special missions.
Developed by Omega Force, the Japanese studio behind the Dynasty Warriors franchise, Wild Hearts takes you on an epic adventure set in a fantasy world inspired by feudal Japan. Prepare to join the hunt on February 17, 2023.
Pre-order the Karakuri Edition* now and you'll be sure to leave a lasting impression on your fellow hunters. The Edition includes the base game and six exclusive items: the Karakuri Samurai and Karakuri Ninja armor sets, a decorative Tsukumo Lantern, and three Emotes. If you pre-order the Karakuri Edition you will also receive the Ferocious Kemono Emote and five Chat Stamps.
*Conditions and restrictions apply. See www.ea.com/legal for details.