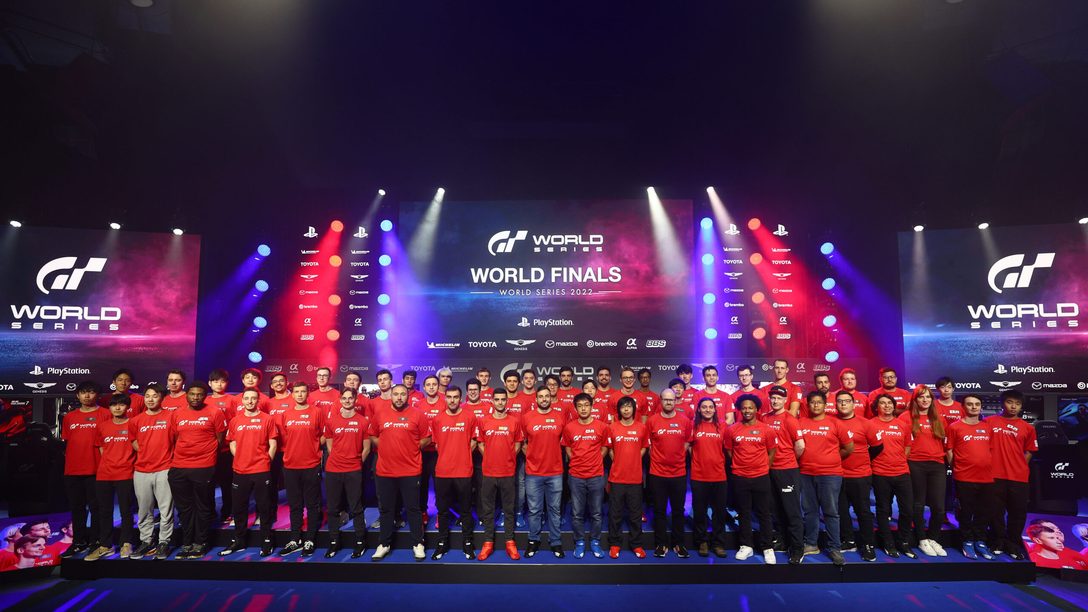 Limited timed GT7 challenges, increased in-game rewards, and your chance to win the recently announced Ferrari Vision Gran Turismo
The 'Gran Turismo World Series' 2022 in Monaco proved a fitting start to Gran Turismo's 25th Anniversary celebrations. A four-day festival of racing saw three champions crowned, a new Ferrari Vision Gran Turismo unveiled, a tight Pro-Am race in which BWT Alpine F1 Team driver Esteban Ocon was just pipped for the win, another race between the GT Sophy AI agent and some of the leading World Series drivers, an online appearance by seven-time F1 World Champion Sir Lewis Hamilton, stunning cars on display, and plenty of opportunities for the Gran Turismo community to get involved and win prizes in-game.
First up was the TOYOTA GAZOO Racing GT Cup on Thursday, 24 November. After two highly-competitive Semi-finals and a last-chance Repechage, 12 drivers lined up for the Grand Final, 30-laps around the Fuji International Speedway in the TOYOTA GR010 HYBRID – the real version of which was displayed at the event. It was 2018 Nations Cup champion, Brazilian Igor Fraga, who delivered a dominant performance to take the win and a trophy presented by TOYOTA GAZOO Racing Europe's Vice Chairman Kazuki Nakajima.
On Friday it was time to narrow a 30-driver Nations Cup field to a final 12 – and crown three regional champions in the process. Takuma Miyazono (JPN), a triple champion in 2020, took the honors for the Asia-Oceania Region. The EMEA race was won by Spain's Coque López, a player who has been at every GT World Series event since its inception in 2018. Finally, it was the turn of the Americas Region and in-form Chilean Angel Inostroza was crowned champion and booked his place in Sunday's Grand Final.
With Sunday's Nations Cup final line-up confirmed, Saturday saw the focus switch to the Manufacturers Cup. Twelve three-driver teams represented the leading World Series manufacturers, including series partners Toyota, Genesis, and Mazda. With points already accrued from the three World Series events and July's Salzburg World Series Showdown, more points would be awarded in Race 1 and a double-points Grand Final.
Team Porsche took the maximum from Race 1, with pre-event points leaders, and favorites, Team Toyota in second. Team Mercedes-AMG rounded out the top three, while World Series Showdown winners in July, Team Subaru, looked to have dropped out of contention with a sixth-place finish.
Taking to the famous Spa-Francorchamps track for the Grand Final, the skies looked ominous and the weather would prove to be a decisive factor in a mesmerizing endurance race. Rain started to fall causing the drivers to pit for intermediate or full-wet tires. Intermediates looked to have been the better choice as the conditions improved. However, the rain started again in the latter stages of this 30-lap race and this time it didn't clear, leaving those that switched to full wets finishing stronger. Team Subaru's superb race craft and great tire choices saw them win just ahead of Team Toyota and Team Mercedes-AMG in third.
The result left Subaru and Toyota tied on points, but it was Subaru's Daniel Solis (USA), Takuma Miyazono (JPN), and Kylian Drumont (FRA) who lifted the stunning Boccioni-inspired Manufacturers Cup trophy as World Champions thanks to their win in the Grand Final.
And so to Sunday's Nations Cup Grand Final for even more excitement. French Formula 1 driver Esteban Ocon was in the crowd at Le Sporting Monte Carlo (the venue for the World Finals) that was treated to some compelling entertainment. A packed Nations Cup broadcast saw Ferrari's Chief Design Officer Flavio Manzoni unveil the stunning Ferrari Vision Gran Turismo that will appear soon in Gran Turismo 7. The crowd went on to witness racing no less spectacular.
A single-lap Qualifying Session set the grid for 30 laps around the Trial Mountain Circuit (reverse) in the Red Bull X2019 Competition in national liveries. Japan's Takuma Miyazono qualified on pole, but Spaniard Coque López was just a thousandth of a second behind.
In what turned out to be a magnificent race full of intrigue and differing tire strategies, López and Miyazono were leading the field on the penultimate lap but had one mandatory pitstop to make to switch onto the slower hard tires. As they emerged from the pitlane, the pair were dissected by Chilean Angel Inostroza who was on soft tires. After an action-, and incident-, packed final lap, López took the checkered flag from Inostroza and Miyazono, but celebrations were muted as an 'incident under investigation' notification went up and the drivers, and audience, awaited the verdict of the stewards. When the judgement came through that the collisions were 'a racing incident,' the celebrations could start in style for the Spaniard. As in the Manufacturers Cup, there was a points tie at the top of the leaderboard. López and Inostroza were both on 30 points, but the Spaniard's victory in the Grand Final gave him the World Championship and left the Chilean bitterly disappointed. The third step of the podium was taken by Brazil's Igor Fraga.
It had been a highly entertaining four days of racing with drama, excitement, high-profile guests, and some Monaco glamour. If you missed it, check out the streams on the Gran Turismo YouTube channel – https://www.youtube.com/@GRANTURISMOTV
Celebrating 25 years of Gran Turismo continues
The Gran Turismo 25th Anniversary celebration continues as the Increased Rewards Campaign, Day 4 of the 'Viewers Gift' campaign for the Ferrari Vision Gran Turismo, and World Finals livery distribution are still available (see below for specific details. Internet connection required to access.)
Increased Rewards Campaign
For a limited time (Ends December 5), there will be increased rewards for each race in the 'Sport' mode!
Daily Races

Ends December 5
Daily Race A will feature a race like the World Finals
Within this period, the Credit rewards for applicable events will be 5x more than usual
Online Time Trials

Ends December 5
Complete recreation of World Finals races to be held as a time trial event
Within this period, credit rewards for applicable events will be 2x more than usual
'Viewers Gift' campaign rewards the Ferrari Vision Gran Turismo
The 'Viewers Gift' campaign is to reward anyone watching our streams live each day via an online quiz mechanism.
Watch the World Finals and answer the Day 4 question to get early access to the Ferrari Vision Gran Turismo
Reward ends December 4 at 7:59am PST / 3:59pm GMT
World Finals livery distribution
Until January 3rd 2023, the special GT World Series World Finals liveries will be available through the 'Recommended' section of the Showcase pavilion, including the X2019 in national colors and some of the special Manufacturers Cup liveries.
Happy 25th birthday to Gran Turismo. If the GT World Series World Finals are anything to go by, the next 25 years are going to be even more exciting.