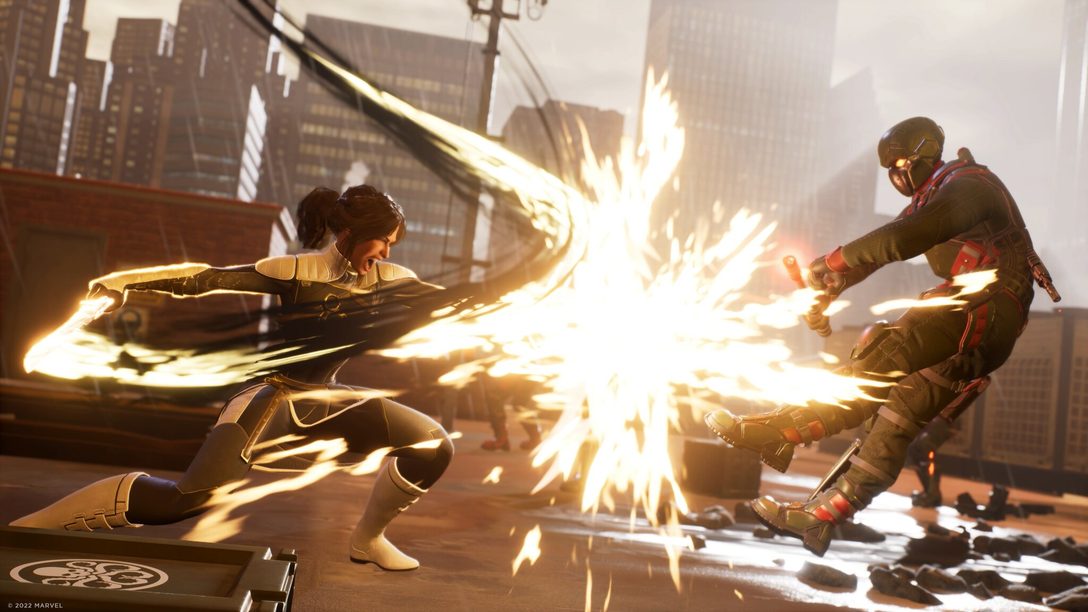 Invest in the power of friendship, balance your roster, and more tips to get started.
Hey everyone! I'm Jake Solomon, creative director at Firaxis Games, and the good folks at PlayStation have asked me to share some of my top tips for Marvel's Midnight Suns, which comes out tomorrow on December 2.
Marvel's Midnight Suns is the latest title coming out of Firaxis Games, whom you may know as the creators of Civilization and XCOM. It's a deep tactical RPG set in the darker side of the Marvel Universe, where you get to lead and live among Marvel legends from across The Avengers, Runaways, X-Men, and more. You'll play as The Hunter, the first customizable original Marvel hero, and take on Lilith, the Mother of Demons (and your actual mother in the game). Now, let's jump right in!
Building your perfect squad
There are three things to think about when building a squad: what type of mission am I going on? Who is mandatory on that mission? And who do I want to improve and level up?
In Marvel's Midnight Suns, we have several types of missions that each have different objectives. Some missions you will be tasked with protecting a VIP who is guarded by a tough enemy that you need to take down first. Other missions may have you defending objectives from the forces of Hydra and Lilith. The type of mission can help you figure out whether you need strong single-target damage dealers like Captain Marvel, or someone who can really spread the love with Blade.
Second, every mission in Marvel's Midnight Suns has a required hero that you need to take. Story missions all require The Hunter, while general missions can require anyone on the roster. Depending on who is required, you can shift your strategy around that. For example, if a mission requires Doctor Strange – you'll know that you have no trouble generating Heroism but you may have a bit of a challenge in doing damage. Having an understanding of the strengths and weaknesses of each hero can help you build that ideal team.
Finally, you'll want to consider which heroes you want to get stronger. In Marvel's Midnight Suns, all abilities are represented as cards, and the only way to earn more cards to further empower your abilities is through playing missions. The more you play as a hero, the more you unlock their abilities – so sticking with your favorite team has its benefits!
The power of friendship
Marvel's Midnight Suns features a Friendship system where your off-the-battlefield discussions and Hang Outs with your fellow heroes have big bonuses for on-the-battlefield. You earn Friendship through several activities – picking the appropriate dialogue when talking to heroes, hanging out with them, giving them their favorite gifts and even complimenting them. The more you understand a Hero, the better chance you'll have in gaining those valuable Friendship points.
What's not as well known is that in addition to individual Friendship levels with each Hero, there is a Team Friendship level that you'll increase as you gain Friendship with everyone. Improving Friendship with your fellow Heroes can result in an increase in your Team Friendship, unlocking combo abilities, improving the power of your compliments and more.
And those on-battlefield bonuses can be true game changers. One of my favorites include Iron Man's passive I'll Handle This, which grants Redraws when you play multiple Iron Man abilities in one turn. Iron Man can use those redraws to increase the power of his abilities… and you'll want to play those buffed abilities, which means you'll continuously reactivate his passive throughout combat. He can snowball really quickly if you play your cards right!
Take your time and have fun
With Marvel's Midnight Suns, we set out to create a game that you can really play at your own pace, at your own difficulty. We want this to be something that anyone can pick-up and play, whether you're just looking for a great Marvel story or if you want to really test yourself at Ultimate III difficulty. There's no time-constraint on when you need to complete missions, and there's no limit to how many general missions you can go on.
Don't forget to explore the Abbey grounds, too – surrounding your supernatural secret base are even more mysteries for you to solve. Expect to earn abilities, find ingredients for crafting, and you even be the one to unlock all the secrets of the mysterious Blood.
Hopefully these tips both prepare you for what you'll play when the game comes out and gets you excited about all of the combat and story potential for you to explore. Marvel's Midnight Suns will be available on PlayStation 5 on December 2.