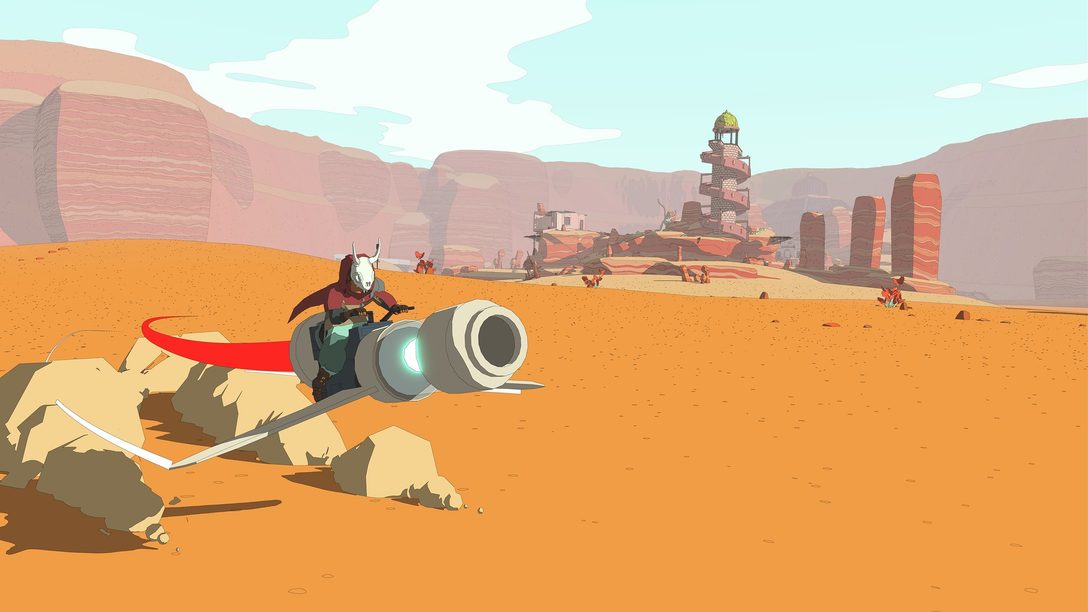 In this coming-of-age adventure, masks are an exploration of identity.
Hello, Gliders! I'm Greg, Creative Director at Shedworks. The team and I are excited to finally get Sable into your hands on Playstation 5! It's been a lot of hard work from the team and we think you'll love some of the new features and content.
For those of you who are not yet familiar with Sable, this game is a coming-of-age adventure set in the world of Midden. Our main character Sable embarks on her Gliding, a journey of self-discovery that will take her to scenic vistas, remote encampments, and ancient ruins, all the while meeting friends and strangers on the way. By helping them, she will learn more about their ways of life, see new sides of herself, and ultimately choose the mask she wants to wear for the rest of her life.
The mask is an exploration of identity. Everyone in Midden undertakes a ceremony called "The Gliding" as they reach adulthood, where they travel the world and try on many different masks until they finally find the one that suits them best. Their chosen mask is part of how they present themselves to the world. Will they choose to follow a particular craft or role in society? Or will they choose a mask that symbolises a rejection of convention?
Our aim with Sable is to trust you as the player: once Sable leaves her family, we open up the game completely and give you the freedom to encounter any location, quest, or activity in any order you like. Every single quest in the game is optional. This means you can pick and choose what parts of Midden interest you and which characters you want to learn more about. What you do is driven by your own fancy and we hope this will awaken your curiosity and wanderlust, where adventure can lie around any corner.
In addition to the freedom of exploring, it was important for us to make a game that was inclusive, warm, and welcoming to all travellers. This included representation of people with different sexual and gender identities. We also wanted to emphasize that you are not participating in combat. We want you to focus on exploring the world without being distracted by enemies or violence.
The team has been working hard to make this release extra special for you. The Playstation launch is bundled with the game's biggest content update yet, which centers around the brand-new fishing mini-game.
In the land of Midden, fish populate the desert sands rather than the waters of the oasis. To get started, you'll want to visit the Angler's Hut in Sansee and have a chat with the Angler who will provide Sable with her very first fishing rod. Once equipped with the rod, you can cast off anywhere you fancy and be sure that something will bite! Assist the Angler with their requests, and Sable may even be rewarded with the new Angler Mask.
In The Wash, Sable can find another new location. The Vivarium displays local flora and fauna, but the head Researcher needs Sable's help with completing the collection. Sable can turn in any fish or butterflies she has collected so far on her journey, which will populate the halls of the Vivarium on her next visit.
Finally, we wanted to take this opportunity to make exploring Midden an even more immersive experience by utilizing the DualSense controller. You will feel the adaptive trigger resistance as you drive Sable's bike, Simoon, across the dunes. The haptic feedback will hum as Sable hovers in the gliding orb, shake as grand movements happen around her, and it will even give you a hint if she is close to a hidden collectible or a bug ripe for catching.
We hope that you will enjoy your adventure in Midden and that Sable's journey will not only help you discover something new about her but maybe something about yourself, as well.
Sable is available for Playstation 5 as a digital download in the Playstation Store now.