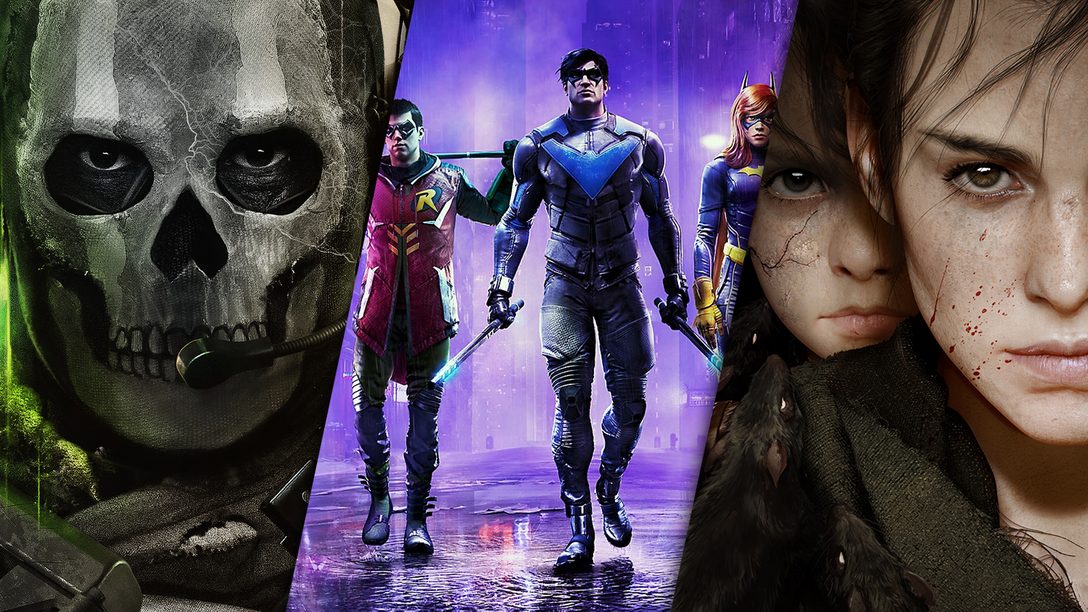 Call of Duty: Modern Warfare II takes aim for the top spot in the PS5 charts.
It's time to reveal the Top Downloads for PS5, PS4, PSVR and F2P in October! Call of Duty: Modern Warfare II took aim at the top of the PS5 charts in both US and Europe, with Gotham Knights in close pursuit. Heroic team ups factored into the F2P charts as well, with Overwatch 2 coming up on top in both regions.
With a busy release window this month, how will November's chart positions pan out? Share your guesses below, then come back early next month to see if you were right.
PS5 Games
| | US/Canada | EU |
| --- | --- | --- |
| 1 | Call of Duty: Modern Warfare II | Call of Duty: Modern Warfare II |
| 2 | Gotham Knights | FIFA 23 |
| 3 | FIFA 23 | Gotham Knights |
| 4 | NBA 2K23 | Grand Theft Auto V |
| 5 | Madden NFL 23 | Cyberpunk 2077 |
| 6 | NHL 23 | NBA 2K23 |
| 7 | Grand Theft Auto V | A Plague Tale: Requiem |
| 8 | PGA TOUR 2K23 | Medieval Dynasty |
| 9 | Cyberpunk 2077 | Resident Evil 3 |
| 10 | A Plague Tale: Requiem | Mount & Blade II: Bannerlord |
| 11 | The Last of Us Part I | NHL 23 |
| 12 | Mount & Blade II: Bannerlord | F1 22 |
| 13 | Star Ocean The Divine Force | Stray |
| 14 | Tom Clancy's Rainbow Six Siege | PGA TOUR 2K23 |
| 15 | Resident Evil 3 | Tom Clancy's Rainbow Six Siege |
| 16 | Resident Evil Village | Resident Evil 2 |
| 17 | Stray | Assassin's Creed Valhalla |
| 18 | Medieval Dynasty | Star Wars Jedi: Fallen Order |
| 19 | Marvel's Spider-Man: Miles Morales | Disney Dreamlight Valley |
| 20 | Star Wars Jedi: Fallen Order | It Takes Two |
PS4 Games
| | US/Canada | EU |
| --- | --- | --- |
| 1 | Call of Duty: Modern Warfare II | FIFA 23 |
| 2 | FIFA 23 | Call of Duty: Modern Warfare II |
| 3 | Madden NFL 23 | Minecraft |
| 4 | NBA 2K23 | Grand Theft Auto V |
| 5 | Minecraft | Red Dead Redemption 2 |
| 6 | Grand Theft Auto V | Need for Speed Heat |
| 7 | NHL 23 | NBA 2K23 |
| 8 | Red Dead Redemption 2 | Call of Duty: Modern Warfare |
| 9 | DRAGON BALL: THE BREAKERS | EA Sports UFC 4 |
| 10 | PGA TOUR 2K23 | F1 22 |
| 11 | Call of Duty: Modern Warfare | Tekken 7 |
| 12 | Need for Speed Heat | Need for Speed Payback |
| 13 | Call of Duty: Black Ops Cold War | Need for Speed Hot Pursuit Remastered |
| 14 | Call of Duty: Black Ops III | The Crew 2 |
| 15 | EA Sports UFC 4 | Gang Beasts |
| 16 | Gang Beasts | DRAGON BALL: THE BREAKERS |
| 17 | Dragon Ball FighterZ | Marvel's Spider-Man |
| 18 | Dragon Ball Z: Kakarot | The Witcher 3: Wild Hunt |
| 19 | Need for Speed Payback | The Forest |
| 20 | Cyberpunk 2077 | Assassin's Creed Odyssey |
PS VR Games
| | US/Canada | EU |
| --- | --- | --- |
| 1 | NFL ProERA '22 | Job Simulator |
| 2 | Beat Saber | Beat Saber |
| 3 | Job Simulator | SUPERHOT VR |
| 4 | SUPERHOT VR | Sniper Elite VR |
| 5 | Creed: Rise to Glory | Creed: Rise to Glory |
| 6 | The Exorcist: Legion VR | The Exorcist: Legion VR |
| 7 | Rick and Morty: Virtual Rick-ality | The Walking Dead: Saints & Sinners |
| 8 | The Elder Scrolls V: Skyrim VR | Rick and Morty: Virtual Rick-ality |
| 9 | The Walking Dead: Saints & Sinners | Batman: Arkham VR |
| 10 | The Walking Dead Onslaught | The Walking Dead Onslaught |
Free-to-Play (PS5 + PS4)
| | US/Canada | EU |
| --- | --- | --- |
| 1 | Overwatch 2 | Overwatch 2 |
| 2 | Fortnite | The Sims 4 |
| 3 | The Sims 4 | Fortnite |
| 4 | Fall Guys | Fall Guys |
| 5 | Call of Duty: Warzone | Rocket League |
| 6 | Apex Legends | eFootball 2023 |
| 7 | Century: Age of Ashes | Call of Duty: Warzone |
| 8 | MultiVersus | Rumbleverse |
| 9 | Rocket League | Century: Age of Ashes |
| 10 | Rumbleverse | Apex Legends |