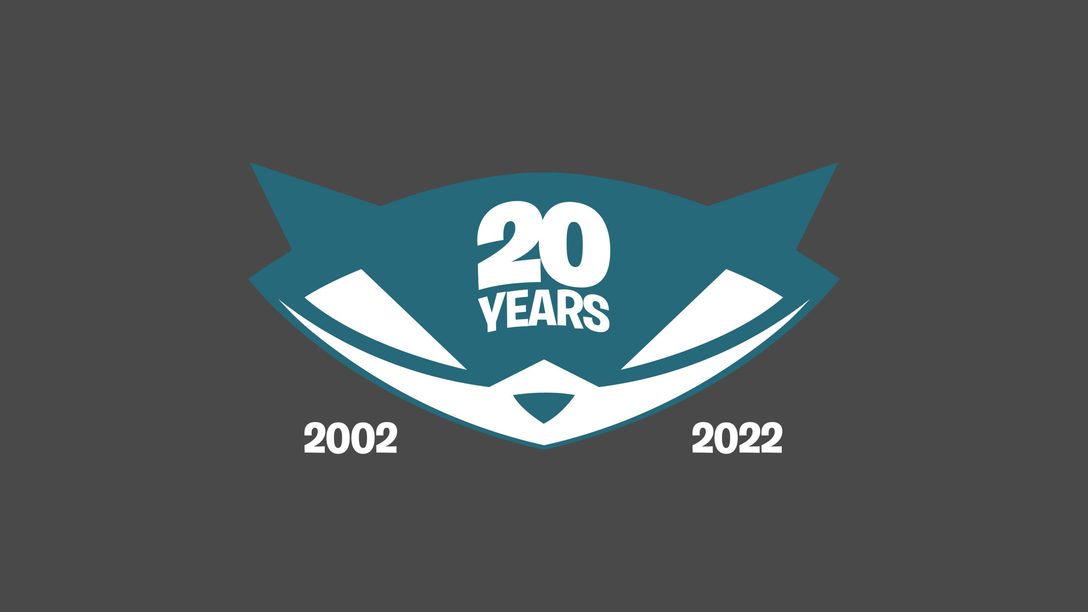 The team at Sucker Punch reflects on the legacy of the Thievius Raccoonus alongside brand new 20th anniversary merchandise.
Happy 20th birthday, Sly Cooper! Today we are so happy (and a little bit shocked) to celebrate the 20-year anniversary of Sly Cooper and the Thievius Raccoonus! Where does the time go? Originally shipped on September 23, 2002 for PS2, this was Sly's original adventure (known as Sly Racoon in some parts of the world) and our studio's first-ever PlayStation game!
Before we ready our party hats and cake, we have some brand new Sly Cooper merchandise to reveal today to celebrate the milestone. But first we wanted to look back on Sly's legacy across the whole franchise and share memories from some of our team who helped shape Sly Cooper into the series we know and love, back when some of them had a little more hair or a little less gray in it:
Doing level design for Sly 1 was a great learning experience. From prototyping using LEGO for the Muggshot rooftop to countless level iterations that took place to get the feel and gameplay just right. I remember so many different variations of levels I worked on that even when I play it now I can be surprised at what the final versions are!

– Rob McDaniel, Senior Technical Artist
Sly 1 was our first BIG game, and there were multiple milestones where the game was very clearly at risk of getting canceled. To me, the biggest breakthrough was the milestone we invented the "Binoc-u-com" where Bentley and Sly would hatch plans – but really it was a great way to give the player directions without it feeling ham-fisted.
At the time we were building Sly, so many games had been pushing the visual execution bar upwards in their cutscenes – way beyond what we were capable of at the time. One of our best decisions was to reverse that trend and make our cutscenes more graphic instead—which gave us something distinct and unique, but also avoided fighting an arms race we'd never win. Great choice, and one we used for all the Sly games, and evolved for InFamous and beyond.
Sly was our first game with skinned characters – and getting his TAIL right turned out to be one of the trickiest bits. We created a bunch of failed solutions including custom spline controls for the animators. The "right" answer ended up being to animate just the very base of his tail, and build a real-time simulation for the rest. To this day we still have "tails" simulations we use in places!
Favorite moment? The ending of Sly 1 – that's gotta be one of my favorite sequences we've ever shipped! The final bit with the 10-second head-start is perfection.

Finally, I remember how small the team was! The 25 of us in the credits was the entire studio, including our testers and the office staff! Seems a long time ago!

– Brian Fleming, Co-Founder
For one mission in Sly 3, I animated a lemonade drinking game. Bentley had to button mash through some poses to out-drink several NPCs before a bar room brawl broke out. It was primitive, but it was good enough to get us to about 3 weeks before we shipped when one of the animators finally replaced it with something better. I'm not sure if it was a good idea or cautionary tale, but it was a fun example of the focus on teamwork that drives Sucker Punch to this day. We had a ton of custom mechanics in Sly 3 like psychic NPC control, sailing pirate ships, treasure maps, biplane combat, disguises, firework combat, red-blue 3D and hotseat multiplayer. That wouldn't have been possible without a ton of teamwork.

– Adrian Bentley, Programming Director
Back in the Sly Cooper days, the team was much smaller, and as a result each of us got to work on a wide variety of things. It felt great laying out city streets one week, then helping tune pirate ship combat the next. Sly's cartoon reality allowed us to put in whatever piqued our interest that month. We'd make decisions around whatever got the most laughs. It was a bohemian atmosphere I am deeply grateful to have been a part of. Also, the voice actor who played Bentley (Matt Olsen) worked at a record store near my house. It was cool catching up with him on weekends and getting tips on bands I'd never hear of.

– Nate Fox, Creative Director
It's hard to believe two decades have passed since the world first met Sly, but we wanted to make sure to throw him a birthday party in style. We kicked off the celebration earlier this week with The Sly Collection, Sly Cooper: Thieves in Time, and Bentley's Hackpack joining the Classics Catalog for Premium members on PlayStation Plus*. Beyond that, today we're happy to debut some new art and merchandise to honor the franchise's legacy.
First, original Sly Cooper art director Dev Madan created an absolutely stunning tribute to 20 years of Sly, with a beautiful original piece of art jam-packed with references and easter eggs.
It's easy to get lost staring at all of the amazing details, and today we have two different ways for you to get this gorgeous poster for your home.
First, we've partnered with our friends at Cook & Becker for an ultra high-quality fine art print of the anniversary art. The print, on FSC-certified Radiant White 270gsm paper, will be available in two sizes: a 28" x 40" version limited to 40 hand-numbered pieces available starting at $225 USD, and a 20″ x 28″ version limited to 150 hand-numbered pieces available starting at $120 USD. Both versions will only be available while supplies last, and will include a Certificate of Authenticity signed by artist Dev Madan.
The prints will begin shipping in early October 2022. You can pre-order starting today at Cook & Becker with shipping available worldwide.
We also have an alternate poster print of the art available on the PlayStation Gear store – an 18″ x 24″ print on pound 100 gloss text paper. It will be available for $24.95 USD with an estimated ship date of December 2.
Dev Madan has also created a brand new Sly Cooper 20th Anniversary t-shirt design available on the PlayStation Gear store, featuring brand new art of Bentley, Murray, Carmelita Fox and Sly himself! This 4.3-ounce, 100% combed ring-spun cotton shirt also features the Sly Cooper 20th Anniversary logo on the right sleeve. This will be available for $33.95 USD with an estimated ship date of December 2.
Shipping for PlayStation Gear is available in the following regions:
LATAM: Bolivia, Chile, Colombia, Costa Rica, Ecuador, El Salvador, Guatemala, Honduras, Mexico, Nicaragua, Panama, Paraguay, Peru, Uruguay
EU: Austria, Belgium, Finland, France, Germany, Ireland, Italy, Netherlands, Spain, UK
Pre-orders for both the shirt and poster are available starting today on the PlayStation Gear store!
And finally today, our friends at Fangamer have created a brand new Sly Cooper 20th Anniversary Plush! This adorable version of Sly sits at about 9 inches tall, and includes a plush cane that can attach to Sly's hands via a magnet. Fangamer will begin shipping the Sly plush worldwide early next year, and you can sign up now at Fangamer to be alerted as soon as orders become available!
Thank you for 20 years of support for Sly Cooper! In just a few weeks, Sucker Punch will celebrate our 25th anniversary overall, and while we've moved on to new worlds since then, our work on Sly is an incredible part of that legacy that we'll always be proud of. We hope everyone enjoys revisiting the series or discovering it for the first time on PlayStation Plus, and if you pick up any of the merchandise we announced today, please show us your collection on Twitter by sending pics to @SuckerPunchProd!
*Game library varies over time, region/country and plan. PS Plus is subject to a recurring subscription fee taken automatically until cancellation. Terms apply: play.st/psplus-usageterms