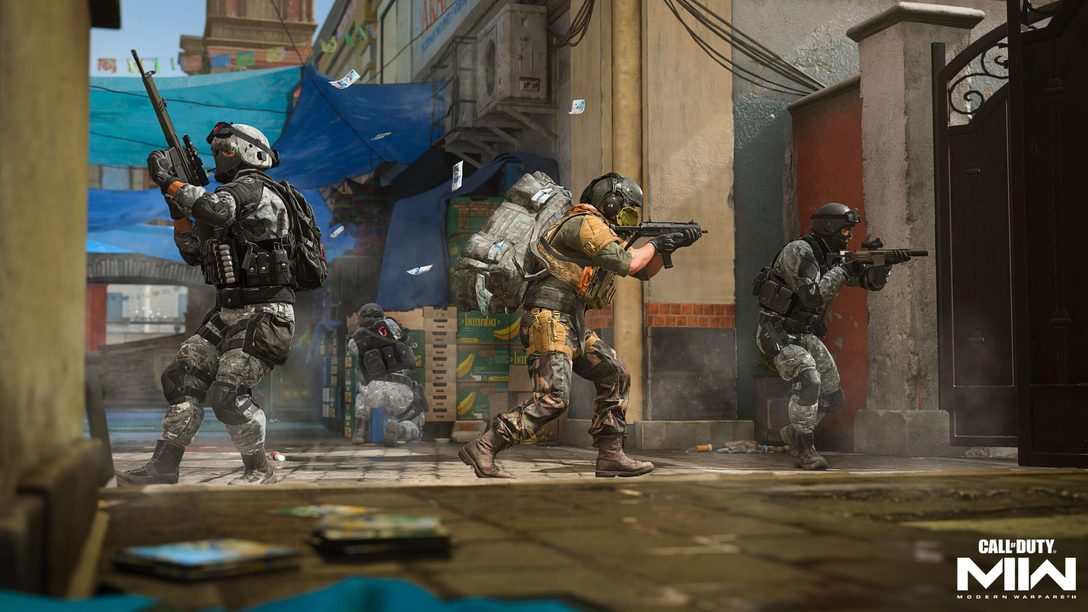 COD Next reveals PlayStation exclusive pre-order benefits plus new details on the major Call of Duty titles arriving this year.
Attention to all PlayStation players! Prepare for the next era of Call of Duty. At the Call of Duty: Next showcase event, new details emerged regarding the October 28 release of Modern Warfare II and the release later this year of Call of Duty: Warzone 2.0. Both titles promise a wealth of innovations and evolved gameplay.
Let's go over some of the newly revealed features, as well as additional Modern Warfare II pre-order incentives reserved exclusively for PlayStation.
Modern Warfare II Multiplayer Innovations
After years of development, Modern Warfare II has undergone extensive iterations, bringing a host of evolutionary changes in technology and design.
Swimming and Aquatic Combat: Plunge underwater to flank and attack enemies. With its increased density, water affects the dynamics of combat. Learn how to use sidearms and certain equipment to achieve your aquatic goals.
Enhanced Movement Options: Slide or dolphin dive to the floor, providing more ways to hurl yourself into an engagement. For vertical movements, utilize the ledge hang, allowing more freedom to explore your environment while climbing.
Employ New Vehicles: Pilot all-new vehicles like the UTV, Light Tank, Heavy Chopper, Tactical Vehicle, and Rigid Inflatable Boat. Vehicles feature more interactive and destructible elements than ever before.
New Equipment, Field Upgrades, and Perks: Test out new Field Upgrades like the Tactical Camera, Shock Stick, Drill Charge, DDoS, and Inflatable Decoy. Equip new Perk Packages, featuring two base Perks plus a Bonus and Ultimate Perk that are earned in the match.
Gunsmith Weapon Platforms: Earn Weapon Platform Attachments that are shared across all weapons in the same platform, as well as Universal Attachments that are shared across all relevant weapons.
New Modes: Play Ground War and the new player and AI mixed Invasion, and experience new modes like Knockout, Prisoner Rescue, and the new Third Person playlist for a change in perspective.
Firing Range: Available at launch, the Firing Range is an offline testing ground with three firing lanes, ledges for mantling, and multiple targets at different ranges.
Special Ops: Continue the story after the Modern Warfare II Campaign concludes in a branching cooperative experience allowing you to explore large-scale hot zones with your fellow teammate.
Raids: Arriving later this year after launch, Raids are a new experience for the franchise, a cooperative challenge requiring teamwork and strategy like never before.
Call of Duty: Warzone 2.0 Innovations
Prepare to deploy to Al Mazrah, the large and meticulously crafted new map launching with Call of Duty: Warzone 2.0 as part of Modern Warfare II Season One.
New Modes of Transportation: In addition to utilizing the new swimming mechanic, you'll also have the chance to take the controls of over a dozen unique vehicles. Occupy gas stations and seek out gas canisters to keep your fuel reserves topped up.
The Shop: An enhanced Buy Station that allows you to buy back squadmates; purchase gear like Gas Masks, Killstreaks, and Armor; and buy and upgrade weapons. You can also sell valuable loot for Cash.
Circle Collapse: A storm gradually envelops the Al Mazrah landscape. Expect variations to the traditional collapse, such as weather pattern anomalies that split the safe zone into multiple areas before reconverging into a single safe zone.
The Gulag: Starting with just your fists, loot and battle in a 2v2 multilevel arena for a chance to earn reentry to the map. Alternatively, eliminate the "Jailer" and use his keys to escape.
AI Combatants and Strongholds: Test your skills by attempting to conquer a Stronghold, featuring a high density of AI combatants ready to defend the loot within.
DMZ: Compete in an all new sandbox experience launching alongside Call of Duty: Warzone 2.0. Stay tuned for more info.
Campaign Early Access
Pre-order a digital edition of Modern Warfare II and receive early Campaign access up to a week before the full game launches* on October 28. Other pre-order benefits include:
Early Open Beta access starting tomorrow!
Immediate access to the Final Judgement Bundle and Khaled Al Asad Operator Bundle for use in Call of Duty: Vanguard and Call of Duty: Warzone.
Immediate access to the Ghost Legacy Pack for use in Call of Duty®: Modern Warfare® (2019) and Call of Duty: Warzone.
Vault Edition Pre-order Benefits
In addition to the previously listed rewards, Vault Edition pre-orders receive:
Red Team 141: Four playable Multiplayer Operators — Ghost, Farah, Price, and Soap — available during the Open Beta.
FJX Cinder Weapon Vault**: The ultimate Weapon Blueprint that retains its cosmetic properties across all native attachments. Available for use during the Open Beta.
Season One Battle Pass and 50 Tier Skips***: If you purchase the Vault Edition after Season One, the free Battle Pass and Tier Skips apply to the current season.
Ghost Legacy Pack: 20+ free items celebrating the Task Force 141 icon, for Call of Duty: Modern Warfare (2019) and Call of Duty: Warzone.
PlayStation Pre-order Exclusive†: Oni Operator Pack
In a collaborative effort between Infinity Ward and the PlayStation team, we'd like to introduce a PlayStation exclusive, the Oni Operator Pack.

By digitally pre-ordering Modern Warfare II on PlayStation, you'll be able to access the exclusive Oni Operator Pack, including the unique "Oni" Operator along with an exclusive Weapon Blueprint for use in Modern Warfare II and Call of Duty: Warzone 2.0.

For some background on this courageous operator, Hiro "Oni" Watanabe is a warrior and gun-for-hire who descended from a centuries-old samurai clan. Torn between country and family, he honors the code of the samurai while fighting to clear his disgraced family name. This additional Operator also brings with him a high-level Weapon Blueprint. Oni, and his equipment, will be playable in both Modern Warfare II Multiplayer and Call of Duty: Warzone 2.0 when the titles launch.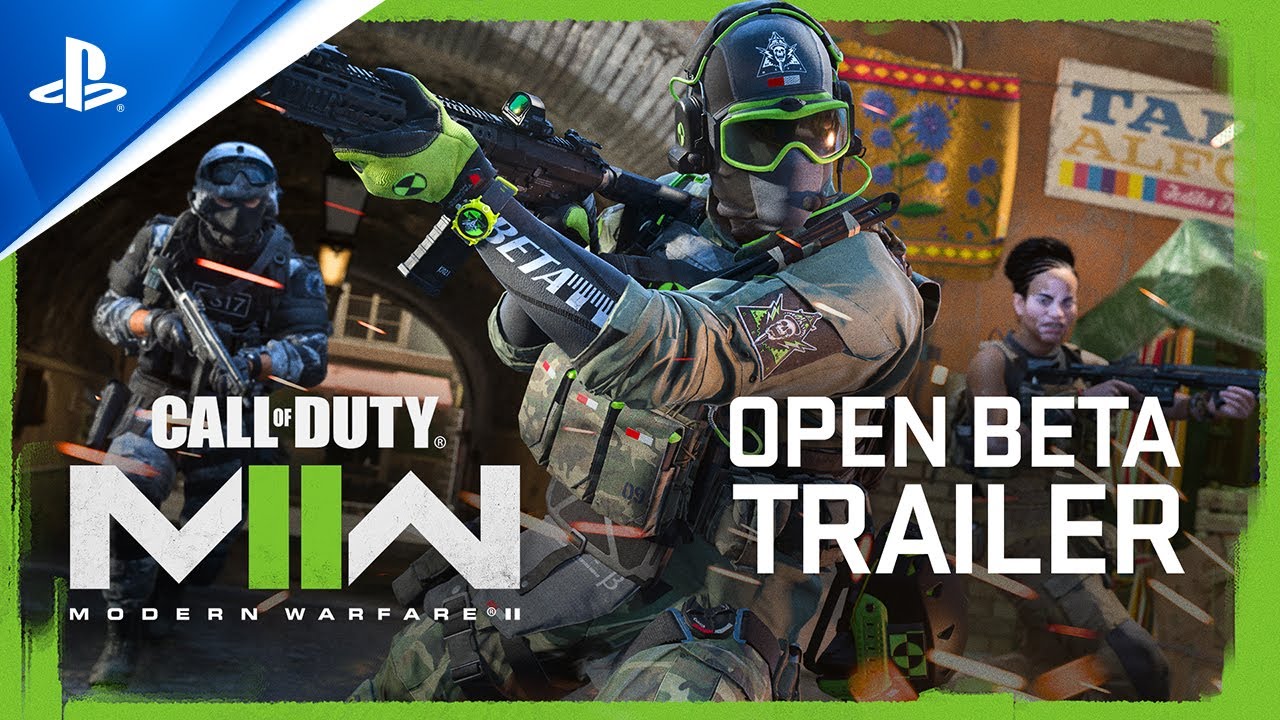 PlayStation Plays First: Modern Warfare II Multiplayer Open Beta
Weekend One: First on PlayStation
PS5 and PS4 players who pre-order Modern Warfare II get early access to the Beta starting September 16 at 10 AM PT. From September 18 to 20, all PlayStation players regardless of pre-order status can play.
Preloading for the Beta is available now on PlayStation. Download it so you're ready to play the moment the Beta begins.
Weekend Two
PS5 and PS4 players can access the Multiplayer Beta on the second weekend, regardless of pre-order status. The second weekend begins September 22 at 10 AM PT, ending on September 26.
Call of Duty: Modern Warfare II Launches October 28
Squad up and fight alongside the iconic Operators of Task Force 141 on October 28, featuring new gameplay innovations across a global Campaign, immersive Multiplayer combat, and the narrative-driven Special Ops.
Stay frosty.
*One week based on estimated access; actual play time subject to possible outages and applicable time zone differences.
** Weapon vault design limited to weapon vault contents at launch.
*** Battle pass and tier skips, or equivalent versions, will be accessible in modern warfare ii once the Season 1 Battle Pass, or equivalent system, is made available in game. Battle Pass redemption applies to one season of Modern Warfare II Battle Pass, or equivalent system only. for more information, please visit www.callofduty.com.
† PlayStation Plus players receive select bonus content not available on other platforms until Oct. 27, 2023. ps plus required for online multiplayer.