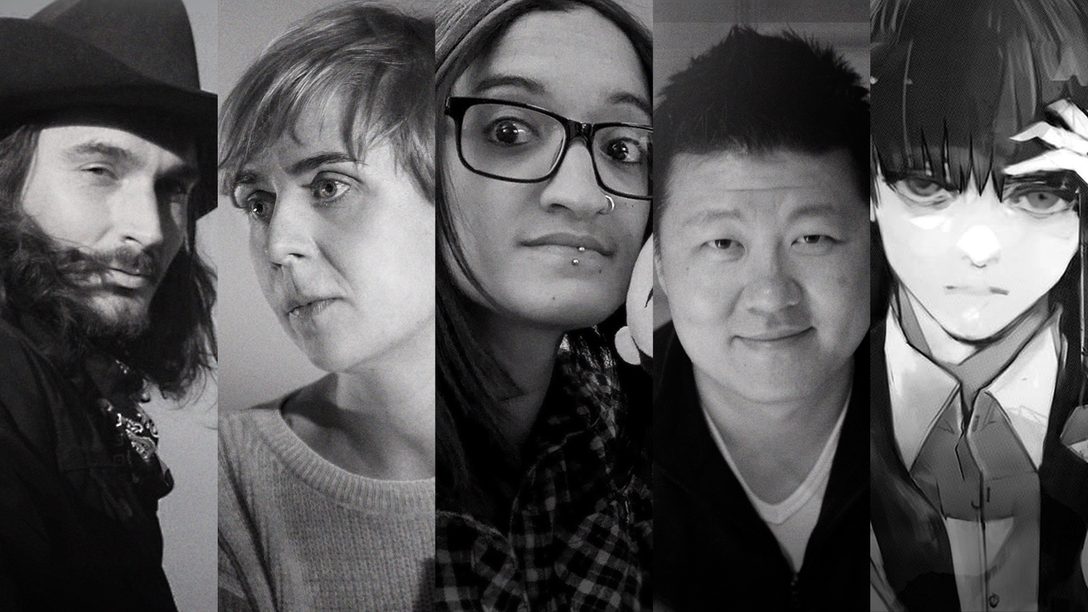 Five unique artists bring to life the relationships that define God of War Ragnarök.
In God of War Ragnarök, the relationship between Kratos and Atreus is the heart of what defines our story. Though they are our central family, there are many others across the Nine Realms that will also place their marks on how the events leading towards Ragnarök unfold.
We're very happy to announce a new collaborative partnership that will feature five immensely talented artists capture a selection of the most prominent relationships in the story with their unique styles in the God of War Ragnarök Family Portrait Series.
Over the next five weeks, Santa Monica Studio will be releasing one of the portraits every Tuesday.
Drew Merritt – The Bear and the Wolf
Drew Merritt is a contemporary artist based in Los Angeles, California. Working across a variety of mediums, his style blends classic realism that capture the emotional nuance of the subjects.
Drew has painted the heroes of our story, Kratos and Atreus, for his work – focusing on the core family of God of War Ragnarök.
"The complexity of the storyline and characters is hands down what really wrapped me into this project. I've also always loved Norse mythology and try to tie it into my work as much as possible, which basically made this franchise a dream for me to work with."
Portrait Reveal: Tuesday, September 13
Emma Ríos – The Dwarves
Emma Ríos is a Spanish comic book artist and illustrator whose cover art has earned her a 2020 Eisner Award and work with many of the heavy hitters in the comic book industry. Her style organically blends environments and subjects into fluid compositions with a whimsical, colorful quality.
Emma's work focuses on the Huldra Brothers, Brok and Sindri, alongside two dwarves you will meet during your journey in God of War Ragnarök.
"I enjoy action and hack and slash games, so it was easy for me to find it appealing. The last game, God of War (2018), has a touching story that plays very smoothly and has beautiful art direction."
Portrait Reveal: Tuesday, September 20
Romina Tempest – Heroes of Midgard
Romina Tempest is an illustrator and character designer who we had the great pleasure of working with on B is for Boy, an illustrated retelling of the events in God of War (2018). Her cartoon style captures the heart and expression of her subjects with dynamic backgrounds that create a scene that draws you into the moment of the scene.
Romina's piece will feature the found family that Kratos and Atreus have gathered to them on their travels through the Nine Realms.
"I've been playing God of War ever since it first hit the PlayStation in the early 2000s. What originally appealed to me was the combination of the hack and slash genre (my absolute favorite genre at the time thanks to games like Devil May Cry) which paired so well with fantastical characters and creatures from Greek Mythology.

What really struck me at the time was the scale of everything, from the creatures, which were often physically huge and fantastical to the plot and orchestral score."
Portrait Reveal: Tuesday, September 27
Jae Lee – Mother and Son
Jae Lee is a legendary comic book artist with award-winning work for many of the biggest names in comics. His style captures movement, light, and emotional depth in high contrast portraiture that lend to his expertise on adeptly conveying the headspace of even the most complicated characters.
Jae has captured a mother's grief and vengeance in his portrait of Freya and her lost son, Baldur.
"As an artist, I appreciate the sheer skill involved in building a world like [God of War]. These games represent a lot of blood sweat and tears that the people that built this up from nothing have sacrificed for us so that we can escape the suffering of our daily lives for just a little bit."
Portrait Reveal: Tuesday, October 4
Sui Ishida – The Aesir
Sui Ishida is a Japanese manga artist behind the massive hit Tokyo Ghoul series. His stylistic approach melds a painterly aesthetic to traditional manga elements. His use of color brings a soft, almost dreamlike quality to his portrait work.
Ishida's piece focuses on the Aesir, the most powerful family in the Nine Realms led by Odin, the All-Father.
"It's a long-running series, and the setting changed a great deal from the last installment, so I think that part of God of War's appeal is in how players can embark from the latest game and also dip into the series' past and explore the series' world.


Also, I've been interested in mythology for a long time and do a lot of reading about it, so for me, seeing how the various gods feature as characters in the games is something else fun that God of War offers."
Portrait Reveal: Tuesday, October 11
—–
For the latest updates around God of War Ragnarök, make sure you follow Santa Monica Studio on Twitter, Facebook, and Instagram.
God of War Ragnarök launches November 9, 2022. Pre-order your copy at PS Store.