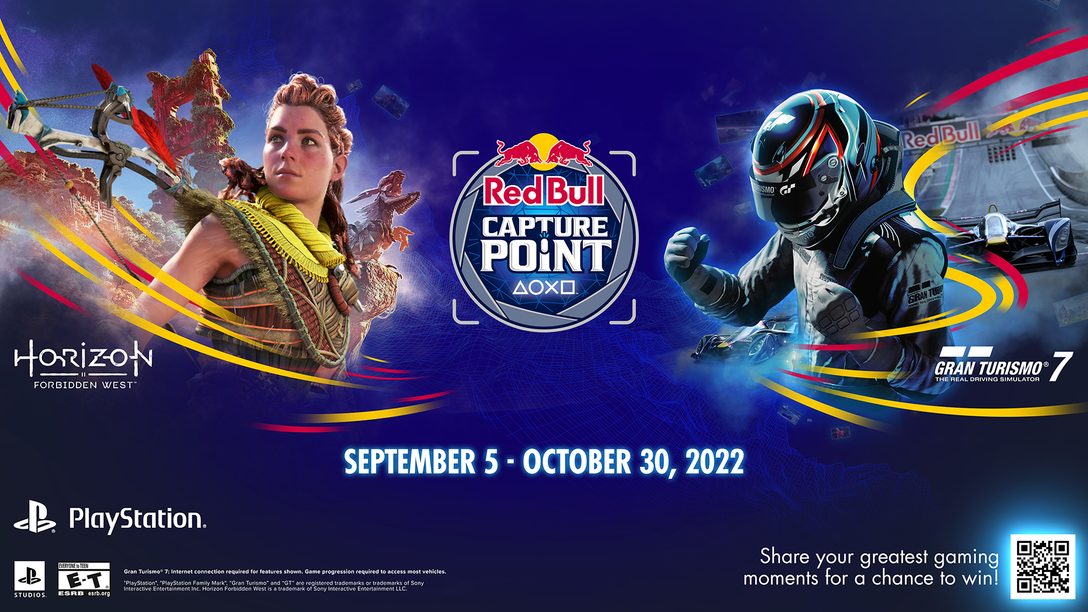 Share your best screenshots to be in with a chance to win a once-in-a-lifetime experience.
The PlayStation team is thrilled to partner with Red Bull for the second year of their virtual photography competition, Red Bull Capture Point. After the success of last year's competition, Red Bull Capture Point is going global by welcoming additional markets to participate in 2022, allowing budding photographers from nine countries to submit their snaps for the chance to attend a one-off exhibition in New York City and a chance to win some incredible PlayStation and Red Bull prizes. Excited already? For more information on rules & prizes check out the competition page redbull.com/capturepoint.
Games are the ultimate visual medium, giving every player the chance to see fantastic worlds from their own unique perspectives. From exploring futuristic landscapes to driving vehicles you'd never get your hands on in real life, there are so many experiences that games can offer that simply wouldn't be possible. As technology has improved, so too has people's abilities to capture these worlds and experiences through photo modes and in-game screenshots – the best of which will be celebrated in Red Bull Capture Point.
This year, we're asking creatives to showcase their skills in Guerrilla's stunning open-world adventure Horizon Forbidden West and Polyphony Digital's gorgeous racing sim Gran Turismo 7* – two of the most visually arresting games to come to PlayStation consoles. We're looking for beautifully arranged shots – so get snapping and show us your best!
Aspiring photographers can submit captures in four categories, with each one representing a different theme. There will also be an overall Best in Show winner for each region. Each category will be open for a two-week period and will have its own unique requirements, which will be shared on Red Bull Gaming social media and the competition website a few days before entries open. More information on categories & submission timelines can be found on redbull.com/capturepoint. Entries will be open from September 5 to October 30. To enter, gamers must share their screenshots to Twitter via the PlayStation Network, using the official Red Bull Capture Point hashtag which will vary by region.
To pick the winners, a panel of expert judges will rank submissions per category based on interpretation of the theme, the technical execution, and the uniqueness of the concept. Alongside this, the best entries will be hand-selected by several significant personalities in the virtual photography scene, including Kate Reed (@kaytanaa, U.S.), Petri Lev Alahti (@Berduu, Sweden), and lead judge Mik Bromely (@TheFourthFocus, U.S.).
One Best in Show winner from each country, in total nine, will be invited to an exhibition in New York City, with an all-expenses paid trip which will include workshops with professional photographers to enhance their skills.
Winners will also receive an incredible Red Bull prize pack, including a PlayStation 5 console, official peripherals, and more goodies.
Red Bull Capture Point is open to aspiring photographers in Argentina, Belgium, Canada, Chile, France, Netherlands, United Kingdom, United States, and Sweden. To see the submission, entry process for your respective country, detailed info on the list of categories and full terms and conditions, head over to the official competition page at redbull.com/capturepoint.
Good luck and have fun!
*Gran Turismo 7: Internet connection required for features shown. Game progression required to access most vehicles.