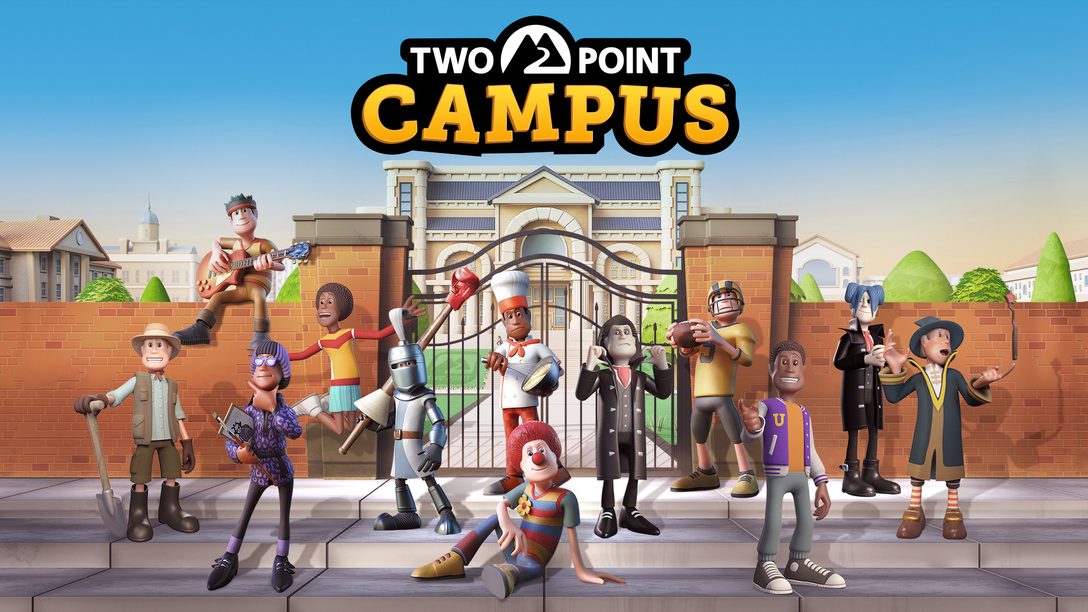 SEGA is pleased to announce that the eccentric university management sim, Two Point Campus, is now on sale! This title is the latest in the Two Point series, which has been enjoyed by over 3 million users worldwide! Two Point Campus is available from August 10, 2022 (PlayStation®4 / PlayStation®5)!
Build and manage campuses, shape the lives of your students and faculty, and expand your educational empire in the wacky world of Two Point County.
Game Overview
Assume the role of university president in Two Point Campus. Decide what subjects are taught and efficiently use your budget to construct Research Labs, classrooms, student facilities, dormitories, and student unions. If you build up a good reputation, you can attract even more students to your campus and rake in some money! Strive to create a high-performing and profitable academic institution where students are satisfied and motivated.
You will be responsible for all decisions – who to hire, what courses to teach, and how to make a profit while keeping student happiness and grades high. As you progress through the game, you'll unlock more facilities to keep your students happy, more equipment to enrich your courses, and new skills to train your faculty with. The number of faculty and students will also increase over time.
New gameplay features and courses will become available as you build a reputation in Two Point County. How far you go and how many objectives you decide to complete is entirely up to you!
The Vast Two Point County!
The expansive Two Point County features a multitude of environments, from snow-covered landscapes to tropical islands and deserts. Inside the county, 12 campuses await your directions.
There are more than 300 different types of equipment and items in the game, and by raising your university's reputation, you can unlock more parts of the map and further customize your campus.
Unlock More Campuses as You Progress!
As you become more proficient in university management, other campuses on the map will be unlocked. You begin your career at Freshleigh Meadows, a campus in the countryside. Here, life moves slowly and expectations are low. Learn the ropes, make mistakes, and hit the ground smiling. Develop the campus into one that you can call your own.
Tons of unique courses!
Courses are an important facet of campus management, attracting students to the player's campus, generating revenue through tuition fees, and providing the foundation of the academic element of the game. Each course run by your campus will have its own timetable of classes and assignments for each year. New courses can be unlocked through course points gained through campus progress. Courses use general Academic Rooms, with some courses having their own, unique rooms as well.
Musicality
At the sound stage, students can improve from nails-on-a-chalkboard-level incompetence to having the ability to perform beautiful melodies brimming with musical mastery. Provide students with musical equipment to inspire them to greatness, and train music teachers to improve Grades.
Wizardry
Potion-making is a key skill for any student of magic. Combine unusual ingredients to make unusual concoctions. Upgrade the magic cauldron and train the magic teachers to improve Grades. Magical dueling is the beautiful and noble art of trying to turn your opponent's head into a pumpkin. Magic students can practice their wand-work in the dueling circle. Upgrading the dueling circle will improve Grades.
Academic Exercise
Cheeseball is the most popular sport in Two Point County, and the only way to truly play Cheeseball is on an official Cheeseball pitch. The Cheeseball Field is the perfect venue for students to play this beloved sport on campus.
Unique Campus Rooms!
In Two Point Campus, you can build a variety of rooms for educating and housing your students and staff. There are also many rooms for different courses. Expand your campus by constructing more buildings to accommodate as many students as possible.
As an example, here are three key areas:
Student Union (The floor is supposed to be sticky, we promise.)
The Student Union is the hub of all social activity on campus. Whether it's a delicious milkshake from the bar or maybe even a visit from a favorite band, this room will be sure to provide your students with all their social and entertainment needs.
Lecture Theatre (Times flies when you're listening intently.)
The Lecture Theatre uses the finest visual aids to keep your students engaged in their learning. Who said lectures have to be boring? Upgrading the lectern and setting up decorations will increase student engagement and improve Grades.
Private Tuition Room (Where every hour is office hour(s).)
Many students fear the Private Tuition Room, although that mostly boils down to laziness. Students can be sent here to receive one-on-one teaching, which will boost their Grades. Training your teachers in the extra tuition qualifications will increase this boost.
Sandbox Mode
In addition to the 12 campuses on the map, there is a Sandbox Mode that lets you play any of the levels with adjusted parameters. For newcomers to the series, this is a great way to relax and enjoy the game!
---
Two Point Campus
・ Release Date: August 10, 2022
・ Platforms: PlayStation®4, PlayStation®5
・ Languages: Chinese/English Voiceover
・ Subtitles: English, Simplified Chinese, Traditional Chinese
・ Website: https://www.twopointcampus.com
・ SEGA Asia: Facebook https://www.facebook.com/sega.asia.EN
・ SEGA ASIA BLOG: https://asiablog.sega.com/?lang=en
・ Copyright: ©Two Point Studios 2022. ©SEGA. All rights reserved.
---