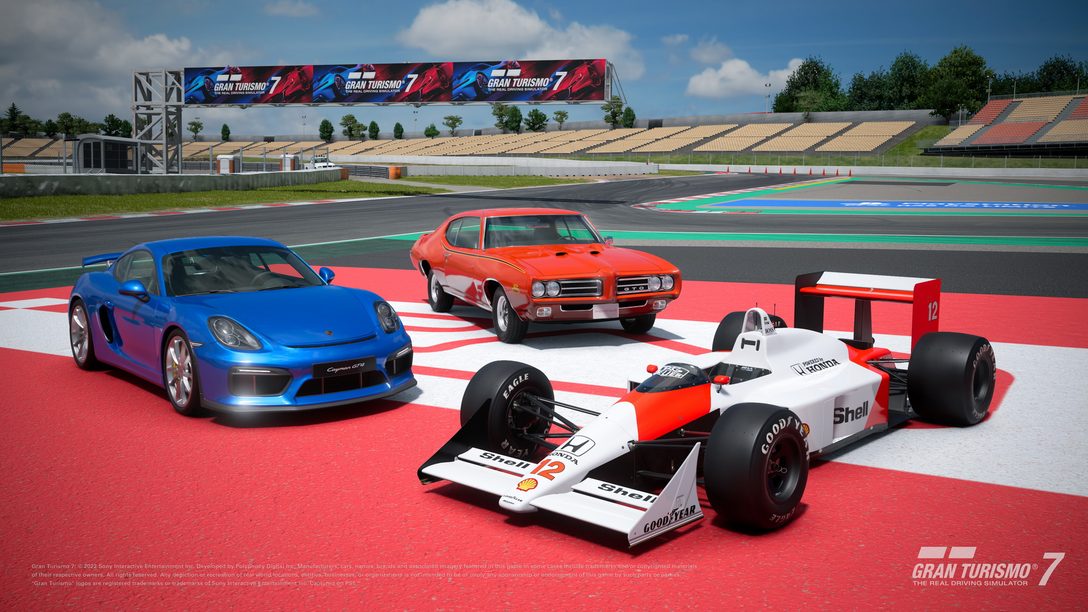 Exciting new cars being introduced including the De Tomaso Mangusta (Christian Dior) and the legendary McLaren MP4/4 '88.
Gran Turismo players! The August update for Gran Turismo 7 arrives today August 24 at 11:00pm PDT* (August 25 at 7am BST / 3pm JST).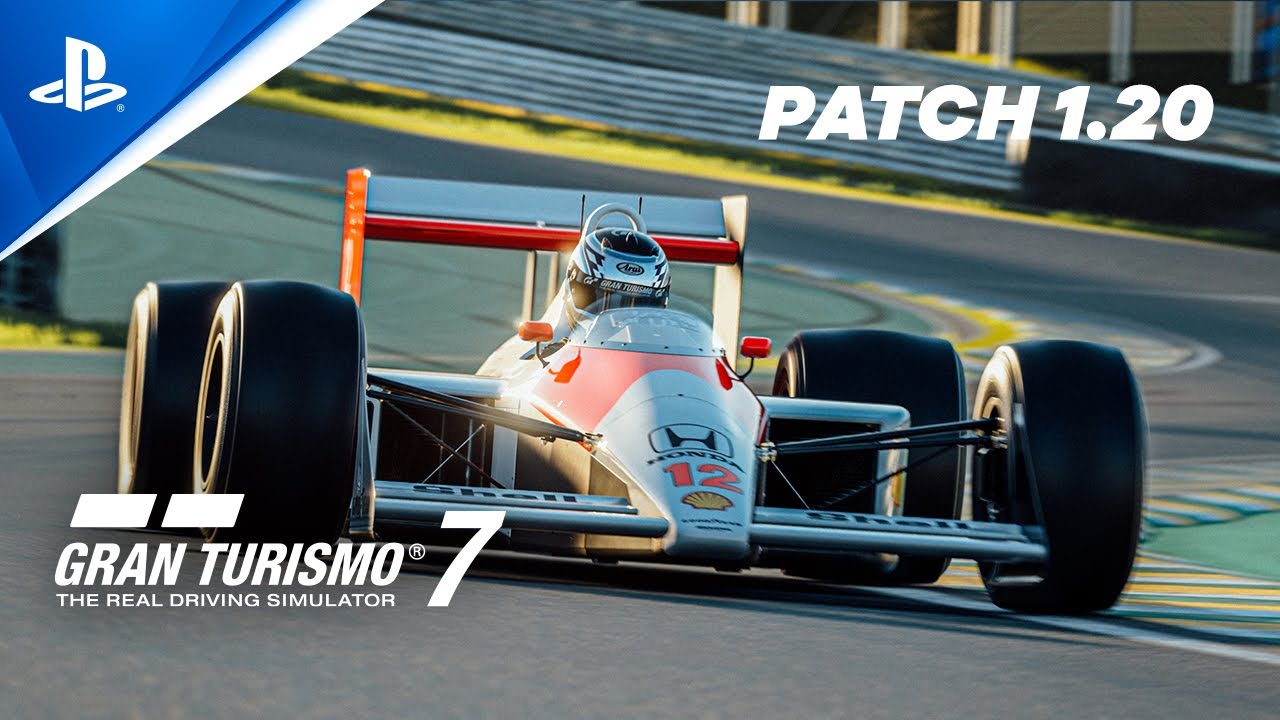 Four New Added Cars!
McLaren MP4/4 '88
A legendary F1 machine that marked the end of the Turbo era.
McLaren fought the 1988 F1 World Championships season in the MP4/4. This was a low height, low drag machine designed by Gordon Murray and Steve Nichols, powered by the Honda RA168E engine. This was also the last year for turbocharged machines in Formula racing. With the allowed maximum boost pressures reduced from 4 bars to 2.5 bars, and on-board fuel reduced by 45 litres to 150 litres in total, it was supposed to be a very tough season for the turbocharged machines. But in the end the McLaren Honda MP4/4 totally dominated the season with 15 wins out of 16 races. Of course, the chassis was very well developed, but the Honda engine which balanced fuel consumption and effective power extremely well is said to be the major factor in their victory. The number 12 MP4/4 was the car driven by Ayrton Senna. Senna put on an incredible performance this year with 13 pole positions and 8 wins and won the drivers' championship.
Pontiac GTO 'The Judge' '69
This extreme sports package was introduced for later models of the GTO, the original muscle car.
The original Pontiac GTO debuted in 1964 to great success and is said to be the original road-going muscle car. However, the 1968 second generation model changed to a more style oriented fastback and while it wasn't lacking in performance it failed to stand up to more powerful rivals that had arrived on the scene. In a bid to make a comeback, General Motors released 'The Judge' in 1969. Costing a mere $332, this sports package included a staggering amount of equipment as standard. It included unique decals and racing stripes, a Hurst shifter, heavy duty suspension, wider tires, and a rear spoiler. The engine was upgraded to the 6.6L 'Ram Air III' V8, which was listed at 360 BHP but rumored to produce much more. As a result, 'The Judge' was able to top its rivals in both presence and performance, gaining it widespread attention. Just one year later though, strict emissions regulations came into effect in the United States and muscle cars like the GTO began to decline.
Porsche Cayman GT4 '16
A motorsport focused Cayman with the power of the 911.
As 911 has always formed the backbone of Porsche's sports car racing endeavours, racing focused 911 models have always been part of their catalogue line-up and available to the public. 2015 however, saw the arrival of an outlier. A motorsports version of the less powerful mid-ship Cayman coupe was introduced as the Cayman GT4. Its most notable feature is the powertrain. Based on that of the 911 Carrera S, it combines a 3.8L flat-6 engine with a 6-speed manual transmission. What's more is it produces 379 BHP, more than the base model 911 Carrera. The brakes and suspension also use parts from the 991 GT3 and the ride height has been lowered 30 mm from the standard position. The exterior has also been changed to match the car's new image with a unique front lip and fixed rear wing. A glance over the option list will also show you track focused this model is, featuring a roll cage, fire extinguishers and a 6-point harness for the driver's seat.
De Tomaso Mangusta (Christian Dior)
An Italian sports car reimagined by a fashion giant.
As one of France's foremost luxury houses, Dior has continually led the industry since its very beginning. And this car that was born of an undertaking ‒ to reimagine sports cars through their elegant and evolutionary brand essence ‒ is the De Tomaso Mangusta (Christian Dior).
The model that was selected as the 'raw material' is the De Tomaso Mangusta, an Italian sports car that proudly embodies the allure of the 1960s. The styling, which exhibits both finesse and strength, was designed by Giorgetto Giugiaro during his days at Carrozzeria Ghia, and is renowned for its gull-winged rear hatch.Artistic Director of Dior men's collections Kim Jones has cast the House's magic on the Mangusta, adorning it with livery that combines an intentionally conservative body colour, complete with chic stripes, in addition to the Dior lettering on the sides. Racing number 47 on the bonnet represents 1947, the year of Dior's revolutionary debut collection.
Kim Jones has also turned the car's driver into an alluring part of the Dior universe. When the car is selected, the player's racing suit and helmet will be instantly replaced by a suit designed by Dior, making the driver a part of the House's expression, becoming one with this very special Mangusta. Introducing an avant-garde present based on a classic 1960s sports car: this is an epoch-making model that only a house like Dior ‒ one that truly knows the nature and esprit of fashion – can produce.
Three New Layouts Added to Circuit de Barcelona- Catalunya
Circuit de Barcelona-Catalunya GP Layout No Chicane
The chicane running into the final corner has been removed, transforming this once low-speed sector into a high-speed right turn and providing a thrilling layout where aerodynamics is thoroughly put to the test. To accompany the 'No Chicane' layout being added to the game, the existing Catalunya circuit has been titled 'Circuit de Barcelona – Catalunya GP Layout'. Circuit de Barcelona ‒ Catalunya is a race circuit located approximately 30km north of Barcelona, Spain. It has been the stage for many epic F1 and MotoGP races since opening in September 1991
Circuit de Barcelona-Catalunya National Layout
The home straight from the GP Layout now runs into a hairpin turn, resulting in a more compact track that completely cuts through Sector 1 and half of Sector 2. Yet, there is still plenty on offer as the long back straight and technical 3rd Sector are preserved, providing a very satisfying racing experience.
Circuit de Barcelona-Catalunya Rallycross Layout
This special rallycross layout is made up of the GP Layout's Sector 3 and infield areas, resulting in a unique hybrid track composed of paved and unpaved surfaces. The jump in the middle of the track is a sight to behold.
Be sure to stay tuned to official GT and PlayStation channels as there are plenty more updates to come from the team. Until then, happy racing!
Café – Extra Menus
These extra menus provide opportunities to create new car collections based on a variety of themes. Players who have reached the ending and have reached a certain Collector Level can access them and earn rewards. In Update 1.20, the following 2 extra Menu Books have been added. Further Menu Books are planned for future updates.
'Abarth' Collection: Opens at Collector Level 27
'Gr.2 Racing Cars' Collection: Opens at Collector Level 38
* Internet connection required for update. Game progression required to access vehicles.