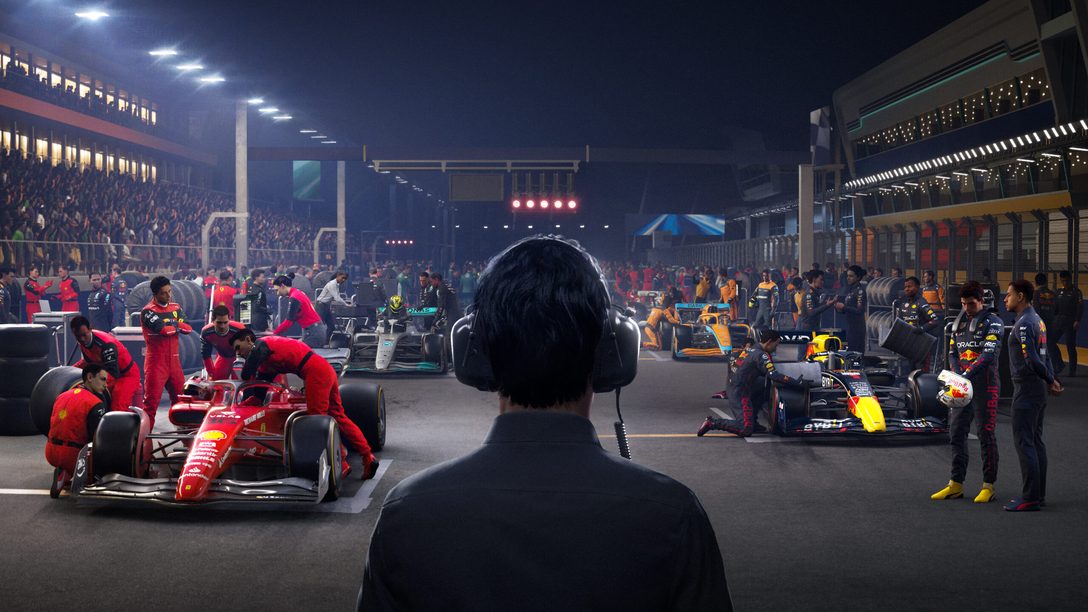 As F1 Manager 2022 lines up for launch, we take a look at the Belgian GP in game.
Think you've got what it takes to be a Team Principal of an F1 team? As we draw closer to launch day, we thought we'd share a few more details about F1 Manager 2022 with PlayStation players as we're very excited to be bringing an officially licensed F1 management game to console for the first time.
From August 25, you'll be able to sit on your sofa or armchair of choice and drive every decision for your chosen team. Pick one of the 10 current teams in F1 and manage all the action both off and on the track with authentic broadcast-style presentation and unrivaled depth and detail.
We've worked closely with F1 to ensure that every aspect of the game authentically showcases its fast-paced, exhilarating world, and the team at Frontier has been hard at work to make sure that console players have a smooth and immersive experience. F1 Manager 2022 offers the same gameplay experience across every platform, and on console the controls have been designed from the ground up to create seamless navigation between menus and racing action.
It's race week
Coming into the historic Belgian Grand Prix at the beautiful Circuit de Spa-Francorchamps, you'll certainly need your wits about you.
Before the race weekend starts, you'll need to ensure any parts you're developing for this race are finalised and fitted, ready to test your new set-up at the track. Be sure to make the most of the data available back at your HQ, including circuit data that will provide details about the track, timing data from previous races, safety car likelihood and potential weather forecast.
Let's touch on weather, shall we? For those of you that know Spa and those that don't, rain is always a threat. How you, as Team Principal, prepare your drivers for this possibility will make or break your race weekend.
Your Weather Centre back at the factory will provide a weather forecast for the weekend, based on real-life, historic data. As you go into the race weekend itself, each day you'll be greeted with a predicted forecast for the entire session, based on the accuracy of your Weather Centre. You'll need to upgrade this facility if you want more accurate forecasts!
Time for tyres
Knowing if/when it's going to rain is only part of the challenge, however. We've made sure to simulate the real-life challenges that teams face when the weather changes, this includes how rain affects the circuit. F1 car tyres tend to shed a small amount of their rubber onto the track as they complete laps, which in turn provides more grip as that rubber beds into the circuit surface. If it were to rain halfway through a session, the rain will eventually start to wash this rubber away, causing a loss of grip.
As well as the regular soft, medium, and hard tyre compounds used in normal conditions, your team also has an allocation of intermediate and full wet tyre compounds. For wet and very wet conditions respectively. It's on you to make the call as to when these tyres are used. Will you gamble that Intermediates will suffice, and hope the rain fades? Or commit to full wet tyres and hope it's the right move?
Often, in F1 it's the tyre strategy that can alter the course of a race and it's no different in F1 Manager 2022. Get this right and you'll be on the podium in no time, get it wrong and you could be floundering around at the back of the grid while your competitors sail away in a cloud of water vapour.
Changes in weather and track conditions are just two of the many difficulties you'll face, and we're really excited to see how PlayStation players take on the rest of the challenges that being a Team Principal throws at you in F1 Manager 2022.
Pre-order the digital version now on PS4 or PS5 to get early access from August 25 and a 10% discount for PlayStation Plus members. We'll see you in the Paddock!