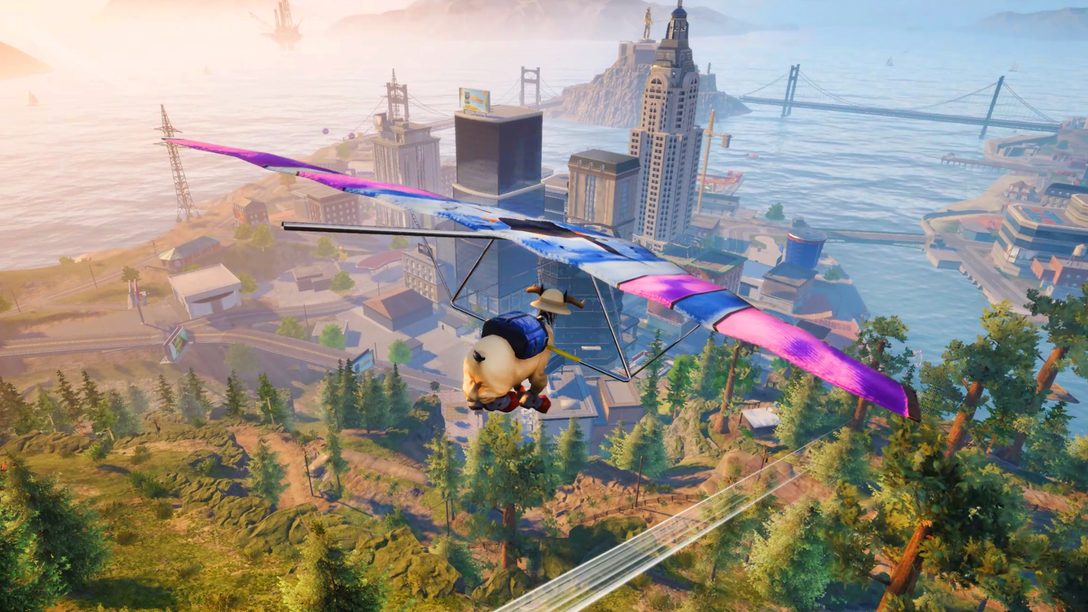 From goat gear to multiplayer mini-games.
Hey PlayStation players! I've goat some new details I wanted to share with you on our silly sandbox game, as well as our first gameplay trailer, revealed today at Gamescom Opening Night Live.
Goat Simulator 3 is coming to PlayStation 5 on November 17 and we're hyped to reveal more details on what you can anticipate. If you've had the misfortune of playing Goat Simulator, you're familiar with our specific brand of nonsense, but this time around we promise we've tried a bit harder: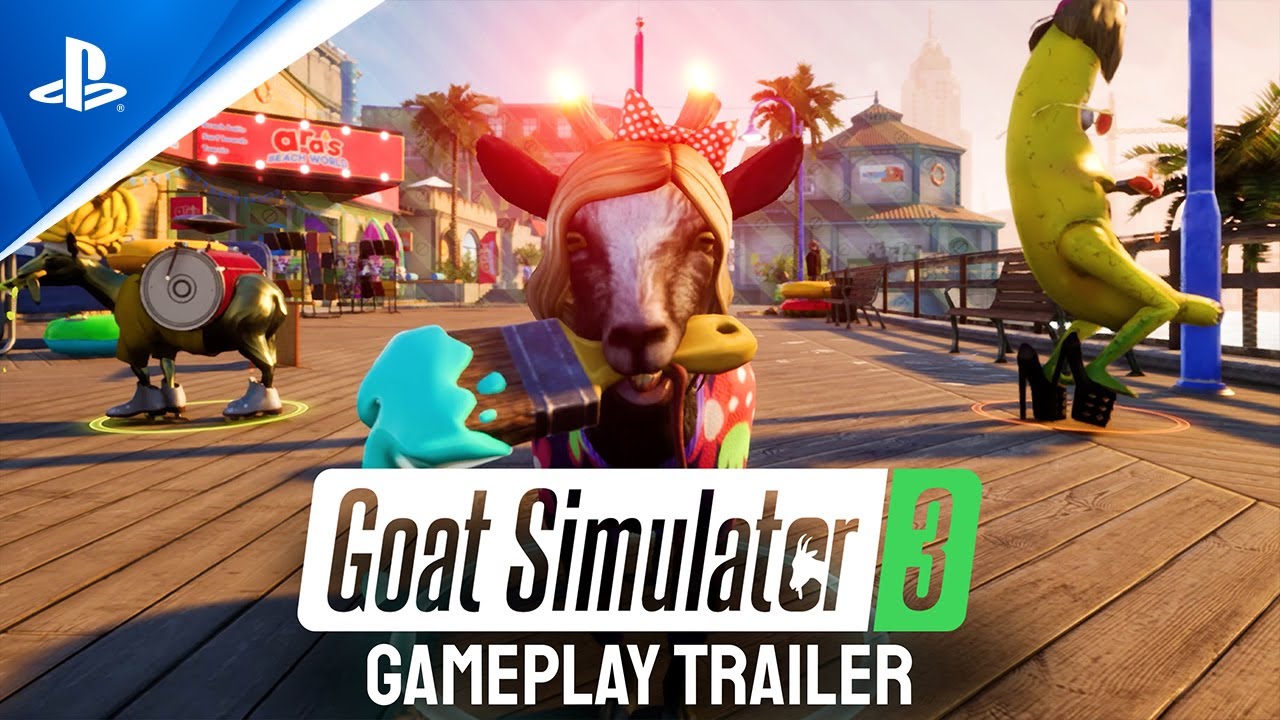 The essence of Goat Simulator 3 is the freedom to explore and uncover the mysteries of the sprawling city of San Angora and cause absolute carnage. There is so much to uncover, destroy, and milk, but I wanted to highlight a few of our "gameplay features":
Multiplayer mini-games
Got friends? Because the feature we're probably most proud of is the 4 player multiplayer in Goat Simulator 3. Everything Pilgor does in single player can also be enjoyed with friends, online or in local co-op. We've added a load of mini-games, seven in fact which are:
King of the Hill – Stay inside the castle to gain crowns. The player with the most crowns wins.
The Floor is Lava – Don't touch the lava! Use your parkour skills and climb as high as possible to escape the rising lava. Last one alive wins.
Car Derby – Drive into the rear of the other players vehicles to explode their bombs. Last player alive wins.
Prop Hunt – Classic hide and seek. If you are the seeker, find the other players by headbutting stuff. To hide, lick your desired prop. Move around when hiding to gain extra points.
Headsplat – Use your headbutt to paint the world. You get a point for each painted thing.
Hoofball – Get the ball in your goal to score points. The player with the most points wins, like usual.
Prop Golf – Get your prop to the flag ASAP. First player to reach the flag wins.
We've highlighted special areas around the island where you can unlock each mini-game, if you've yet to come across it before, and play in a space designed for the "best" experience for that game.
Once you unlock a mini-game you can then play it anytime and anywhere you want. Either give you and your friends a worthy challenge or activate the mini-game in the most ridiculously inappropriate or silly setting possible just for giggles. These will put your goat skills to the test in different ways! If a round is not going in your favor, you might want to equip a gear that gives you the upper hand.
Customization
Role playing as a goat is the crux of Goat Simulator 3, and we want players to be able to really embody their protagonist in as many fabulous forms as possible. The game features over 350 customisation items designed to delight and offend (we're looking at you "pre-udder"').
Want to wield an electrified sword as a ghost in stilettos? Shoot laser beams from your eyes? Fancy grinding across San Angora wearing toilet paper for shoes and balancing a tea set on your back? We got you.
Don't want to be a goat? Firstly, I'm shocked you've got so far into this blog, but fear not! You may be pleasantly surprised to hear that in the world of Goat Simulator 3, goats come in all shapes and sizes. From tall goats (known in some circles as giraffes) to angry goats (aka rhinos, Steve and also this monstrosity – the Abominana.
If this sounds like your bale of hay, Goat Simulator 3 is available for Pre-Udder at PlayStation Store, do it now and you'll get an exclusive in-game jiggly udder to impress and unsettle your friends! You know you want one…