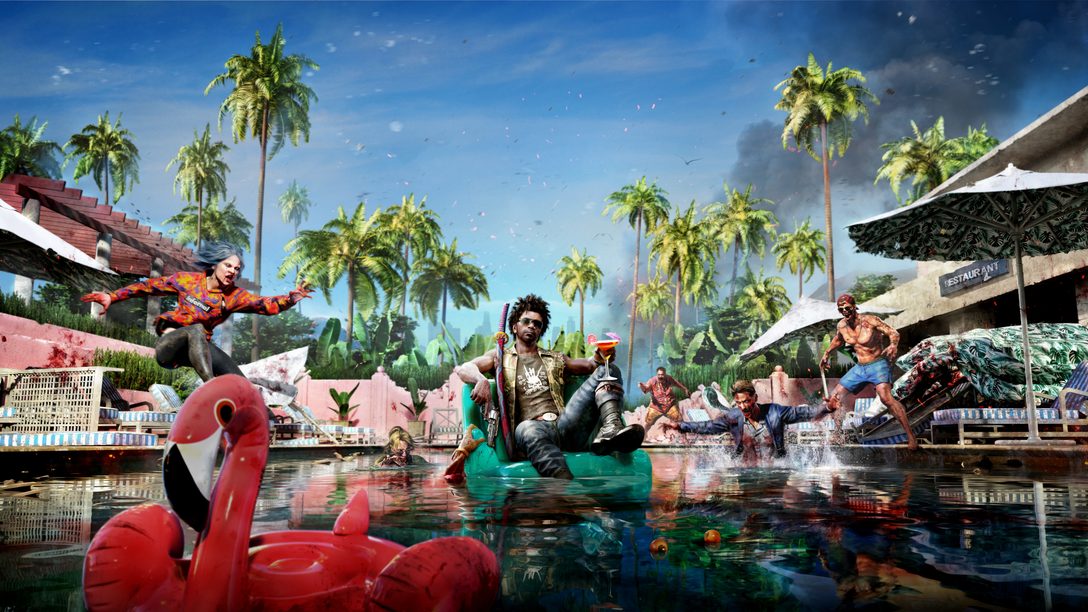 Los Angeles-set zompocalypse gets its gameplay debut at Gamescom. 
Yes, that's right, Dead Island 2 is OFFICIALLY a thing! So why have we been so quiet? We wanted our global announcement to go hand-in-hand with an awesome demo and we're delighted that press around the world are getting their hands on the beta build of the game at Gamescom.
We're really proud to finally show off all our hard work!
Dead Island 2 is a thrilling first person, action RPG, set in a zombie-infested Los Angeles that we like to call, HELL-A!
So, what have we been up to? In 2018 Deep Silver Dambuster Studios started development on Dead Island 2, focusing on a pulp horror zombie experience – in your face; close, visceral, and personal.
We didn't want our heroes to be mere survivors – we wanted them to be thrivers, running headlong into the fray with a predator's grin and the odd wink to the camera.
We've put a lot of effort into building our game world, the narrative and most of all, our tactical and very, very gory first person melee combat.
In our story Los Angeles has been overrun, the evacuation effort has failed, the military has retreated and LA is in total quarantine. You are infected but immune and experiencing powerful changes to your body. To escape Hell-A you must embrace the slayer inside of you and, perhaps, the zombie inside of you too!
So what makes Dead Island 2 so unique?
Firstly, Dead Island is known for its fantastic Paradise Gone to Hell setting, and our zompocalypse takes place in none other than the City of Angels. We take players on a rollercoaster ride through many of the picture postcard LA locations, from the beaches of Venice and Santa Monica through to the luxurious mansions of Bel Air and beyond.
Second, visceral combat- our main gameplay pillar. We are unashamedly focused on zombie slaying and we spent an unhealthily amount of time passionately developing our own ridiculously gruesome gore tech (codenamed FLESH – Fully Locational Evisceration System for Humanoids). To compliment the gore we have an huge arsenal of upgradable melee and ranged weapons, an in depth and highly customizable skill card system, allowing players to truly customize their play style, and this all exists within a chaotic and bloody combat sandbox! Players can slice, dice, roast, melt, bludgeon, break and dismember zombies in incredibly stylish ways, and all fully procedurally.
Zombies are at the center of everything in Dead Island. You'll encounter a huge roster of gameplay and visual zombie variations all encapsulating the vibrancy and uniqueness of LA.
This is all experienced through our brash and confident pulp tone – it's vibrant, cocky and larger than life with a knowing wink to the camera. But let's not forget we are pulp horror at our bloody heart, so there are plenty of jump scares, monstrous encounters and creepy locations to explore!
The demo that press are playing at Gamescom focusses this first look on our brutal, tactical combat through the "Boardwalking Dead" quest, taking place at the Pier in Santa Monica. It's a quest mid-way through our adventure, and allows them to experiment with our rich combat system and experience our unique pulp vision of LA.
That's all. For now. We can't wait to tell you more in the very near future!
Dead Island 2 is out on PlayStation 4 and PlayStation 5 on February 3, 2023.