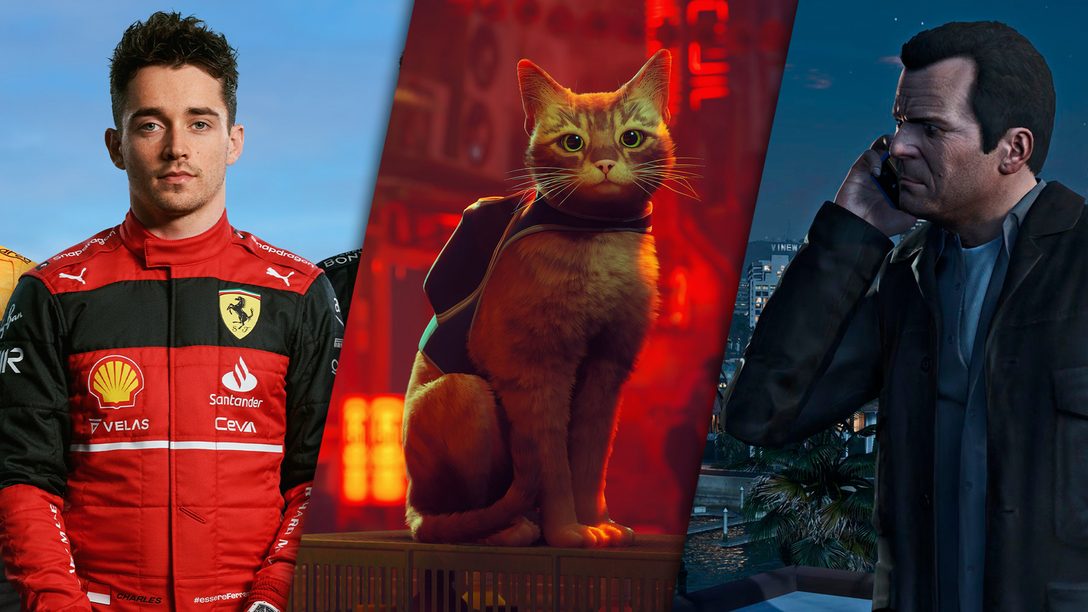 Stray and F1 22 lead the pack
The cat's meowt of the bag — Stray was the most downloaded PS4 and PS5 game on July's US/Canada PlayStation Store charts. F1 22 raced to the top of the EU charts, while GTA V, Minecraft, and NBA 2K22 took various runner-up spots.
Read on for July's full charts, then hit the comments to let us know how you think August's list will shake out.
PS5 Games
| | US/Canada | EU |
| --- | --- | --- |
| 1 | Stray | F1 22 |
| 2 | Grand Theft Auto V | Stray |
| 3 | NBA 2K22 | Grand Theft Auto V |
| 4 | F1 22 | Star Wars Jedi: Fallen Order |
| 5 | The Quarry | NBA 2K22 |
| 6 | Star Wars Jedi: Fallen Order | Among Us |
| 7 | MLB The Show 22 | The Quarry |
| 8 | ELDEN RING | FIFA 22 |
| 9 | Among Us | FAR CRY 6 |
| 10 | Call of Duty: Vanguard | LEGO Star Wars: The Skywalker Saga |
| 11 | Dead by Daylight | ELDEN RING |
| 12 | LEGO Star Wars: The Skywalker Saga | Devil May Cry 5 |
| 13 | FAR CRY 6 | The Dark Pictures Anthology: House of Ashes |
| 14 | Resident Evil 3 | No Man's Sky |
| 15 | No Man's Sky | It Takes Two |
| 16 | Tom Clancy's Rainbow Six Siege | Gran Turismo 7 |
| 17 | Mortal Kombat 11 | Tom Clancy's Rainbow Six Siege |
| 18 | Sifu | Dead by Daylight |
| 19 | Ratchet & Clank: Rift Apart | Resident Evil Village |
| 20 | WWE 2K22 | Jurassic World Evolution 2 |
*Naming of products may differ between regions
*Upgrades not included
PS4 Games
| | US/Canada | EU |
| --- | --- | --- |
| 1 | Stray | F1 22 |
| 2 | Minecraft | Minecraft |
| 3 | Grand Theft Auto V | Stray |
| 4 | NBA 2K22 | Grand Theft Auto V |
| 5 | Teenage Mutant Ninja Turtles Shredder's Revenge | NBA 2K22 |
| 6 | Gang Beasts | FIFA 22 |
| 7 | CUPHEAD | The Crew 2 |
| 8 | Red Dead Redemption 2 | EA Sports UFC 4 |
| 9 | The Crew 2 | Need for Speed Heat |
| 10 | Need for Speed Heat | Red Dead Redemption 2 |
| 11 | EA Sports UFC 4 | Among Us |
| 12 | Batman: Arkham Knight | CUPHEAD |
| 13 | FIFA 22 | Gang Beasts |
| 14 | MLB The Show 22 | The Forest |
| 15 | The Forest | Star Wars Jedi: Fallen Order |
| 16 | God of War | Tekken 7 |
| 17 | Among Us | Marvel's Spider-Man |
| 18 | F1 22 | Assassin's Creed Origins |
| 19 | Star Wars Battlefront II | God of War |
| 20 | Dead by Daylight | Tom Clancy's Ghost Recon Breakpoint |
*Naming of products may differ between regions
PS VR Games
| | US/Canada | EU |
| --- | --- | --- |
| 1 | Beat Saber | Beat Saber |
| 2 | Job Simulator | Job Simulator |
| 3 | Swordsman VR | Swordsman VR |
| 4 | Rick and Morty: Virtual Rick-ality | Rick and Morty: Virtual Rick-ality |
| 5 | SUPERHOT VR | SUPERHOT VR |
| 6 | Creed: Rise to Glory | Sniper Elite VR |
| 7 | Arizona Sunshine | Arizona Sunshine |
| 8 | GORN | GORN |
| 9 | Astro Bot Rescue Mission | Creed: Rise to Glory |
| 10 | The Walking Dead: Saints & Sinners | Gun Club VR |
Free-to-Play (PS5 + PS4)
| | US/Canada | EU |
| --- | --- | --- |
| 1 | MultiVersus | Fall Guys |
| 2 | Fall Guys | MultiVersus |
| 3 | Fortnite | Fortnite |
| 4 | Apex Legends | Rocket League |
| 5 | Call of Duty: Warzone | eFootball 2022 |
| 6 | Rocket League | Genshin Impact |
| 7 | Genshin Impact | Call of Duty: Warzone |
| 8 | Rec Room | Apex Legends |
| 9 | Destiny 2 | Rec Room |
| 10 | Brawlhalla | Brawlhalla |