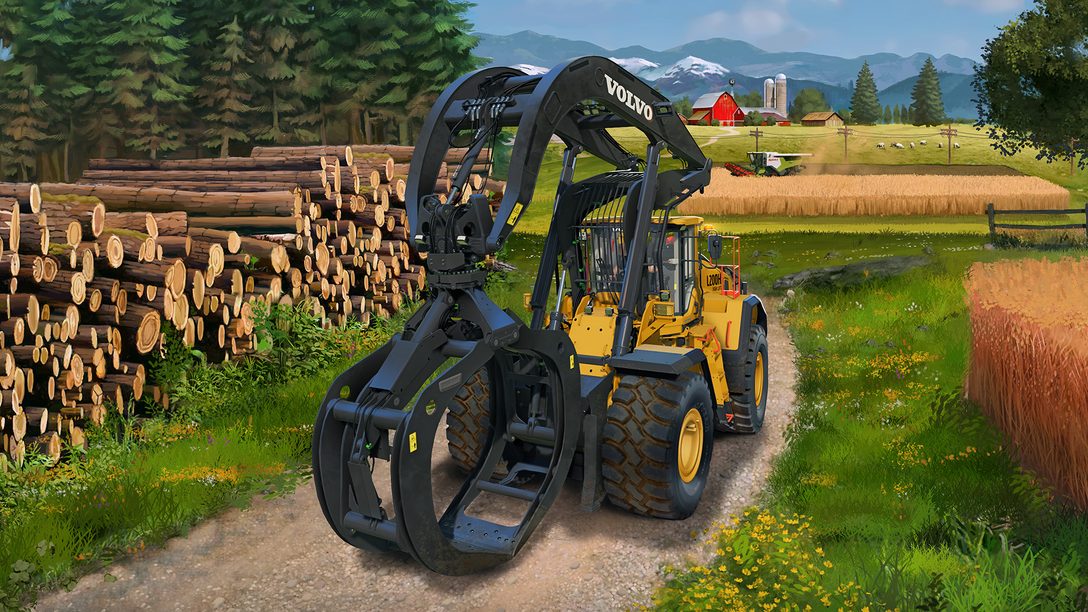 Learn about the new incoming machines and map, and prepare to relax while cutting some logs.
Dear simulation games enthusiasts and those wanting to break free from the demanding pressure of some end-of-round statistics: we got you covered and invite you to join the farm life! Of course, we came prepared with some good arguments on why you should. Other than the calming effects of caring for your crops and tending to fluffy farm animals.
Farming Simulator 22 gets a big and shiny upgrade with the upcoming Platinum Edition. What this means is, well… it's the perfect way to start your new life as a virtual farmer. Let's take a closer look at what's coming and what kind of soothing gaming experience we offer, shall we?
The Farming Simulator 22 Experience
But first, let's recap, what the base game of Farming Simulator 22, that is included in the Platinum Edition, already offers: Diverse American and European maps to build and manage your own, ever-expanding farm. Agriculture, animal husbandry, forestry. Big sandboxes full of nature for you, your farm animals, and even your friends. If you prefer playing with friends, run a farm together and join our massive (and helpful, inclusive) community.
What else? Hundreds of authentic machines from the world's most renowned brands are available – you have probably seen more of them already than you imagine. You will definitely notice even more of them in real-life after having operated them in Farming Simulator. With production chains, you form an agricultural empire – buying buildings like bakery's, biogas plants, or various factories. The four seasons, introduced with Farming Simulator 22, challenge you to adapt to seasonal changes with your farming operation.
You decide whether you want to manage idyllic vineyards, striping the hillsides of your land with grape vines and olive groves in a Mediterranean environment; run an animal farm with sheep and cows in vast mountainous grasslands of the European Alps – or harvest hundreds of acres of corn (American-style) in the U.S. Midwest.
Did we mention mods, yet? Because the in-game ModHub offers an endless, growing pool of mods – officially tested by our developers to customize your farming experience with quality modifications.
Over 40 New Machines
Now, with the Platinum Edition, we stock up on everything: New brands, including Volvo and others, join the fleet of over 100 big players of the industry (like Case IH, CLAAS, DEUTZ-Fahr, Fendt, John Deere, Massey Ferguson, New Holland, Valtra and many others – you name it). Over 40 machines get added – pushing the counter of available vehicles and tools to more than 500 overall! That's especially interesting for all those machine enthusiasts – but even if you're not (yet) one of them, you'll be impressed what kind of machines are being operated in the exciting world of agriculture.
One of the most interesting additions is the Volvo L200H High Lift – a modern and powerful tool to step up your logging-game. It can unload a truck faster than you ever imagined! The real thing was only just unveiled to the public. Meaning that virtual farmers will be among the first to operate the machine. It's the successor to the L180H – the market-leading wheel loader.
Before loading logs, you must cut them: The John Deere 843l-II Wheeled Feller buncher is a real powerhorse for that: Combining impressive horsepower with fast cycle times, this is your muscle at hand to get down to forestry business. Be sure to reforest and plant some trees after producing massive amounts of logs and wood chips.
New Silverrun Forest Map
A fourth map will add an exciting new scenario to delve into. Silverrun Forest is inspired by the Pacific Northwest with its woody landscapes and differs from the base game maps quite a bit. There will be new production chains, and contracts to quickly earn your farm some money or test some machines while supporting your neighbors, you could even build a boat at the shipyard. We're working on new gameplay mechanics, too – we'll share more details about all those things at a later date.
You can be sure, the Platinum Edition of Farming Simulator 22, including the heavy expansion, will offer everything a virtual farmer – or gamer seeking to relax – can want. And, to further polish the package and make the Platinum Edition extra-shiny, we add some graphical enhancements. Platinum Edition releases on November 15, pre-orders start today.