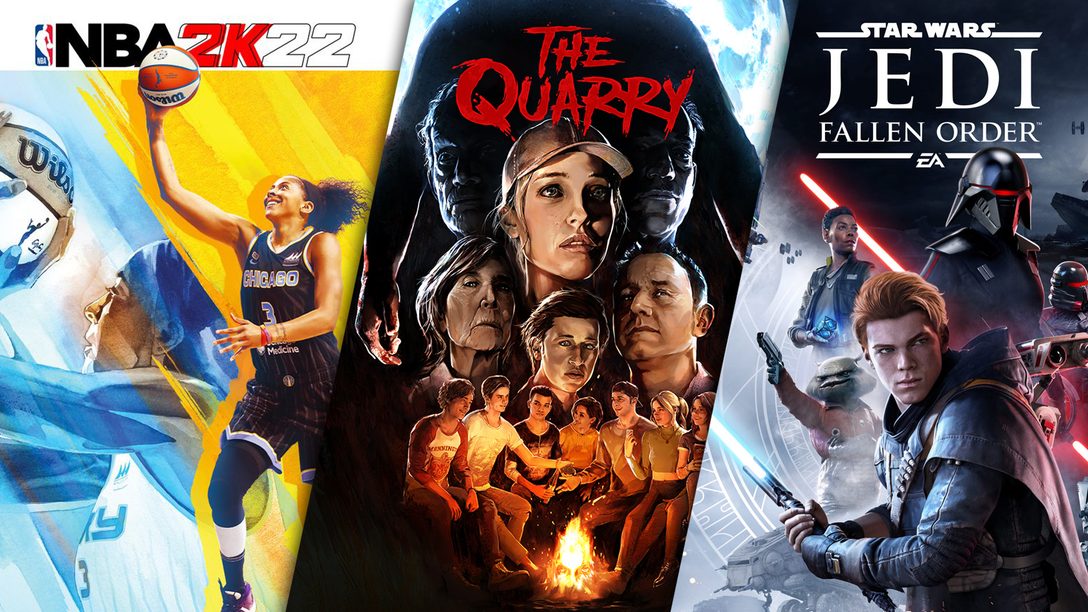 The Quarry scares up a win on the North American PS5 chart.
Good news for all you chart fans out there (Are there chart fans out there?): the PlayStation Store top downloads are here and ready for your perusal. Congrats are in order for Supermassive Games, whose new horror hit The Quarry debuted at #1 and #2 in the US/Canada and EU charts, respectively. Shouts out to Star Wars and sports games, too, both of which had prominent placement in the PS5 top five.
Drop your predictions for July in the comments, then check back early next month to see where your guesses land. 'Til then!
PS5 Games
| | US/Canada | EU |
| --- | --- | --- |
| 1 | The Quarry | Star Wars Jedi: Fallen Order |
| 2 | Star Wars Jedi: Fallen Order | The Quarry |
| 3 | NBA 2K22 | LEGO Star Wars: The Skywalker Saga |
| 4 | MLB The Show 22 | Among Us |
| 5 | Grand Theft Auto V | Grand Theft Auto V |
| 6 | LEGO Star Wars: The Skywalker Saga | Cyberpunk 2077 |
| 7 | ELDEN RING | FIFA 22 |
| 8 | Among Us | FAR CRY 6 |
| 9 | Sonic Origins | Sniper Elite 5 |
| 10 | Tom Clancy's Rainbow Six Siege | NBA 2K22 |
| 11 | Sniper Elite 5 | ELDEN RING |
| 12 | Ratchet & Clank: Rift Apart | It Takes Two |
| 13 | Horizon Forbidden West | GRAN TURISMO 7 |
| 14 | FAR CRY 6 | Metro Exodus |
| 15 | DNF Duel | Jurassic World Evolution 2 |
| 16 | Cyberpunk 2077 | Tom Clancy's Rainbow Six Siege |
| 17 | GRAN TURISMO 7 | Sonic Origins |
| 18 | FIFA 22 | Assassin's Creed Valhalla |
| 19 | Mortal Kombat 11 | Battlefield 2042 |
| 20 | It Takes Two | Ratchet & Clank: Rift Apart |
*Naming of products may differ between regions
*Upgrades not included
PS4 Games
| | US/Canada | EU |
| --- | --- | --- |
| 1 | Teenage Mutant Ninja Turtles Shredder's Revenge | FIFA 22 |
| 2 | Minecraft | Minecraft |
| 3 | Grand Theft Auto V | Grand Theft Auto V |
| 4 | Red Dead Redemption 2 | Teenage Mutant Ninja Turtles Shredder's Revenge |
| 5 | NBA 2K22 | Red Dead Redemption 2 |
| 6 | The Quarry | Star Wars Battlefront II |
| 7 | Star Wars Battlefront II | Among Us |
| 8 | MLB The Show 22 | Tekken 7 |
| 9 | Gang Beasts | Star Wars Jedi: Fallen Order |
| 10 | FIFA 22 | Assassin's Creed Origins |
| 11 | Assassin's Creed Origins | The Forest |
| 12 | Call of Duty: Modern Warfare | The Crew 2 |
| 13 | Among Us | The Sims 4 |
| 14 | The Sims 4 | Dark Souls III |
| 15 | Star Wars Jedi: Fallen Order | Gang Beasts |
| 16 | Batman: Arkham Knight | Need for Speed Heat |
| 17 | Need for Speed Heat | NBA 2K22 |
| 18 | Dead by Daylight | Horizon Zero Dawn |
| 19 | The Forest | The Quarry |
| 20 | Dark Souls III | Call of Duty: Modern Warfare |
*Naming of products may differ between regions
PS VR Games
| | US/Canada | EU |
| --- | --- | --- |
| 1 | Beat Saber | Beat Saber |
| 2 | Job Simulator | Job Simulator |
| 3 | SUPERHOT VR | SUPERHOT VR |
| 4 | Creed: Rise to Glory | Sniper Elite VR |
| 5 | Astro Bot Rescue Mission | DOOM 3 VR |
| 6 | Sniper Elite VR | Creed: Rise to Glory |
| 7 | Vader Immortal: A Star Wars VR Series | Lucky's Tale |
| 8 | Rick and Morty: Virtual Rick-ality | Swordsman VR |
| 9 | GORN | Vader Immortal: A Star Wars VR Series |
| 10 | Swordsman VR | Rick and Morty: Virtual Rick-ality |
Free-to-Play (PS5 + PS4)
| | US/Canada | EU |
| --- | --- | --- |
| 1 | Fall Guys | Fall Guys |
| 2 | Fortnite | Fortnite |
| 3 | Roller Champions | Roller Champions |
| 4 | Apex Legends | eFootball 2022 |
| 5 | Call of Duty: Warzone | Rocket League |
| 6 | Rocket League | Apex Legends |
| 7 | Rec Room | Call of Duty: Warzone |
| 8 | Destiny 2 | Rec Room |
| 9 | Brawlhalla | Genshin Impact |
| 10 | Genshin Impact | Brawlhalla |