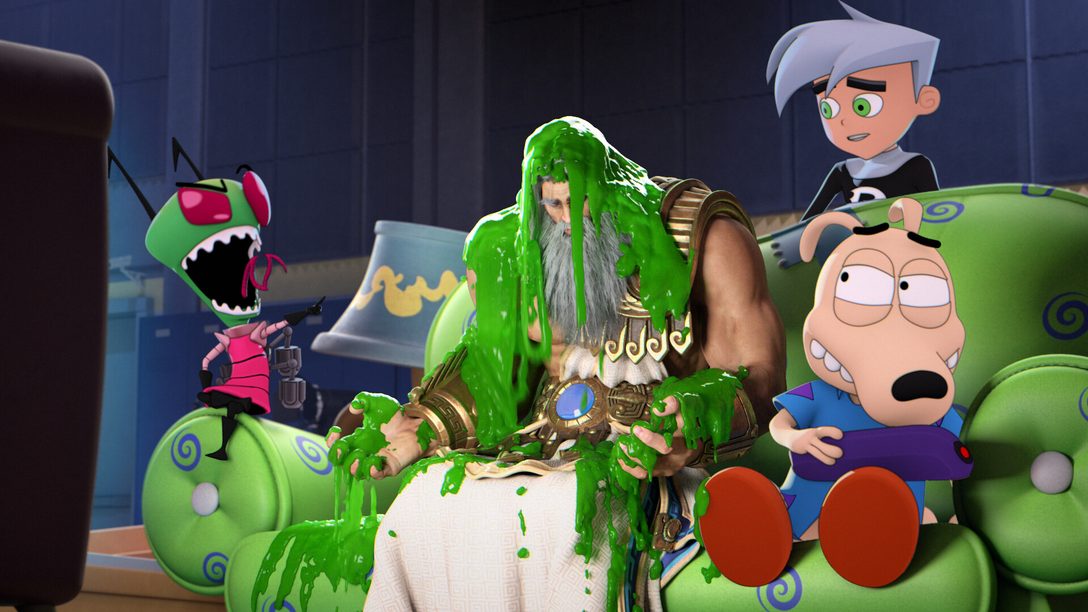 Plus Titan Forge Games takes a look back at Smite's colorful crossover journey.
Don't touch that remote! Danny Phantom, Invader Zim, Rocko, Powdered Toastman, and XJ9 battle Gods in the all-new Nickelodeon x Smite crossover event going live July 12! After the success of Smite's previous crossovers with Nickelodeon's Avatar: The Last Airbender and Teenage Mutant Ninja Turtles, we're going all out this time to bring you your favorite characters from across Nickelodeon's roster.
Bringing these iconic Nickelodeon characters into the Battleground of the Gods was an incredible experience for our team, and I'm so proud of how these skins turned out.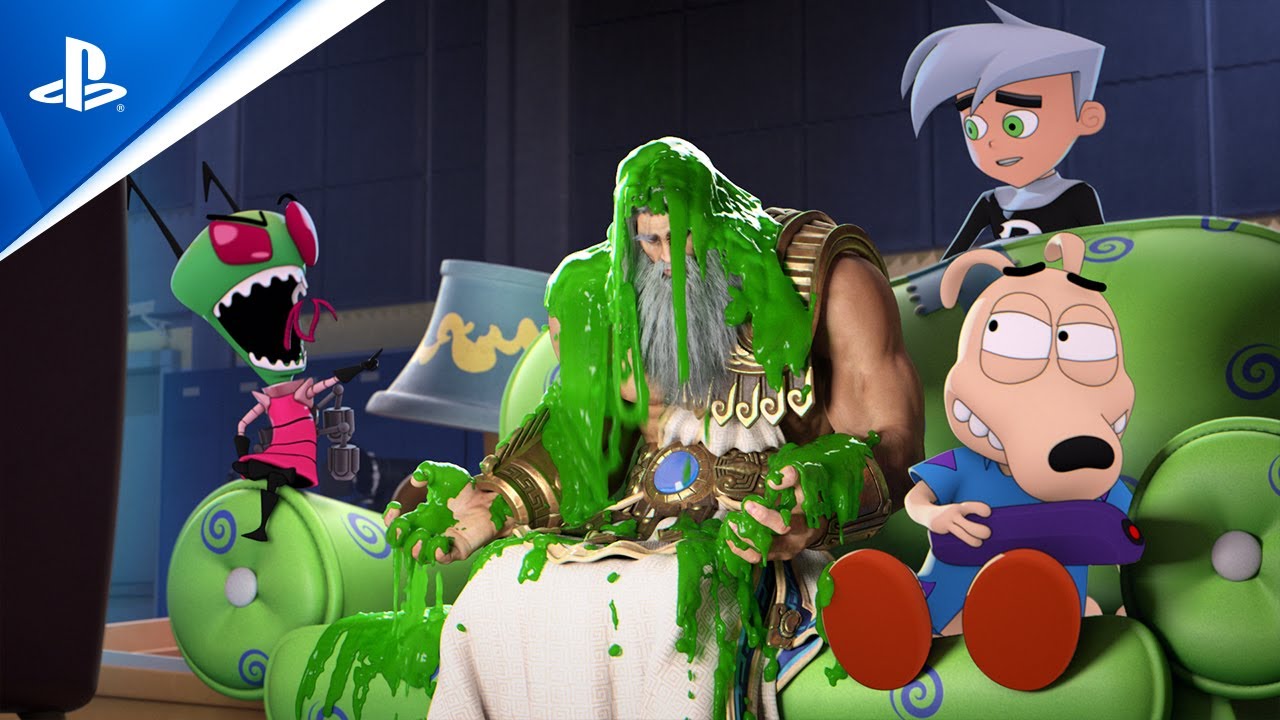 Wait… Danny Phantom in Smite?
Yup, you heard that right! Every Classic Nickelodeon character materializes in Smite as a dazzling skin for an existing Smite God: Danny Phantom Janus, Rocko Danzburou, XJ9 Freya, Powdered Toastman Gilgamesh, and Invader Zim Cupid. Plus, players can unlock a dozen free Nickelodeon cosmetic rewards like the meme-worthy smashing Global Emote or Gir Jump Stamp, just by playing Smite games and completing quests.
Why Nickelodeon?
"Excited" doesn't even begin to explain how our team reacted when the news broke about the Nickelodeon crossover. Our team dove into the project with animated enthusiasm, developing imaginative ideas and amazing content. While we've worked with the Paramount team before, this crossover covered so many different generations of childhood television that it brought up a lot of nostalgia for the team. We hope that our community will experience that same feeling of nostalgia when they see some of their favorite Nickelodeon characters realized in Smite.
This is our first crossover that includes characters from multiple completely different shows, which presented an interesting challenge to the team. For example: how do you turn a feisty musket-toting Tanuki (Danzaburou) into a shirt-wearing, tv-watching Wallaby (Rocko)? By turning the musket into a remote control, of course! We wanted to design every character in a way that did their Nickelodeon origins justice.
From the Gods of Mt. Olympus to the Heroes of Nickelodeon…
Smite has come a long way since its PS4 launch in 2016, going from 17 gods to now over 121 in total. As the roster of deities grew, so did the number of pantheons in the game. At first, the precedent was set: Smite was the Battleground of the Gods – and as such; we'd only be including actual Gods and Goddesses from times past.
As the game matured, we started to push back against these boundaries. The team decided that King Arthur, from Arthurian myth, would be an ideal addition to Smite. Sure, he's not a god, but he is a figure of myth.
We followed up the Arthurian Pantheon with Cthulhu, the legendary tentacled Great Old One. Smite's lore is simple: If people believe in a God, if they talk about it, they make it real – even more modern entries like Cthulhu. These legendary figures from history and mythology brought a breath of creative freedom to the Battlegrounds – giving us the chance to include even more characters that didn't fit the "standard" mold.
And as we looked toward expanding our collection of characters in Smite, we wanted to stay authentic to the game. why you'll see all these crossovers as Skins and not as God additions. But we think these crossovers resonate with our community because this idea of crossovers is at the core of Smite. And we love welcoming new communities that are as passionate about these great IPs as we are about the pantheons of Smite.
Smite's First Nickelodeon Crossover: Avatar: The Last Airbender
The first Nickelodeon crossover to hit Smite was the legendary Smite x Avatar: The Last Airbender crossover. The Titan Forge Games team is full of diehard Avatar fans and was overjoyed to bring the Avatar world to life in Smite. This world-bending crossover event saw Aang, Zuko, Korra, and Naga face their toughest challenge yet: the Battleground of the Gods.
This project included many technical challenges that the Titan Forge team had to overcome. For example: How do we make Merlin, a full-size adult, into a child (Aang, from Avatar: The Last Airbender)? Merlin was chosen for Aang because of his use of different elements. It felt like it would fit best for Aang's Character- but Merlin looked nothing like Aang. Modeling, rigging, and animation departments had to collaborate to make the skin a success.
Aang was referred to internally as a "god-Level" skin. He doesn't share any of Merlin's base assets. The only thing that is similar to Merlin is the timing of the abilities. He was created from the ground up, completely from scratch. Every single part of the Aang skin was created entirely new so that we could make sure that Aang was represented in the best possible way. A bunch of us here on the Titan Forge team are huge fans of the show, so we were able to easily find references to fit into the game.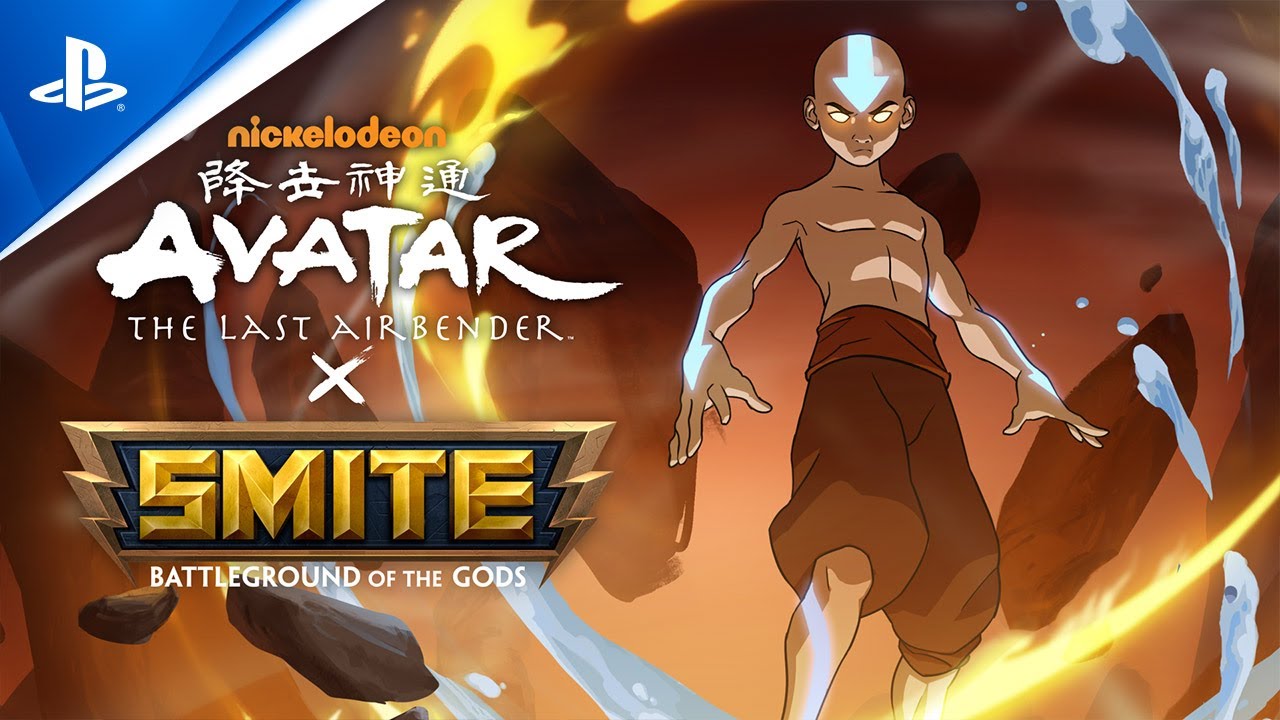 We followed up on Avatar with another Nickelodeon classic: Teenage Mutant Ninja Turtles. Featuring Leonardo, Donatello, Raphael, and Michelangelo; this crossover was full of incredible content from the classic animated show. Cowabunga!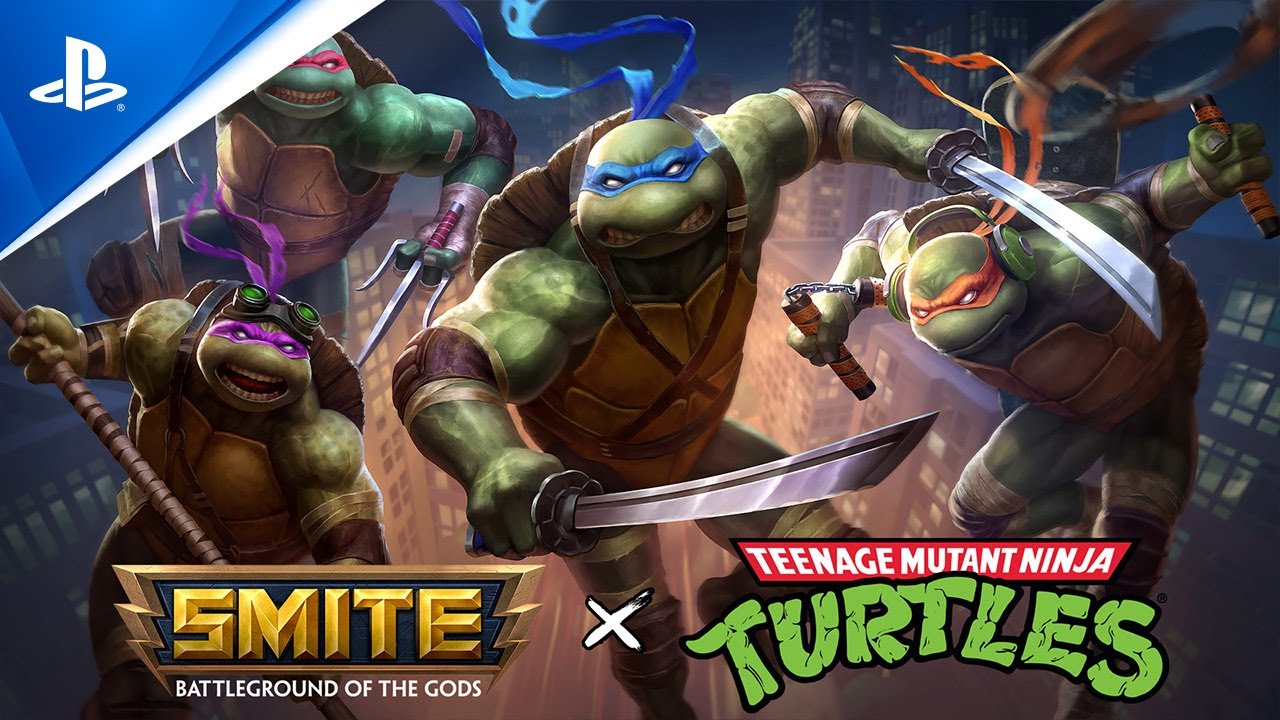 More Smite Crossover Hits:
Ruby Rose, Blake Belladonna, Weiss Schnee, and Yang Xiao Long from RoosterTeeth's hit anime series RWBY was the first crossover to crash into Smite as a resounding success. Our players loved the inclusion of these bombastic huntresses and clamored for more crossover content. Smite slipped into the Upside-Down with the Smite x Stranger Things crossover; which included four fan-favorite characters from Stranger Things: Eleven, Hopper, The Mind
Flayer, and The Demogorgon.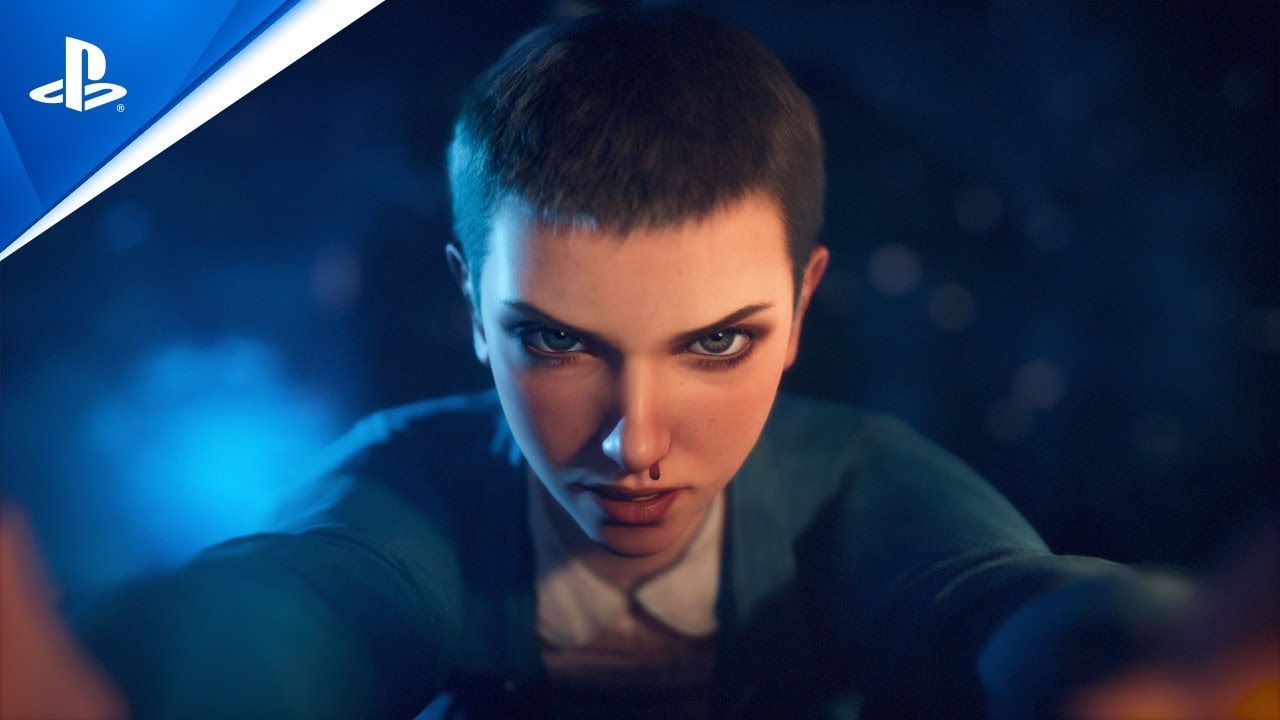 Transformers rolled out onto the Battleground of the Gods in 2021, with Optimus Prime, Megatron, and Starscream.
Soon after that, the Titan Forge team broke the mold yet again with the Monstercat Crossover. This bass-pounding crossover used music to help define a variety of EDM-inspired skins, like Crab Rave Khepri.
Quickly following up on that endeavor, Smite released their Rambo crossover in April 2022.
Our most recent crossover (before today's Nickelodeon news) was an entirely new kind of crossover: Slipknot. This massive crossover included nine new skins for the Gods of Smite, accompanied by a head-banging Music Pack created with original Slipknot anthems.
All of these projects have culminated in our newest incredible collaboration : The Smite x Nickelodeon crossover event, and we're so excited for players to dive in starting July 12.
Special offer for PlayStation Plus members
To celebrate the Nickelodeon crossover, we've put together a limited-time offer for
PlayStation Plus Members*. The Smite x Nickelodeon Plus Pack unlocks all five Gods featured in the Nickelodeon Event (Invader Zim Cupid, Rocko Danzburou, XJ9 Freya, Powdered Toastman Gilgamesh, and Danny Phantom Janus) and their Voice Packs.
This offer does not include the Nickelodeon Skins or Cosmetics.