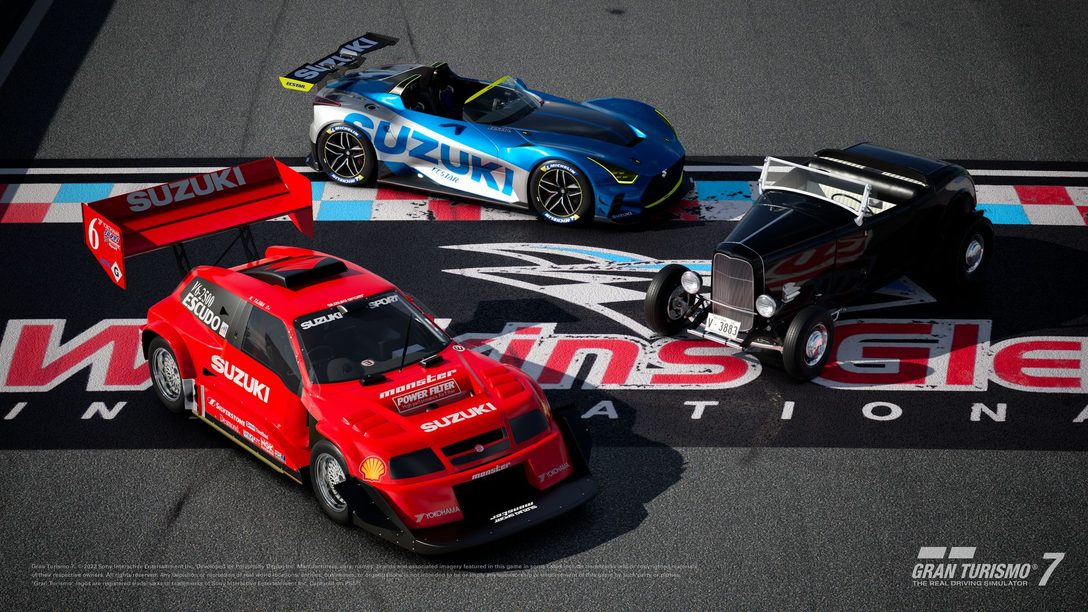 Latest update includes two legendary cars, one Vision GT, and the introduction of the Watkins Glen International circuit.
Attention Gran Turismo players! The June update for Gran Turismo 7 arrives today June 22 at 11:00pm PDT* (June 23 at 7am BST / 3pm JST).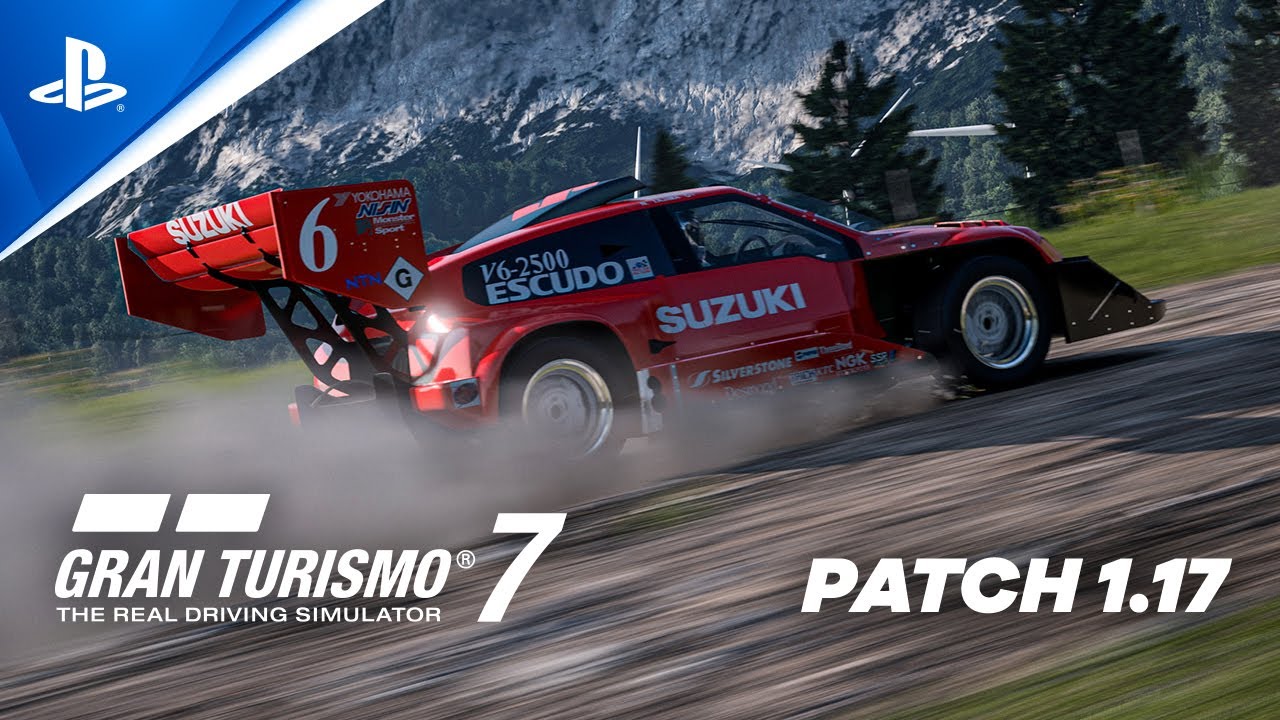 Suzuki V6 Escudo Pikes Peak Special '98
Returning to the series for the first time in a decade, the legendary Suzuki V6 Escudo Pikes Peak Special '98 is a monster machine developed specifically to compete in the most extremely harsh conditions for any race car in conquering the treacherous hill climb. The frame is of an all-new design using an aluminum space frame. To maximize performance, the powertrain has been extensively modified, moving the engine from the base model's front position to a midship configuration. The fully tuned 2.5L V6 engine has been fitted with twin turbochargers allowing it to produce a maximum 981 BHP and 95 kgfm maximum torque.
Suzuki Vision Gran Turismo (Gr.3 Version)
This model is a realization of Suzuki's motor sporting prowess, extensively tuned to meet Gr.3 regulations. The base Suzuki VGT uses the 1,340 cm³ (1,340 cc) Hayabusa engine linked to 3 high-power electric motors on an all-wheel drive powertrain. This Gr.3 version however has been changed to a simple front-engine, rear-wheel drive layout with a V8 twin-turbo powerplant comprised of 2 Hayabusa engine blocks for a total displacement of 2,680 cm³ (2,680 cc). In this form, the monstrous engine can produce a maximum 577 BHP at an astoundingly high 10,000 rpm. Compared to the base model, the design aesthetics have been altered to achieve increased downforce, featuring an enlarged front spoiler as well as the addition of front and rear diffusers, a GT wing and air ducting on the bonnet.
1932 Ford Roadster
In the world of customized cars, the US is often number one in terms of quality, volume, and genre. The oldest genre of these, now an iconic part of American culture is the Hot Rod. This was a movement that originated in the 1930s, where the Ford Model T and the later Model A's and Model B's were heavily modified by their owners. Extensive exterior modifications were performed on these cars such as removing wheel arches, bonnets and cutting the body to make chop-top convertibles. More and powerful engines were then added to the cars as technology improved over the years.
Watkins Glen International
Nicknamed "The Glen", Watkins Glen International is a historic road course found in New York State, roughly 260 miles northwest of New York City, which opened in 1956 and is surrounded by rolling hills. The first half of the track comprises high-speed sections with mid to high-speed corners, with the latter half features tight, technical turn combinations. The undulating track is also narrow which encourages high-intensity racing battles. The back straight leads to a high-speed chicane, immediately followed by a right turn into a banking section (Outer Loop), which is one of the track's primary highlights. From there, the long course will run into the technical section known as "The Boot", while the 'Short Course' bypasses this segment entirely.
Gran Turismo Café – Extra Menus
The following 3 Extra Menus have been added:
Toyota 86 Collection: Opens at Collector Level 20
Honda Type R Collection: Opens at Collector Level 20
Rotary Engine Collection: Opens at Collector Level 32
Be sure to stay tuned to official GT and PlayStation channels as there are plenty more updates to come from the team. Until then, happy racing!
* Internet connection required for update. Game progression required to access vehicles and race circuits.