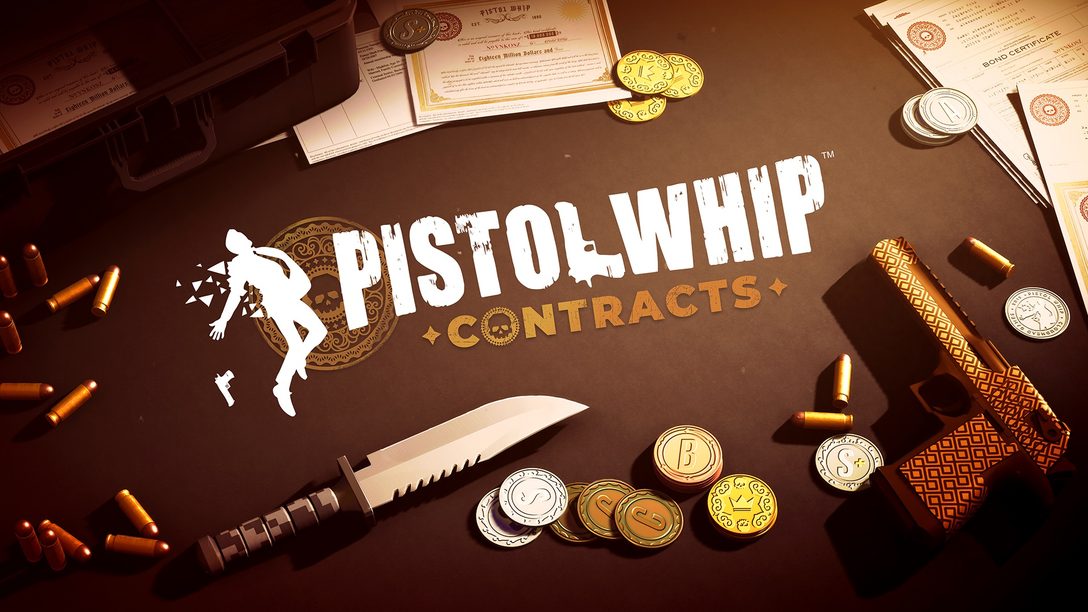 Take on daily assignments, or challenge yourself to survive multi-scene endurance runs.
No good hitman retires forever. Pistol Whip Contracts is here to make you an offer you can't refuse, just sign on the dotted line and let the hunt for your targets begin.
Your assignment: elimination. Explore a whole new way to take down your enemies and reap the rewards with Contracts, a rotating daily, weekly, and monthly challenge system built to keep even the most experienced assassins on their toes.
Want to rack up some quick kills and get out of dodge? Step up for the Daily Bounty; a single scene that refreshes every day. For those looking to boast about completing a more dangerous mission, the Weekly Raid is available; a multi-scene operation that refreshes once a week. And for the veterans, experts, and those who have no fear, there is nothing more deadly than attempting the Monthly Ultimatum; a gauntlet of up to five scenes that refreshes at the beginning of every month.
Endless gameplay customization options are available through Pistol Whip's Styles System, providing players with an extensive list of weapons and modifiers. But we hire you to kill, not to think, and sometimes a mercenary just wants to grab a gun to finish their assignment without a fuss. Enter Contracts. It's never been so easy to jump directly into the action.
The nature of Contracts is to provide pre-arranged combinations of styles, weapons, enemies, and scenes so that a shooter of any skill level can experience a wide, ever-changing variety of challenges.
"Contracts use our wide variety of gameplay ingredients, plus a few new surprises, to serve up delicious layer-cakes of revenge, every day." Says Joel Green, Game Director. "The optional multi-scene endurance contracts are something we've long wanted to add, and the designers are thirstily anticipating the inevitable suffering of our more audacious players."
When a contract deadline is up, players will receive an emblem marked with their ranking, prominently displayed for others to see. There may even be a rare coin payable to those assassins who achieve the number one position – but will they try to dominate one board or rule them all?
Also included in this update are several Styles menu adjustments to provide smoother user accessibility, as well as new modifiers for faster bullets, slower bullets, and reinforced player armor.
Pistol Whip Contracts is slated for release on PS VR on June 16, bringing rotating daily, weekly, and monthly assignments into the pulse-pounding action of the Pistolverse. Mercenaries all over the globe will be getting back into the game, and we expect you'll be among them. No compromise. No mercy. Just get the job done.