Discover what The Calumniation Games are all about ahead of the July 5 launch on PS4 and PS5.
With Yurukill: The Calumniation Games less than a month away from release, we're happy to announce that the demo is available for free download starting today at PlayStation Store. Given the unique blend of genres, we wanted to shed some light on how everything flows together to create a cohesive and exciting experience.
Also, if you pick up Yurukill: The Calumniation Games on PS4, you can upgrade your copy to the PS5 version digitally for free.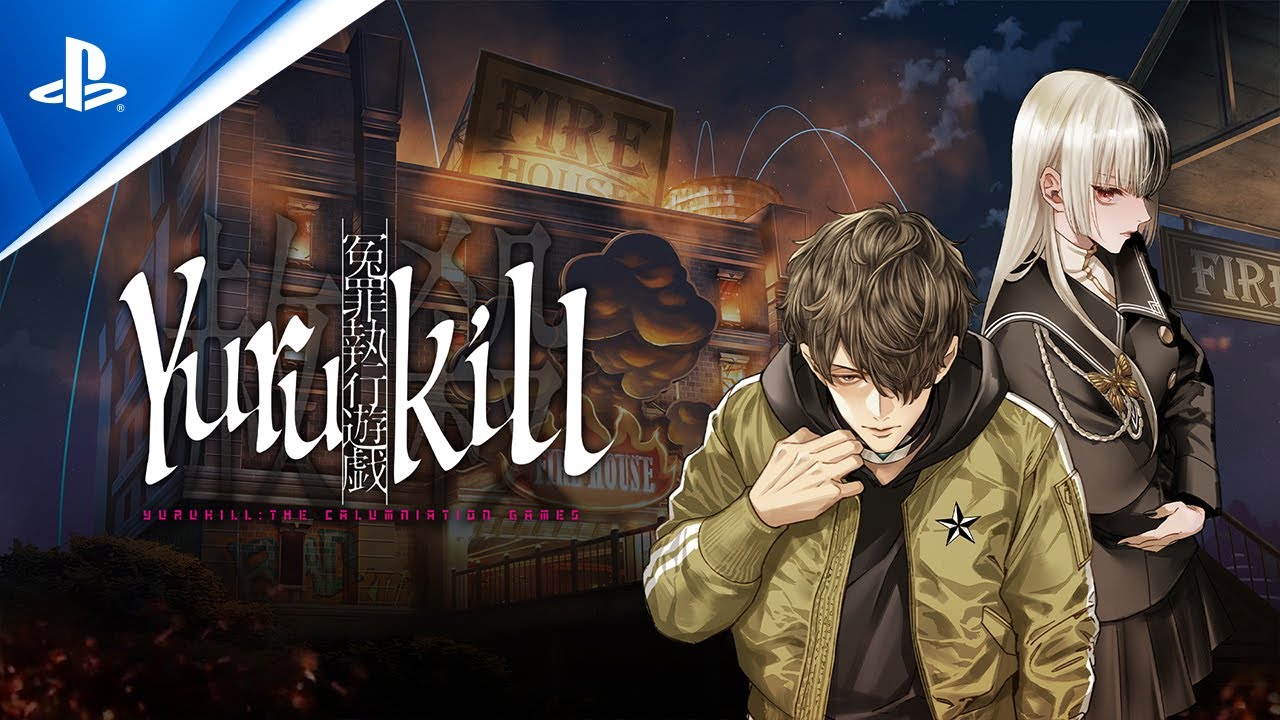 What are the Calumniation Games?
Calumniate (verb): to utter maliciously false statements, charges, or imputations about.
ca·​lum·​ni·​ate | kə-ˈləm-nē-ˌāt
Yurukill: The Calumniation Games centers around Sengoku Shunju, a man who wakes up in a prison cell with no recollection of how he got there. A masked woman named Binko suddenly appears before him and explains the situation at hand: "Prisoner, Sengoku Shunju: convicted of murder! He's serving a 999 year sentence! That's far and away the longest sentence out of all our Prisoners!"
You must survive the various "attractions" in a certain "amusement park." If you succeed, your crimes will be pardoned.
"No, you've got it all wrong, I've been falsely accused! I'm innocent!"
Sengoku asserts that he is innocent of the crimes he's accused of, but what complicates matters is the appearance of the victim of one of his alleged crimes: a woman named Rina Azami.
"Sengoku Shunju. A name I will never forget. You killed my entire family. For that, I will never forgive you."
Sengoku is charged with arson and murder—for the death of 21 people by immolation, including Rina's family. And now he finds himself in Yurukill Land, the aforementioned 'amusement park' where accused criminals (Prisoners) and the victims of their crimes (Executioners) must pair up to face its twisted attractions and trials.
Besides Sengoku, there are four other groups of Prisoners and their respective Executioners who find themselves in Yurukill Land: the Death Dealing Duo, the Crafty Killers, the Sly Stalkers, and the Peeping Toms. There are six Prisoners and five Executioners taking part in the games, comprising five teams total.
The Prisoners hope to overcome the challenges so that they may be pardoned. But should the Executioners win, their wishes will be granted, and at long last they will be able to avenge their loved ones. Along the way, all manner of secrets will be unearthed as the teams face each attraction.
Life or death awaits everyone who plays the game. Who will survive the cruel, twisted place that is Yurukill Land?
Mystery meets action
Yurukill presents a unique blend of mystery solving and intense shooter action. Players will move back and forth between cinematic moments of intense dialogue and high-octane shooting sections that will put both their minds and their reflexes to the test. Though each stage presents its own twists and turns, the following trials are typically present in each of them:
Escape Adventure: Explore the attractions and find clues and evidence to prove your innocence.
High Speed Quiz: Dive into the details of your alleged crimes as you fly through a futuristic sub-space.
Shoot 'Em Up: Put your piloting skills to the test as you destroy enemy ships, dodge attacks, and gather power-ups, all while continuing to unravel the details of the case as you fly along.
Prejudice Synapse: Use the evidence you acquire during the adventure sections to destroy the prejudices lurking in their heads, and free them from the notion that you, the Prisoner, are guilty.
Mind Maze: Complete the sentences relating to each incident and clear a way through the labyrinth of thoughts.
Boss Battle: Survive your Executioner's interrogation and prove your innocence. Blast your way through defenses and weapons generated by the Executioner's doubts, assumptions, and force of will in order to prevail and unveil the truth!
The creators of Calumniation
Of course, the unique offerings of Yurukill would not be possible without a team of talented minds and creators. The multi-layered story writing comes courtesy of Homura Kawamoto, known for his work on the manga Kakegurui – Compulsive Gambler, and Hikaru Muno. Together, these two expertly weave a web of mystery and intrigue punctuated by intense exchanges of dialogue between complex characters that players learn to both root for and condemn.
The shoot 'em up ("shmup") gameplay is just as engaging, with renowned developer G.rev taking the helm for these sections. Formerly of Taito (G-Darius, RayStorm), the team at G.rev have quickly carved out a name for themselves with a formidable catalog of high-quality shmup titles, and bring that same level of commitment and excellence here. Anyone who enjoys arcade-style top-down shooters that test your reflexes will feel right at home in Yurukill.
Ready to play?
Yurukill: The Calumniation Games flies onto PS4 and PS5 on July 5, 2022.