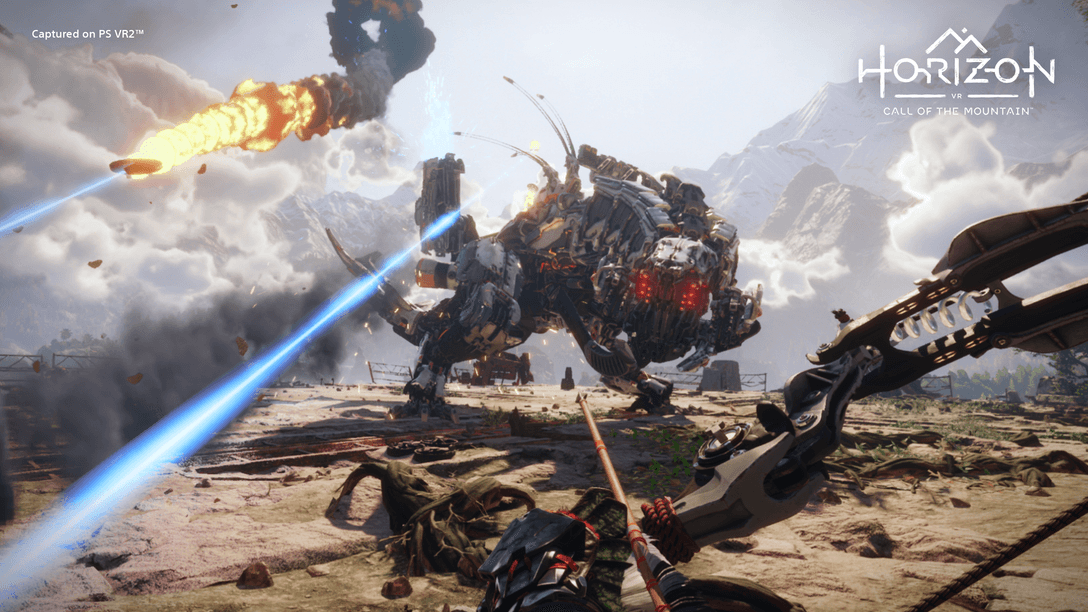 New gameplay trailer shows Guerrilla's upcoming PS VR2 title from an awe-inspiring perspective, plus a big update for Horizon Forbidden West goes live today.
In early January we offered you a glimpse into Horizon Call of the Mountain, a new adventure created exclusively for PlayStation VR2 (PS VR2 system currently in development). And now, we're excited to share a new trailer with you, featuring some of the action and adventure that will take place in this upcoming game — have a look: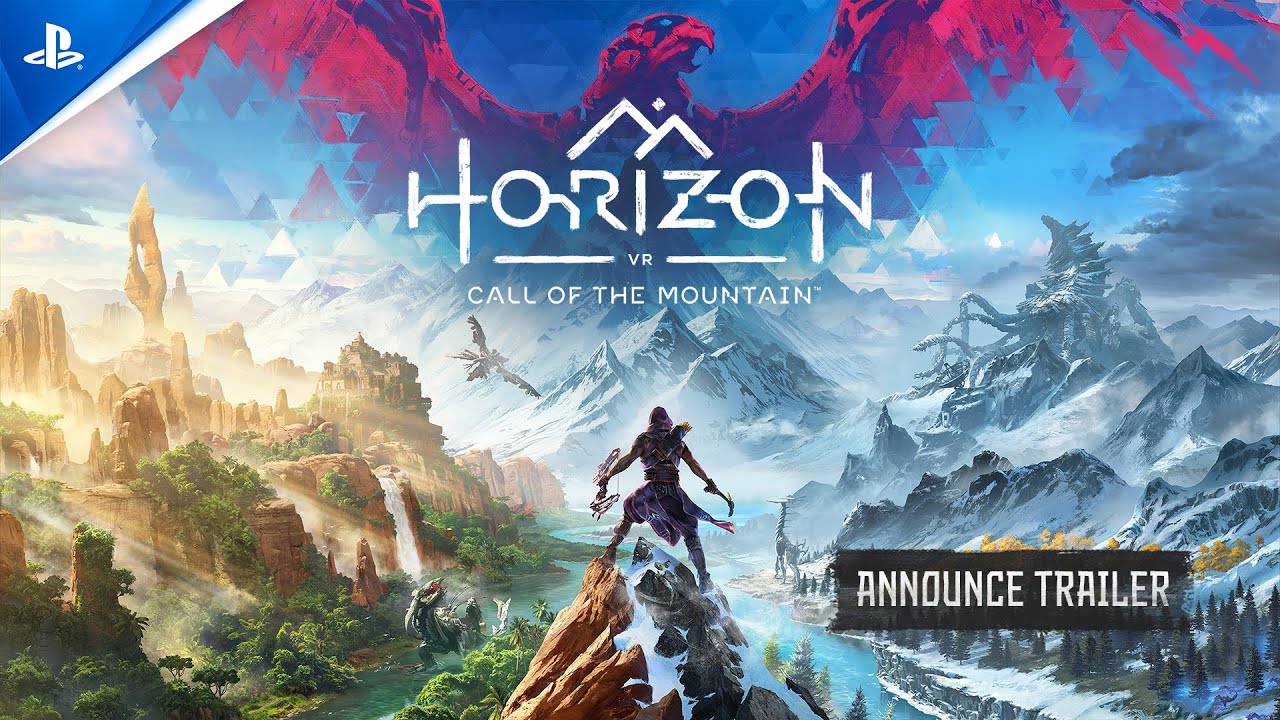 Meet Ryas, Horizon Call of the Mountain's protagonist
The world of Horizon is spectacular up close. In Call of the Mountain, you'll be seeing it through the eyes of Ryas, a former Shadow Carja Warrior who hopes to redeem himself by investigating a grave new threat to the Sundom. He is a master at climbing and archery, two skills crucial to survival as you step into his shoes, scaling perilous mountains and taking down mighty machines like the Thunderjaw.
Throughout your journey, you'll master various tools and weapons and use the world's many materials to craft additional gear, equipping you for any situation. But you won't be going it alone. Along the way, you'll meet Horizon characters new and old, including Aloy herself.
Alongside the game's main story, Call of the Mountain will also offer an exciting, immersive River Ride experience. Take a seat and enjoy the gorgeous views of the world of Horizon, but look out; some uninvited machines may try to come aboard! The River Ride is the perfect way for a player using the PS VR2 headset to share the magic of PS VR2 with your friends and family as they watch along on a connected display.
Horizon Call of the Mountain has been proudly developed together with the talented team at Firesprite. You can read more about the game at PlayStation.com We can't wait to welcome VR fans into the Horizon community.
Horizon Forbidden West gets a big update
Of course, at the studio, we're continuing to build on Horizon Forbidden West, which launched this past February.
We're so thankful for our incredibly talented community and are happy to announce that a major update will be released today. It includes the much-requested New Game+ feature and Ultra Hard mode for those who want challenge themselves further, but also a host of quality-of-life features that we know our community would appreciate: the transmog feature allows players to easily customize the cosmetics of their equipped outfit to look like any other owned outfit, and with respec players are enabled to freely reset their skill points and redistribute them.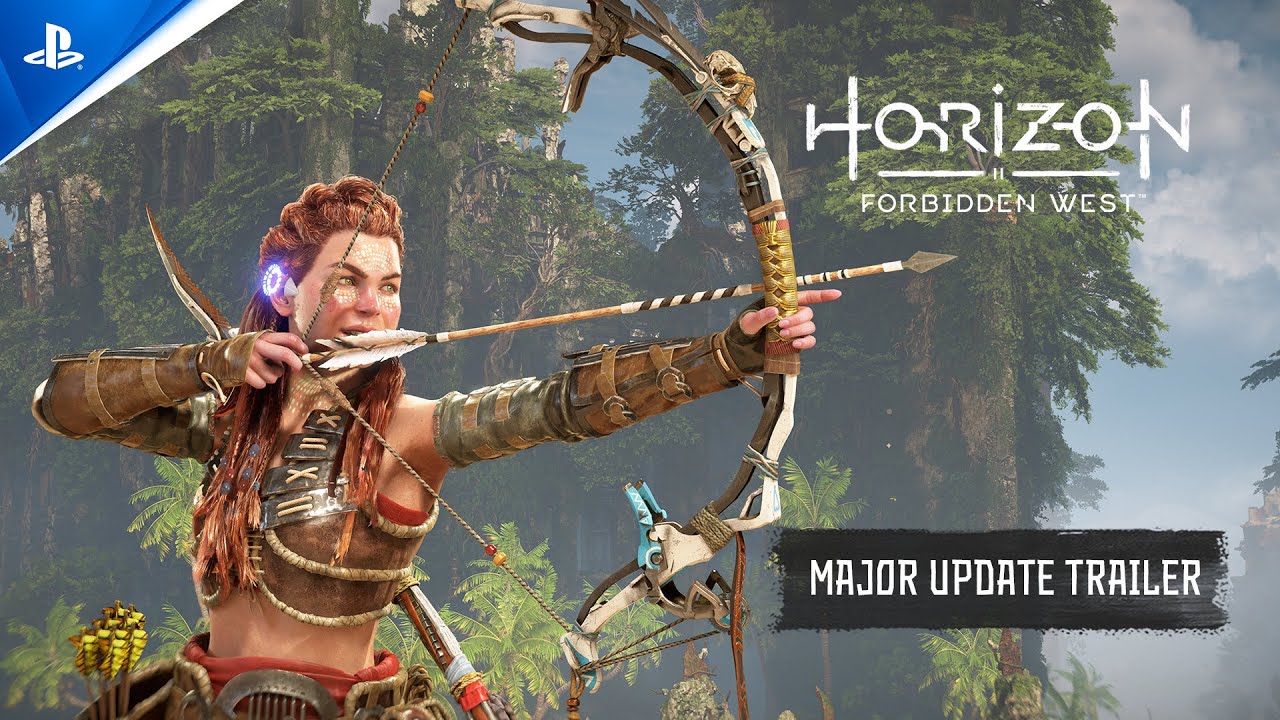 Think you can still take down that Slaughterspine? This update also comes with a dedicated trophy pack so you can track your victories as you revisit the Forbidden West on Ultra Hard through New Game+!
Additionally, there's a new Herbalist vendor who sells animal parts, and we've revamped Temporal Anti-Aliasing to improve the visual fidelity of our Performance mode on PS5 and rendering on PS4 Pro. We're already working on an upcoming patch which will include VRR support and a 40FPS Mode, so stay tuned for more.
*PlayStation®VR2 system currently in development.