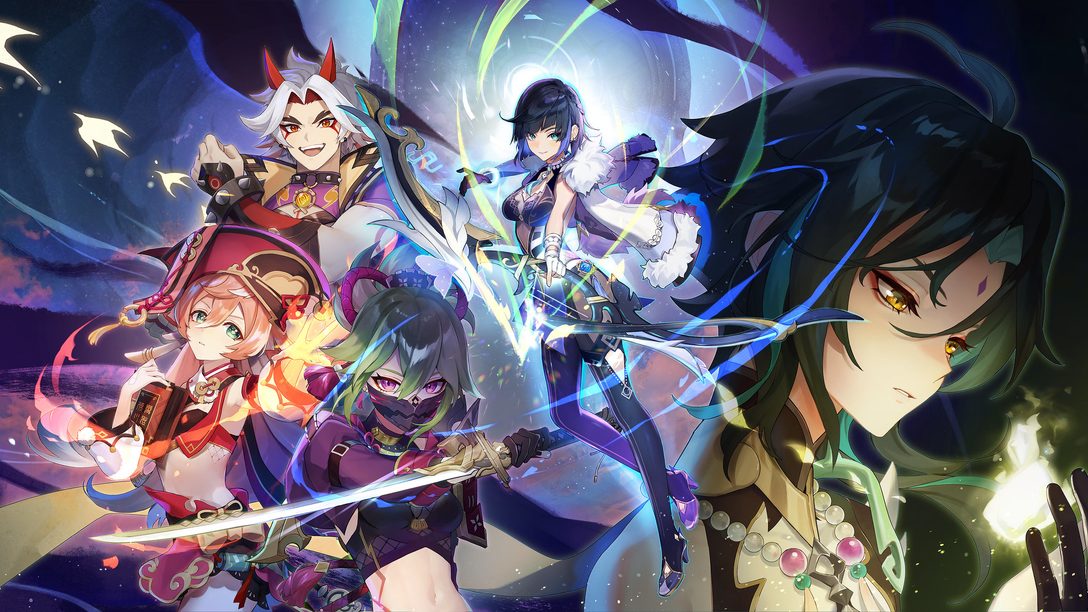 Team up with Yelan and Kuki Shinobu, continue your adventure within The Chasm, and drum up some fun with the Arataki Gang.
Hello Travelers! Your Genshin Impact dev team is back again! First of all, we must apologize for the delay and express our gratitude for all the patience and support received during such a special period.
Today, we'd like to share more about Genshin Impact's Version 2.7 Hidden Dreams in the Depths arriving on PS4 and PS5 May 31. As you continue your exploration of The Chasm, you will join an interesting crew consisting of Yanfei and Itto, as well as new characters Yelan and Kuki Shinobu, to discover more about the history and secrets of Liyue. Meanwhile, the Arataki Gang also invites you to the Almighty Arataki Great and Glorious Drumalong Festival and the latest season of rhythm game.
Also, if you're a PlayStation Plus member, don't forget to claim your free gift pack with every new version update.
Trapped Deep Inside The Chasm
It seems that The Chasm seals away not only clues to Khaenri'ah and the Traveler twins, but also the history and secrets of Liyue, including how the people fought against monsters 500 years ago. For a long time, Yelan has been watching over The Chasm, trying to find out what happened back then, which may be closely related to her origin. In addition, the yakshas also seem to share a deep connection with what happened in the past.
In the new event Perilous Trail, you will start a new Archon Quest Interlude Chapter featuring a diverse cast of characters inside The Chasm. While Yelan, Yanfei, Itto, and Shinobu are stranded in the depths, danger also looms ahead for the Conqueror of Demons, Xiao, who is conducting his own investigation. Survive the crisis together, and follow Xiao's steps to uncover the history buried inside The Chasm.
As the story progresses, a new combat challenge Realms of Guile and War will be unlocked along with the Perilous Trail event, putting both your combat skills and party-building strategy to the test. In this new game mode, you will be facing several rounds of combat in four different domains, and each domain has its own rule to rearrange your party after every round of combat. For instance, the Direcliff Court Domain allows only one member of your current party to continue in the next round of combat, while in the Kaleidoscope Cage Domain, two current members will be banned randomly in later fights. The challenge can be daunting, so we also prepared multiple Stratagem buffs and Trial Characters for you to choose from. Bountiful rewards, including the new four-star bow Fading Twilight also await in the event shop.
Besides, our old acquaintance Hosseini the Sumeru scholar is asking for help again to settle another crisis in which dark mud-like substance is spewing forth from the depths. In the A Muddy Bizarre Adventure, you need to use your Lumenstone Adjuvant and the Pursina's Spike placed by the scholar to clear the mud, repel monsters, and complete different challenge objectives such as escorting a hot air balloon to its destination or defeating certain monsters in a limited time.
Meet Yelan and Kuki Shinobu
Following the debut of Yelan and Kuki Shinobu in The Chasm, you will also have the opportunity to recruit them during Version 2.7. While Yelan and Shinobu have very distinct backgrounds and stories, they're both extremely capable and reliable characters to their friends and allies.
Yelan is the mysterious owner of Liyue's Yanshang Teahouse, but her true identity is hard to explain in a few words. Known as "a person with many faces," Yelan appears in various guises, pulls strings behind events, and disappears before anyone noticed. Therefore, she is also an excellent special intelligence officer, helping Ningguang to protect Liyue. Yelan enjoys living life on the edge, and her activities have taken her across the other nations of Teyvat, and even to the Abyss. If you're interested in how this master of intelligence and disguise operates in tough scenarios to uncover the truth, don't forget to check out her Story Quest Umbrabilis Orchis Chapter.
In combat, our new 5-star playable character Yelan favors the bow, and is capable of being a Hydro DPS that combines rapid attacks with agile mobility. After a short time out of combat, Yelan will enter a "Breakthrough" state, which will cause her next Charged Aimed Shot to have decreased charge time, and once charged, she can fire a Breakthrough Barb that will deal AoE Hydro DMG. With her Elemental Skill Lingering Lifeline, Yelan can move swiftly, mark her opponents, and deal Hydro DMG to marked targets once her rapid movement ends. Yelan also has a fixed chance to reset her Breakthrough state, based on the number of opponents marked. Her Elemental Burst Depth-Clarion Dice deals AoE Hydro DMG and creates a wondrous dice to aid in battle. The dice will follow your active character and initiate a coordinated attack when you unleash a Normal Attack or when Yelan's Lifeline explodes and hits opponents. With Yelan's Passive Talent Adapt With Ease, the active character's damage increases over time while the Dice is active. What's more, Yelan's Max HP increases based on the number of Elemental Types that are present in the party.
While Yelan is protecting Liyue from plots and threats, Kuki Shinobu is busy rescuing the boss and fellow Arataki Gang members from various troublesome and dangerous situations. Born in a family of shrine maidens, Shinobu took a very different path. She has learned a variety of crafts and skills and obtained so many professional certificates that her business card can't even list them all. She even studied law in Liyue as a junior alumna of Yanfei. It's still unknown how Shinobu ended up being the deputy leader of the Arataki Gang, but thanks to her efforts, this wandering little gang of misfits has become a crew capable of running all kinds of errands and jobs. If you want to spend a day with the Gang and learn more about Shinobu, you must not miss her Hangout Event.
As a four-star Electro sword character in combat, Kuki Shinobu can be a strong support to heal teammates and deal continuous damage from off the battlefield. Shinobu's Elemental Skill Sanctifying Ring will sacrifice a certain portion of her HP and create a Grass Ring of Sanctification that will heal friendly characters within and deal continuous Electro DMG to surrounding opponents. Shinobu's healing and damage will be boosted based on her Elemental Mastery, and her Healing Bonus can be further increased if her HP is down to a certain level. With her Elemental Burst Gyoei Narukami Kariyama Rite, Shinobu creates a special field in front that deals continuous Electro damage to opponents within.
Yelan's Event Wish will be available at the start of Version 2.7, coinciding with Xiao's rerun. Arataki Itto and Kuki Shinobu will be joining at the later stage of the update.
Join the Beat With the Arataki Gang
As Kuki Shinobu has finished her law studies in Liyue, Arataki Itto and his fellows now invite you to the Almighty Arataki Great and Glorious Drumalong Festival in Inazuma! It's time to celebrate Shinobu's graduation with a new rhythm game event!
During this event, you will receive a strange little drum from Itto to play with, and the playstyle is also different from our previous rhythm game to better match the percussion and drum beats. If you manage to unlock all available tunes, you can also enter the Note Editor mode and create your own beatmaps, and share with other players.
As you pass by Inazuma, you may also check out the Core of the Apparatus event to assist a toy merchant from Fontaine and receive different robotic furnishings that can be placed in the Serenitea Pot. You may also send your robotic furnishings to your friends.
Over the past few months, we've also been optimizing the game's CPU performance on both PS4 and PS5. With Version 2.7, players should be able to feel the game running more smoothly, especially on PS4.
Last but not least, we'd like to offer all PS Plus members the PS Plus Pack including Mora ×50,000, Hero's Wit ×20, Mystic Enhancement Ore ×15, and Fragile Resin ×2 during the upcoming Version 2.7. After each Genshin Impact version update, this bundle will be refreshed and you can purchase it for free again.
And that's all for our sharing about Version 2.7. We want to thank you again for your continuous support, and we look forward to bringing you more fun and excitement next time.