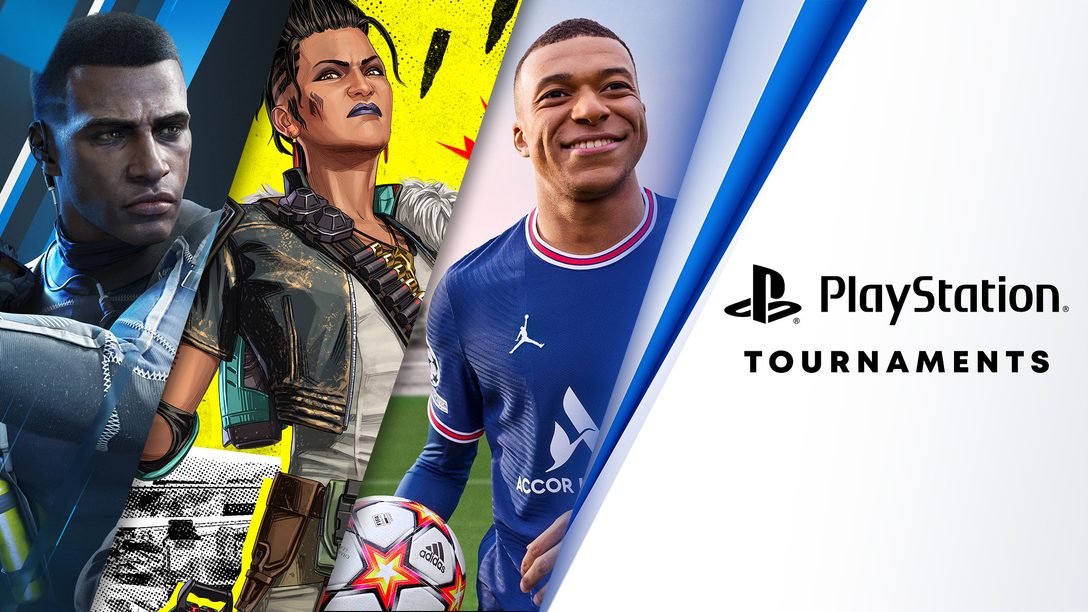 Compete for glory and prizes in Apex Legends, Call of Duty: Vanguard, FIFA 22, Madden NFL 22, Mortal Kombat 11, Rainbow Six Siege, Tekken 7, and more.
As we look back at the past year, we're grateful for the growth of our competitive gaming community and excited for what lies ahead. Over the next two months, we will offer a collection of new competitive programs for PlayStation Tournaments featuring new opportunities to watch, learn, and play.
A Look Back at PS4 Tournaments in 2021
Last year was our most eventful and competition-filled year so far. PlayStation players walked away with more than $5 million in prizes across more than 8,000 tournaments. We also saw more than 500,000 participants take home a prize from our competitions — a number that we're aiming to beat in 2022.
We were excited to recently introduce Flash Round tournaments. These are fast-paced competitions with no brackets or eliminations. With each round lasting no longer than a single match, players can compete in multiple Flash Rounds to rack up as many wins as possible and secure larger prizes at the end of the tournament. You can sign up for Flash Rounds in FIFA 22 or NBA 2K22 either on the Competition Center or on a PS4 console*.
Upcoming Programs On PS4
Across our upcoming competitions, players can expect less waiting between playtime, new formats, expanded prize pools, and more chances to win prizes — including PlayStation-themed avatars and PS4 themes just for participating. Here's a look at some new and upcoming programs arriving on PlayStation Tournaments, with many more to come.
Sign up for PlayStation Tournaments at compete.playstation.com or head over to the Events tab on PS4.
Apex Legends Master Circuit: Our Apex Legends Master Circuit is an epic eight-week competition offering players a chance to win a share of $10,000 in cash prizes and a PS5 console. The Circuit ends with a massive Final, which you can reach by winning points in weekly Qualifiers or joining bi-weekly two-day mini-tournaments called Slay Days. The top players and teams across the Qualifiers and Slay Days will get a chance to face off in the finals for the grand prize.
Season 1 will take place in North America and Europe from May 16 to July 15**.
Rainbow Six Siege Open Series: You can sign up for the Rainbow Six Siege: Open Series for a chance to become a champion. It's a great opportunity to connect with other competitors and keep improving your game. We're updating the series with a player-friendly upgrade that includes bigger prize pools, more opportunity to win prizes, and a quicker experience.
The new Rainbow Six Siege Open Series updates are now live and tournaments are available every month across North America, Europe, Latin America, Asia-Pacific, Australia & New Zealand, and the Middle East.

**See full rules
FIFA 22 PlayStation Plus Challenges: FIFA 22 is now available to download during the month of May for PlayStation Plus subscribers. Pick your team, head to the pitch, and take on new rivals. Download the game and compete in PlayStation Plus Challenges to win fresh prizes all month. To learn more and sign up, head to compete.playstation.com or check out the events tab on your PS4.
These tournaments will be available from May 2 to May 31 for PlayStation Plus subscribers across North America, Europe, and Latin America***.
FGC Fight Nights: The Fighting Game Community is always ready to show their skills and win big. That's why we've introduced "Fight Nights." These tournaments feature even more chances to win prizes and make a name for yourself in live PlayStation broadcasts. Currently featured titles include Guilty Gear -Strive-, Mortal Kombat 11, Soul Calibur VI, Tekken 7, and Under Night In-Birth.
This month's Fight Nights start May 4th and are available every month onward****.
Call of Duty: Vanguard: Open Series: Call of Duty always delivers intense action and competition. We're mixing up our Open Series tournaments with new monthly modes rotating between Search & Destroy, Hardpoint, and Control. Each of these formats will come with bigger cash prize pools giving players more to take home each month.
Updates go live May 2nd and tournaments will be available every week onward in North America, Europe, Latin America, Asia-Pacific, and the Middle East. May features Hardpoint mode.
**See full rules
Madden Summer Scrimmage: Just because it's the off-season doesn't mean you can't sharpen your skills and compete. This is an epic tournament where winners will represent and play as their favorite NFL team in weekly club tournaments for a shot at cash prizes, PS5 consoles, and more.
Available now only in North America until July 30.
***See full rules

*Active PS Plus membership required for PlayStation Tournaments: Flash Rounds. Eligible country and age requirement varies per title. See full rules by title.
FIFA 22: full rules
NBA 2K22: full rules

**Access to PS4, game title, and active PS Plus membership required. Must be 18+ and a member of an eligible country. Void where prohibited.

***Access to PS4, game title, and active PS Plus membership required. Must be 16+ and a member of an eligible country. Void where prohibited.

****Active PS Plus membership required for PlayStation Tournaments: FGC Fight Nights. Eligible country and age requirement varies per title. See full rules by title.
BlazBlue Cross Tag Battle: full rules
Guilty Gear -Strive-: full rules
Mortal Kombat 11: full rules
Soul Calibur VI: full rules
Tekken 7: full rules
Under Night In-Birth: full rules