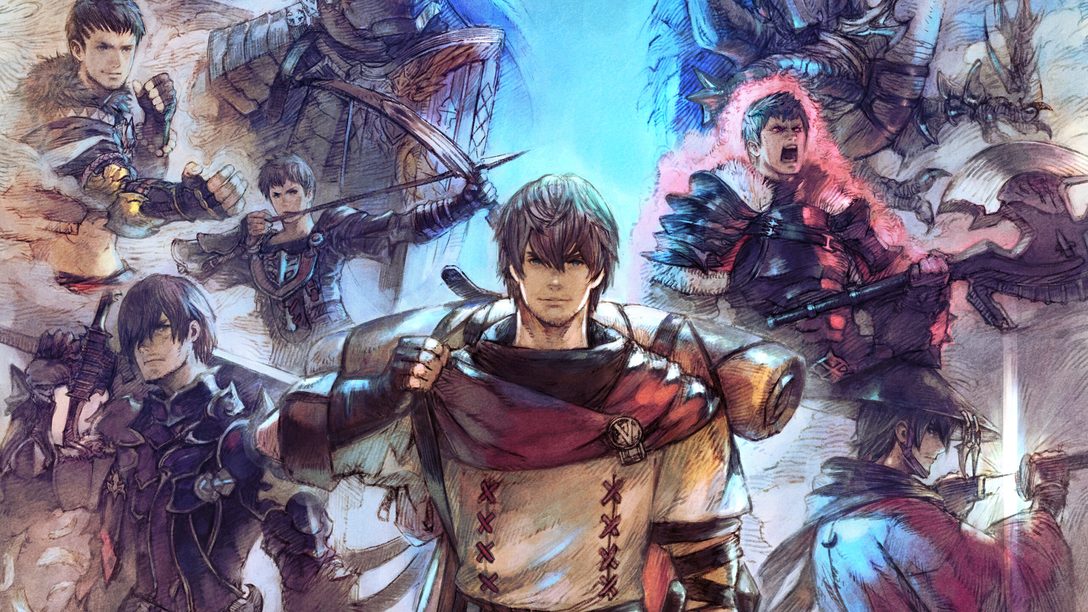 From enhancing solo play to a full graphical overhaul, a discussion on what's to come for the MMO.
From newfound adventures to long-anticipated lore explorations, the first content patch since Final Fantasy XIV's Endwalker expansion marks the beginning of a new era for Warriors of Light everywhere. Producer and director Naoki Yoshida answered a few of our burning questions about what's to come for the critically-acclaimed MMO. (Have you heard about its free trial?)
PlayStation.Blog: Endwalker has led the Warrior of Light through an incredibly climactic adventure of unprecedented scale, closing a chapter 10 years in the making! What do you see in our Warrior of Light's future? Doesn't he deserve a bit of a break? How do you follow up on such a grand adventure with so much at stake?
Naoki Yoshida: I think our Warriors of Light had some rest, but erm, there wasn't much rest for us in the development team (smiles bitterly). Please look forward to the story that will begin from our newfound adventure, and the mysteries and goals that will be brought up! I can't say much further. First, do be sure to see how things kick off in Patch 6.1's story. I believe that the key to continuing these stories is whether or not they'll excite us as developers. If our motivation erodes away, there's no doubt that it will extend to our players. To prevent this from happening, we always place paramount importance on ensuring it's engaging and fun for us to create (new stories and content) from our perspective as developers.
You've expressed wanting to make XIV more accessible to solo play. How do you marry the idea of an MMO, by design a multiplayer experience, and solo play? What is your design philosophy there and how do you approach these changes while staying true to the MMO aspects?
The answer is simple; my concept is to make the most of FFXIV's characteristics as a story-driven MMORPG, and make it so that only the story can be played through on a solo basis. So, "marrying" isn't the right expression, and what I want to do is lower the barrier for entry among those who feel intimidated by MMORPGs or who are not good at multiplayer games. Of course, I'll be happy if players are satisfied after completing just the story, or if throughout their journeys they discover the fun of multiplayer and MMORPGs, leading them to try out various types of content.
The upcoming alliance raid, Myths of the Realm, will focus heavily on some long-established lore of Eorzea. What do you think about some of the theories players have come up with about the deities and patrons of Eorzea? Will our chosen deity in character creation finally have an impact beyond flavour lore?
Of course I look through the theories players come up with, and it seems that some of them may not be far from hitting the mark. (laughs) In this alliance raid, the story will be about the very existence of the Twelve and their true nature. However, the deities chosen during character creation… will not affect your status (during the battle). Our players need not worry.
In some of the changes you've announced in your 10-year plan for the game, the graphical update has had many excited! How do you approach a project of this size and what are your main areas of focus?
My key area of focus was on those players who have spent a long time playing FFXIV and developed a strong attachment to their avatar. I don't want them to think "My character looked better before!" or "This doesn't look right!" with this update. The beauty of graphics depends not only on the method used, but also on the sensibilities of the individual, so I'm merely aiming for "the evolution of graphics from the perspective of FFXIV". To this end, we created numerous batches of test data, while the artists, engineers, and I discussed and decided on an approach for updating the shaders, lighting, and textures that we would employ. Lastly it's a matter of the (game's creative) direction, so it also largely depends on my sensibility in relation to judging "yes, this works!"
Many players are incredibly excited about the upcoming Dragonsong's Reprise Ultimate. These are very long and difficult fights that are an ode to a specific story arc in XIV. What was your design philosophy for the Dragonsong arc? How do you balance difficulty to ensure the content will be as challenging as possible yet accessible?
This time, the concept was to transform the story of the Dragonsong War from the Patch 3.x series itself into an Ultimate raid. Clearing an Ultimate series raid doesn't necessarily reward players with powerful weapons or other such items. What players will acquire are a shiny weapon and a title, in other words, a challenge for themselves alongside a sense of fulfillment and pride for having battled to victory. With the exception of the World First Race, that is precisely why I believe that the duty stands on its own because there is a sense of challenge, rather than a focus on how fast the party clears it. As for the difficulty… we don't quite have approachability in mind. (laughs)
---
Thanks for reading, Warriors of Light. To learn more about Final Fantasy XIV, including its latest Endwalker expansion, check out playstation.com.