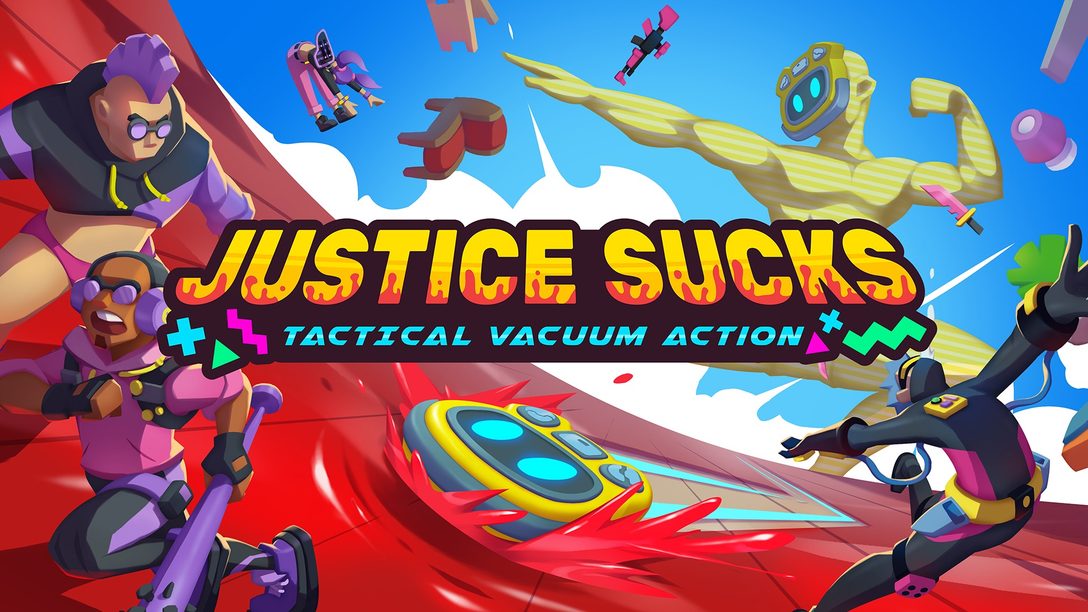 The top-down stealth-action game about a killer robot vacuum cleaner arrives this summer.
Greetings to all PlayStation gamers around the world on behalf of the Samurai Punk and tinyBuild team! We are more than thrilled to announce that our top-down stealth-action game Justice Sucks will be available on PS4 and PS5 later this year. If you enjoy wacky robot vacuum cleaner antics, and often find yourself lost in revenge fantasies, then we've got the tactical vacuum action for you. Keep reading for more details about the gameplay mechanics, a never-before-seen level and DualSense wireless controller gameplay details.
In the nostalgia-soaked, 90s-inspired world of Justice Sucks, you play as a vengeful robot vacuum cleaner named Dusty and his fighting spirit, Sexy McClean. This adorable little guy gains sentience after fighting off the FamilyCorp warranty squad who broke into the house and brutally attacked the whole family. On the brink of robodeath, Dusty gets thrown into the living room TV, gains consciousness and sets out to rescue the family in an action-packed quest through the TV dimension.
Hide, Hack, and Suck
Dusty is no ordinary vacuum cleaner. With tactical skills unmatched by all other household machines, Dusty can hide, hack, and suck his way through any environment. You'll need to utilize his abilities to rescue hostages, deliver items, exterminate intruders, and much more. Various weapons can be used to defeat Dusty's rivals, and when he's done, he can consume energy from fallen enemies to unleash devastating superpowers on his next target.
Spotted a burglar next to the fish tank? Hide under the shadow of the potted plants, hack into the electric sockets nearby, and turn that corner into a deadly electric trap. And don't worry about the fish; in Justice Sucks, collateral damage is just part of the fun.
PS5 Haptics & Triggers
Dusty uses a variety of weapons and abilities to destroy his enemies, and the DualSense controller's advanced haptics features will immerse you in this world of tactical vacuum carnage. Feel the trigger vibrate as you suck up and begin to rev your chainsaw, building in ferocity until the final devastating strike, or as you fire different projectiles at your attackers. The DualSense controller speaker enhances gameplay with a variety of sounds, whether you're honking, dashing, interacting with objects, or taking damage. And don't forget about the cleanup! You'll feel trigger resistance as you munch on your enemies, and vibration as you're sucking up the debris. What kind of vacuum cleaner would you be if you left a mess everywhere?!
The Newest Level: Airport
In our latest never-before-seen level, Airport, you'll encounter a new enemy type and game mode. Watch out for the hackers; they might disable your traps. Dusty needs to navigate the smoldering wreckage of the plane crash and get all the radio towers back online to complete this new S.O.S. game mode. (As you stealth your way around the map, you might even be lucky enough to spot an easter egg…)
A first glimpse at the new airport level
Before we sign off, let's enjoy a sneak preview of Sexy McClean's killer dance moves. Didn't expect that, did you? He's full of surprises!
That's all we can show for now, but we can't wait to share Justice Sucks with you in all its glory very soon. Dusty can barely contain his excitement. See you all this summer!