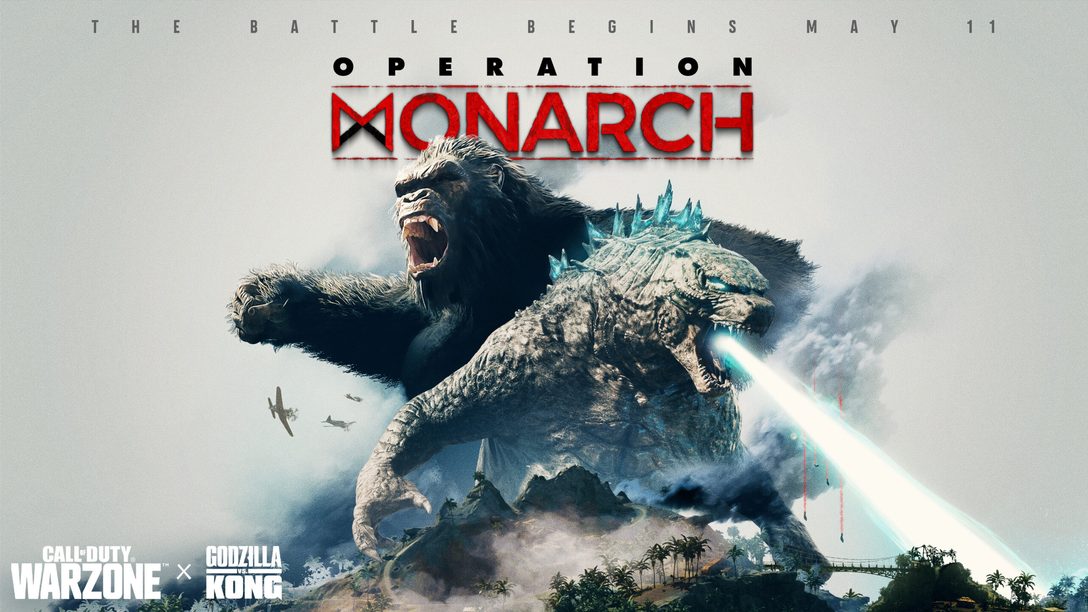 Drop into Operation Monarch on May 11, acquire prototype weaponry, explore updated Points of Interest in Caldera, and more.
There's something monstrous in the air, with new prototype weapons being uncovered and hints of an incoming threat far greater than man or machine. We can't wait for players to discover what's on the horizon in Season Three, Classified Arms. New maps, new weapons, a new Gulag, updated Points of Interest on Caldera, and the return of the almighty Trophy System are just a few things coming in the new season.
PlayStation players have much to look forward to in Classified Arms, the third season of Call of Duty: Vanguard and Call of Duty: Warzone. Can Captain Butcher and the new Task Force Harpy take on the looming threat?
Find out when Classified Arms launches on PlayStation on April 27. Here's what's coming.
The Season Three Battle Pass
The Season Three Battle Pass brings 100 Tiers of new content, including two new free weapons: the M1916 Marksman Rifle and the Nikita AVT Assault Rifle.
M1916 Marksman Rifle: A German semiautomatic rifle, the M1916 punches hard with a large two-hit kill range before attachments are factored in. Recoil can be a challenge but is easily countered by moderating your fire rate.
Nikita AVT: The Nikita boasts the highest fire rate in the Assault Rifle category, with a jagged upward kick through sustained fire. Utilize Gunsmith to improve handling in the way of an SMG, or focus on long-range damage and control to fit the more traditional role of an AR.
Purchase the Season Three Battle Pass to get Task Force Harpy Operator Mateo Hernandez instantly at Tier 0. Appearing later in the Store are the other two Harpy Operators, Florence Carter and Kim Tae Young.
Earn two more weapons — the Sledgehammer and the H4 Blixen SMG — by completing their in-game challenges or by purchasing their corresponding Store Bundles later in the season.
Warzone Brings Updated POIs, New Gulag, Operation Monarch
Dig Site: Located between the Mine and the Ruins, the new Monarch Dig Site Point of Interest provides Operators the opportunity to rummage through abandoned excavation equipment, tents, and massive skeletons for Supply Boxes and other items.
Updates to Runway, Peak, Lagoon: Only partially constructed for the past two seasons, Caldera's northern aircraft Runway and its stronghold on the Peak will be fortified by those defending Caldera and its secrets. Meanwhile, the shifting tide on Lagoon will reveal another path to the Lighthouse.
Operation Monarch: While Operation Monarch won't begin until around May 11, be on the lookout for signs of large creatures, ancient artifacts, Monarch Research equipment and facilities, and…Well, it won't take much investigating to see the massive glowing axe jutting out of the ground right near the Resort.
New Gulag — Hold: A new Gulag developed by Toys for Bob, this roughly symmetrical arena is based in the belly of a ship moored just off the coast of Caldera, with identical hallways on the perimeter of an otherwise open space.
Mid-Season Intel: Operation Monarch is likely to have a great impact on Caldera, but something else seems to be shaking and booming underneath the island. Expect more intel on the secrets below Caldera's surface later in the season, along with another Rebirth Island twist on a classic Warzone mode.
Multiplayer Brings Two New Maps, Trophy System
Let the chaos begin. Season Three brings two new small maps to the Multiplayer rotation: Mayhem and Sphere.
Mayhem (Launch): This 1950s movie set is built for fast-paced combat. Move quickly and take center stage in this small-scale replica of a bustling metropolis featuring multiple destructible elements throughout. Get ready for your close-up and plenty of lights, cameras, and action!
Sphere (In-Season): A hidden weapons lab is found beneath the façade of a coal mine. This small-sized map is brimming with secrets, featuring dual layers that use plenty of interior space to facilitate fast-paced close-quarters-combat opportunities.
New Equipment — Trophy System: Designed as a prototypical version of a modern portable defense tool, the Trophy System will be a new Field Upgrade in Vanguard Multiplayer this season. It neutralizes Frag Grenades, Sticky Bombs, and No. 69 Stun Grenades thrown in proximity to the Trophy System. Unlike previous seasons, the Trophy System will be available for immediate use for all Vanguard players, with no Battle Pass progress required.
Plus, the next season of Ranked Play brings two new Weapon Blueprints and two new camos for use on all weapons. There are also Charms, Emblems, and even more rewards for playing Ranked Play, so get back on the ladder and restart your climb to the top, as all players' Skill Ratings and Skill Divisions reset for a fresh start.
Zombies Update — The Road Ahead
As with previous seasons of Vanguard, Zombies players can expect to equip the newest Battle Pass weapons in their Zombies Loadout, as well as complete 20 new Zombies Season Challenges featuring unique Calling Card and XP bonus rewards.
You can also earn the KG M40 and Whitley weapons from Season Two via new Weapon Unlock Challenges in Zombies, available right after the Season Three update. Note: these weapons can also be earned via Multiplayer challenges.
Get the PlayStation Exclusive Combat Pack
Gear up with the Season Three Combat Pack, free for PlayStation®Plus members in Call of Duty: Vanguard and Warzone starting on May 4.
The Odyssey Combat Pack includes the Legendary Bushwacker Operator Skin for Padmavati Balan, the Legendary Heavy Foliage and Gold Hawk Weapon Blueprints, an Epic Watch, Charm, Emblem, Calling Card, and a 60-minute Double XP Token.
Season Three Launches April 27
Season Three of Vanguard and Warzone launches on PlayStation on April 27. Expect all this and more, including new Store Bundles, Season Three Challenges, and new limited-time events. Rise on every front.