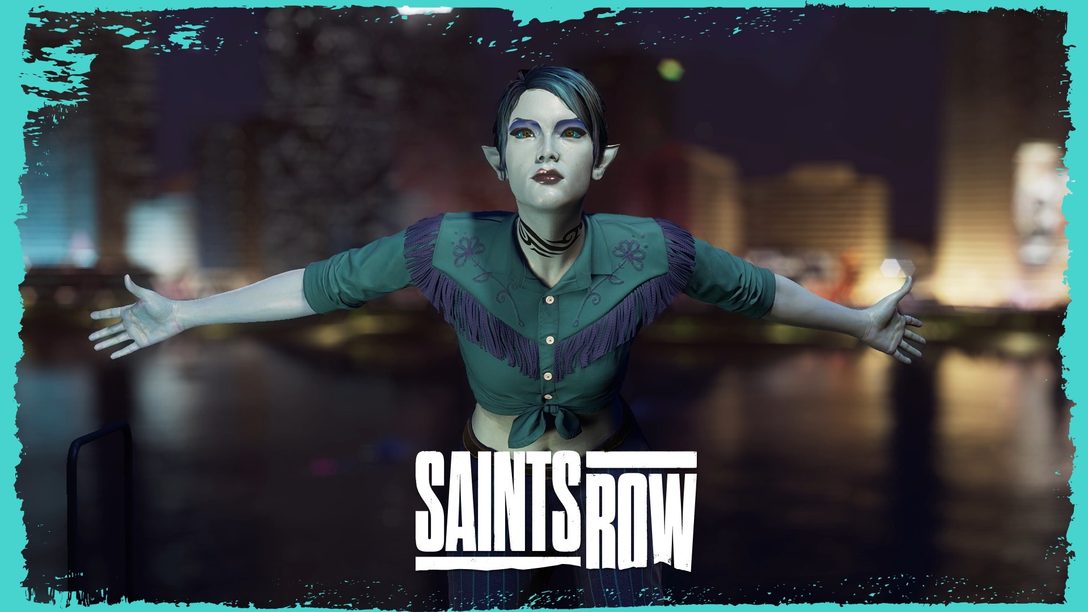 Developer Volition's guide to Saints Row's best-in-class customization suite.
Saints Row's customization suite is guaranteed to delight and excite: there are virtually no limits to what you can do and there are no rules as to how you do it. You get the ultimate freedom to express yourself in Santo Ileso – what we call the Weird, Wild, American South West – let's take a look at what this actually means.
We put player choice first in Saints Row; across the board we offer the best, most vibrant mix of customization features that make this by far the best customization toolset in a Saints Row game to date.
You can adapt almost anything in outlandish or aspirational fashion. From the end of the very first missions you will unlock the ability to update your boss character with clothing, emotes and even your weapon of choice with an almost endless number of options from one of the stores across the city. As you progress through the game you will earn the cash needed to keep your look up to date. Through the Criminal Ventures you and your fellow Saints take part in you can modify parts of the city itself, including the Saints HQ – it's your time to take over Santo Ileso and make it your own; so go build your criminal empire in style.
We've removed the boundaries of gender for players – you can put anything on without limits and rules. Our best in class tools let players choose what their definition is for cool. Serious or silly, we let players express themselves and generate looks that either resemble their own persona, another's, or even something other-worldly.
You can craft your perfect boss and show off your own style with a copious choice of clothing. With each individual item being customizable – layered clothing is back, so you can add underwear, a t-shirt and then a jacket, and accessorize with sneakers, hats, gloves and even socks! Yes, this much loved feature is also back with a vengeance, and for everything you wear, you can change the color, surface properties, and exotic materials for the perfect look.
Going deeper, you can customize your hairstyle and color from the roots to the tips. For your skin, go beyond a myriad of colors and define the type, texture, and features like scars and muscles, veins, tattoos, prosthetics and piercings. There's even a trucker tan. When it comes to your face you can make each side the same or different with the inclusion for the very first time of asymmetrical face customization. Add make-up, scars, bruises, tattoos, facial hair, wrinkles – it's all there and we can't wait to see what you're going to create.
There's also an insane amount of vehicle options and vehicle toys to play with for vehicle enthusiasts. Saints Row packs in over 80 to locate by exploring the city and store in your garage– spanning boats, cars, trucks, bikes, helicopters, jet skis, and even a hoverboard; they're all there for you to modify and make your own. Change the paint, add a metallic finish, go glossy, add a side skirt and even an underglow. Then tint your windows, change the interior color, add grime and decals and finally go crazy with your wheels. Then when you're done, mess around with the Signature Abilities on offer – things like crab steering to strafe down the road, or a wrecking ball, and ejector seats are an option, too. The more you play the more chances you will have to be rewarded with rare vehicles.
You can also change almost every aspect of your weapon including its material, color, pattern, textures, decals, and even swap the whole weapon model itself, to give you an umbrella or guitar case as your gun if you want it.
Finally, don't worry if you prefer to get stuck in creating your Boss straight away – there are eight different presets available for you to choose from as a starting point. Ultimately your boss, your rides and weapons will all be unique and recognizable as your own. This is where you truly get to be your own boss.