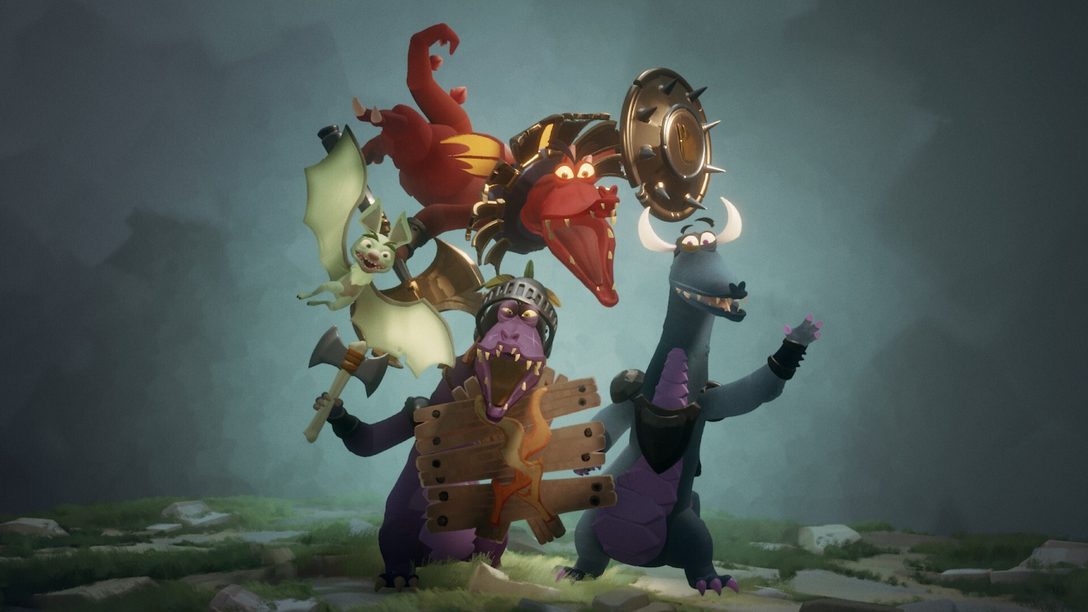 Plus, how metal singers brought monsters to life in Ancient Dangers: A Bat's Tale. 
Another Dreams update is here! If we listen closely, we can hear the screams of joy from players all over the world… Oh no, wait. That's game audio playing in our headphones. Makes sense, as this latest Dreams update – V2.42, available to download from today, April 7 – brings a huge collection of professionally-made and recorded monster screams, growls, grunts and gurgles for you to use in your creations.
Captured on PS4 Pro.
"Why monster sound effects?," you may well ask. For the release of our latest game, Ancient Dangers: A Bat's Tale, we worked with the talented team at The Monster Factory, who voiced all manner of creatures, orcs and dragons for the game. We were so pleased with the results that we wanted to make this amazing audio available for the CoMmunity to use and remix into anything they can imagine.
The secrets behind the sound effects
What makes our monsters' hellacious howls so high-quality? Well, firstly, good old-fashioned collaboration between The Monster Factory and Media Molecule teams.
"Tom [Colvin] and Lisa [Devon] had a clear vision about what they wanted for their monsters," says Sébastian Croteau, co-founder of The Monster Factory. Croteau listened to their audio references, and then kicked off the casting process in Montreal. The team stayed true to the voice direction they were given, but also put their own spin on the monsters' characters.
"It just came naturally," Croteau says. "We can get a lot from how the monsters look, their body type and facial features. Those visual elements really help shape our sound creation and design process."
But there's something else that gives Croteau's voice acting work an edge: his experience as the lead singer of a death metal band, Necrotic Mutation.
"Being a throat-singer and a metal vocalist definitely helps," Croteau says. "Metal vocalists have the unique ability to produce otherworldly, distorted, yet organic sounds without having to resort to digital modification of their voice. Additionally, our training enables us to perform these guttural sounds for multi-hour recording sessions, without damaging our voices.
Sébastian Croteau from The Monster Factory, as Dragon Guard
"Many people would think that these types of vocals are just screams, but they are much more than that," Croteau continues. "There is a precise technique behind them and believe it or not, the technique used in throat-singing is very similar to the technique in metal vocals."
Roxana BL from The Monster Factory, as Hypatia the Dragon
It was a blast working with these talented performers – and the feeling is apparently mutual.
"Working with Tom and Lisa and the rest of the team at Media Molecule is something we will remember for a long time," says Croteau. "We're usually hired to voice nightmarish zombies, demonic creatures or horrific monsters. Working on Ancient Dangers: A Bat's Tale allowed us to voice scary, but fun characters, instead of the demons-from-hell type of sounds that clients usually request from us.
"We were really satisfied with the end result, and we all really enjoyed playing the game."
Aww – thanks, Sébastien!
But wait… There's more!
This audio update includes a couple of nifty new features for creators looking to optimize audio. Test Mode now has an Analyse Audio feature that allows you to check the usage and memory cost of audio elements in a creation.
Captured on PS4 Pro.
We've also added a new audio thermometer that measures Sound Readiness – basically, whether the sounds you've included in a creation are playing correctly, how much memory they're using, and more. You can find more detail on these tools in this patch notes post over on indreams.me.
Captured on PS4 Pro.
Again, all this audio goodness is available to download right now: boot up Dreams after installing the update, and you can check out the new audio tools in Edit Mode – as well as listen to, use and remix The Monster Factory's amazing monster performances for your very own creations. Have fun!