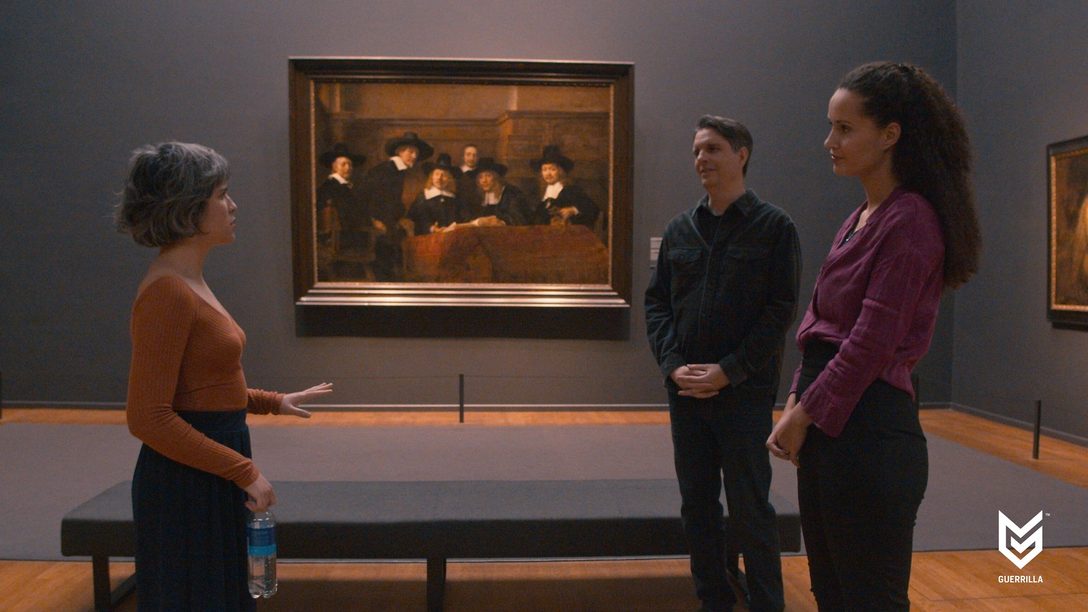 A look at the creative collaboration between Guerrilla and the renowned Dutch Rijksmuseum.
While the stunning landscapes of the Forbidden West may depict a post-post-apocalyptic North America, the world of Horizon is crafted at a studio in the heart of Amsterdam. At Guerrilla, we're always happy to showcase our Dutch roots to our international community. So when the opportunity presented itself to collaborate with the Rijksmuseum, we had to take it.
The Rijksmuseum is the national art and history museum of The Netherlands. Its collection features the renowned works of Dutch masters like Rembrandt and Vermeer. Working together with the museum's experts, a handful of these artworks were chosen to be featured during a pivotal moment in the story of Horizon Forbidden West.
The result is an intimate experience that not only speaks to the importance of preserving cultural artifacts, but also demonstrates how art helps us process emotion and connect with one another.
---
Spoiler alert: This section includes some top-level Horizon Forbidden West story spoilers
---
"Don't be so quick to dismiss the comfort we can find in art. Or the insight we might gain." These are the words of Tilda van der Meer, a major new character in Horizon Forbidden West. She was always set to be a space-faring immortal who returns to Earth after a thousand-year absence. However, after meeting with the Rijksmuseum back in 2019, Guerrilla's narrative team reimagined the character as a Dutch technologist, authentication expert, and art collector who fights to preserve elements of the museum's collection from the ravages of time.
When the Rijksmuseum saw Tilda's new biography, Curatorial Assistant Denise Campbell and her team were inspired to select ten perfect pieces for the collection featured in the game, each of which resonates with Tilda's personality.
Guerrilla then worked to create a space in the game to show off these works, preserved for a millennium: the vault inside of Tilda's mansion. When Aloy first enters, she is captivated by the great works featured prominently on the tall concrete walls and pedestals. In this atmospheric area, Aloy—and the player—can linger for however long they wish and discuss the pieces with Tilda through Aloy's Focus. Ultimately, this provides a connection between both characters, beautifully acted by Ashly Burch and Carrie-Anne Moss, manifested through their mutual admiration and interpretation of Tilda's collection.
The Rijksmuseum has been a phenomenal collaborator over the past few years, from curating the selection to now. They are cordially inviting Horizon Forbidden West fans and art admirers alike to take the Aloy Tour at any time, and see the magnificent collection up close as displayed in the historic museum halls. The ten selected works are:
The Night Watch, Rembrandt van Rijn, 1642
Woman Reading a Letter, Johannes Vermeer, ca. 1663
Titus in a Monk's Habit, Rembrandt van Rijn, 1660
Jeremiah Lamenting the Destruction of Jerusalem, Rembrandt van Rijn, 1630
Woman Reading Music, Han van Meegeren, 1935 – 1940
Selene and Endymion, Gerard de Lairesse, ca. 1680
A Ship on the High Seas Caught by a Squall, Known as 'The Gust', Willem van de Velde (II), ca. 1680
Lidded ewer for the Amsterdam Goldsmiths Guild, Adam van Vianen (I), 1614
Frenzy, Artus Quellinus (I) (attributed to), na 1648 – in of voor 1662
Bacchant, Adriaen de Vries, 1626
If you want to know more about how we created Tilda's Vault and selected which significant artworks were featured in-game, please check out the video below: