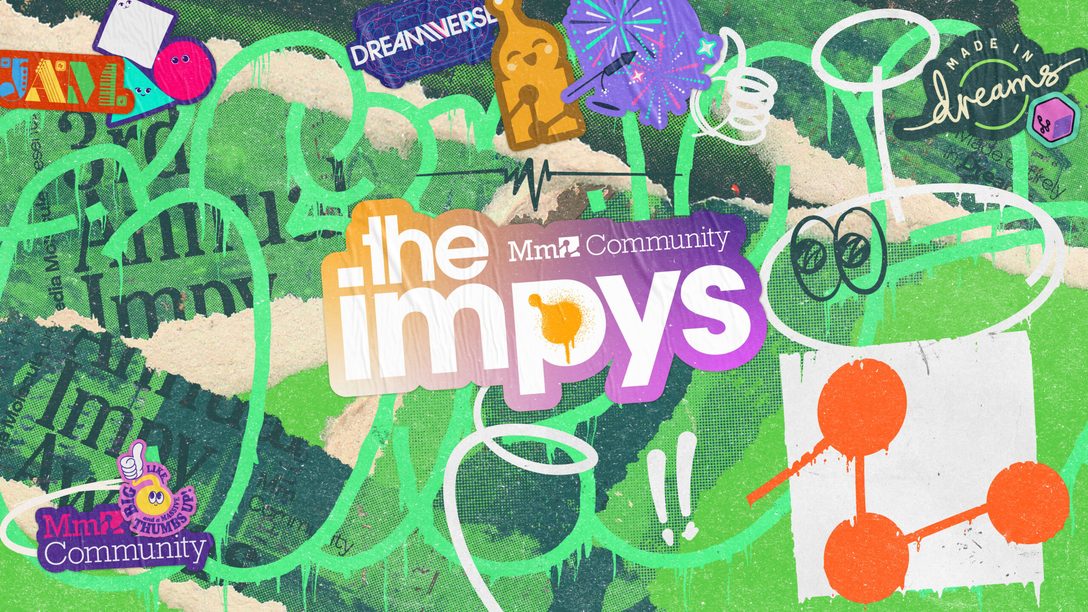 Find out which Media Molecule community superstars took home a coveted trophy at the third-ever Impy Awards.
Did you catch the 3rd Annual Impy Awards streaming live last night? If you did: thanks for tuning in! And our sincere apologies for subjecting you to The Connie Hat. You know the one.
Don't worry if you couldn't make it, though – we've popped a video of the show onto our YouTube channel for you to enjoy at your leisure. Do give it a look: alongside our celebration of some of the very best creations and moments from the past 12 months in Dreams, we had all sorts of special celebrity guests drop by to say hello!
It was, as ever, a delight and an honour to hand out trophies to this year's victors. We'd like to say another big thank you to our wonderful expert guest judges – gathered together from across a variety of creative industries – for helping us with the incredibly difficult task of selecting a single worthy winner in each category. Thanks, too, to all of you who cast a vote in our four coMmunity-voted categories! Clearly, you have excellent taste – as you'll see below.
Yes, it's finally time to reveal the full list of winners. Er, again. But this time in blog format!
Excellence in Art Direction
The Idyllium – ZIIQ, Helekosi and Bevis2
Excellence in Environment Art
Tales from Dark Town: Red Zone – DirtyFlusher and dinox11
Excellence in Narrative
The War to End All Wars – DerAnder_96
Excellence in Sculpture
Music Track of the Year
Musician of the Year
Excellence in Animation
Excellence in Gameplay
Claustrofactory – Aecert, PieceOfCraft and duckenomics
Most Original Gameplay
Impressionable – Entropy-Tamed
Excellence in Curation
Excellence in Character Design
Excellence in Audio Design
Fragments (#AutisticaPlayJam) – OptimusCries, NikoJaXs and thyon
Excellence in Innovation
Nine Equals – danikaka, cutaia_net and Pixel_Gorilla
CoMmunity Star
Excellence in Voice Acting
Red and the Cursed Isles – RedSeikatsu-
Most Helpful Dreamer
Contribution Beyond Dreams
Made in Dreams Podcast
Excellence in VR
the RESTLESS DARK Demo – s-001
Evolving Experience
CoMmunity Collaboration
DreamsFest 2021 – DreamsFest Team
Breakthrough Dreamer
Creator(s)/Team of the Year
Creation of the Year
The Idyllium – ZIIQ, Helekosi and Bevis2
What an incredible year in Dreams it's been. If you'd like to check out any of these award-winning creations for yourself, you can simply boot up Dreams, and the front page of DreamSurfing will raise you aloft on a wave of curation magic and gently set you down in front of the relevant playlists… (Basically, we'll show you where to point your imp.)
Oh, and our playable Impys hub is also still available to explore in-game – it's a stylish underground gallery space, featuring Mm-made art exhibits inspired by some of our favourite moments of coMmunity-led collaboration and creativity from throughout Dreams' history. (We can't believe it's now been over two years since Dreams launched!) It's packed with fun interactive doodads, unexpected secrets and cheeky coMmunity Easter eggs for those of you in the know.
And if you'd like even MORE Impys info, insights, developer tips and coMmunity tributes, you can still download our free magazine on indreams.me – The Impsider's official companion to the 3rd Annual Impy Awards!
All the love from us to you for helping us celebrate another fabulous year of creativity, collaboration and community spirit in Dreams. If you have any feedback about this year's Impy Awards, then do let us know via the usual social channels – we do this every year for all of you, so your opinions and suggestions are always appreciated! (What do you mean, "Don't ever show us The Connie Hat again"?)