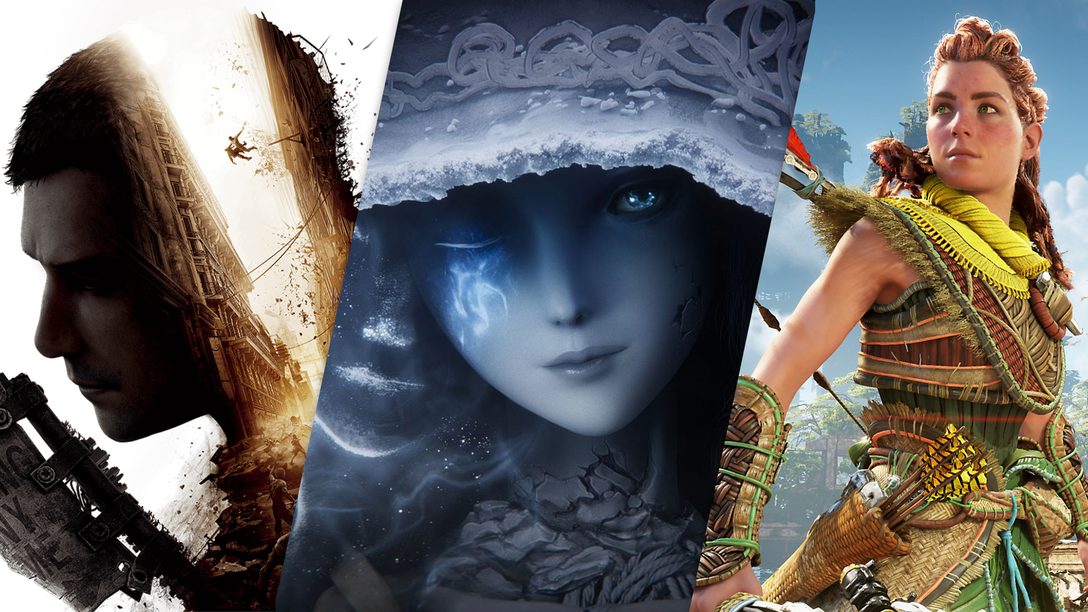 Elden Ring, Horizon Forbidden West, and Dying Light 2 lead the charge.
When it rains, it pours, huh? February saw a veritable deluge of quality video game releases, including long-awaited open-world follow-ups Horizon Forbidden West, Elden Ring, Dying Light 2, and the PS5 version of Cyberpunk 2077 — not to mention martial arts adventure Sifu — all of which filled out the top five on the US/Canada and EU PS5 charts.
Where did your top picks for February land? How do you think March will shake out? Let us know in the comments!
PS5 Games
| | US/Canada | EU |
| --- | --- | --- |
| 1 | ELDEN RING | ELDEN RING |
| 2 | Horizon Forbidden West | Horizon Forbidden West |
| 3 | Dying Light 2 | Dying Light 2 |
| 4 | Sifu | Cyberpunk 2077 |
| 5 | Cyberpunk 2077 | Sifu |
| 6 | NBA 2K22 | F1 2021 |
| 7 | Madden NFL 22 | FIFA 22 |
| 8 | Marvel's Spider-Man: Miles Morales | Assassin's Creed Valhalla |
| 9 | Call of Duty: Vanguard | NBA 2K22 |
| 10 | It Takes Two | Among Us |
| 11 | Assassin's Creed Valhalla | It Takes Two |
| 12 | STAR WARS Jedi: Fallen Order | Marvel's Spider-Man: Miles Morales |
| 13 | FIFA 22 | Madden NFL 22 |
| 14 | Among Us | STAR WARS Jedi: Fallen Order |
| 15 | Five Nights at Freddy's: Security Breach | Riders Republic |
| 16 | Ghost of Tsushima DIRECTOR'S CUT | Call of Duty: Vanguard |
| 17 | Mortal Kombat 11 | Kena: Bridge of Spirits |
| 18 | Riders Republic | FAR CRY 6 |
| 19 | THE KING OF FIGHTERS XV | Resident Evil Village |
| 20 | FAR CRY 6 | Five Nights at Freddy's: Security Breach |
*Naming of products may differ between regions
*Upgrades not included
PS4 Games
| | US/Canada | EU |
| --- | --- | --- |
| 1 | ELDEN RING | FIFA 22 |
| 2 | Horizon Forbidden West | Horizon Forbidden West |
| 3 | Dying Light 2 | Dying Light 2 |
| 4 | Grand Theft Auto V | ELDEN RING |
| 5 | NBA 2K22 | Grand Theft Auto V |
| 6 | Madden NFL 22 | Minecraft |
| 7 | Sifu | Horizon Zero Dawn |
| 8 | Minecraft | F1 2021 |
| 9 | Red Dead Redemption 2 | The Witcher 3: Wild Hunt |
| 10 | Horizon Zero Dawn | Red Dead Redemption 2 |
| 11 | FIFA 22 | NBA 2K22 |
| 12 | Call of Duty: Vanguard | Among Us |
| 13 | Gang Beasts | God of War |
| 14 | God of War | Sifu |
| 15 | Batman: Arkham Knight | Gang Beasts |
| 16 | Marvel's Spider-Man: Miles Morales | Assassin's Creed Valhalla |
| 17 | Uncharted: The Nathan Drake Collection | The Sims 4 |
| 18 | The Witcher 3: Wild Hunt | Call of Duty: Vanguard |
| 19 | Five Nights at Freddy's: Security Breach | Dying Light |
| 20 | Call of Duty: Modern Warfare | Uncharted: The Nathan Drake Collection |
*Naming of products may differ between regions
PS VR Games
| | US/Canada | EU |
| --- | --- | --- |
| 1 | Beat Saber | Beat Saber |
| 2 | Creed: Rise to Glory | Creed: Rise to Glory |
| 3 | Job Simulator | Job Simulator |
| 4 | SUPERHOT VR | SUPERHOT VR |
| 5 | Zenith: The Last City | Sniper Elite VR |
| 6 | Rick and Morty: Virtual Rick-ality | The Room VR: A Dark Matter |
| 7 | Vacation Simulator | Gun Club VR |
| 8 | GORN | Zenith: The Last City |
| 9 | Gun Club VR | Rick and Morty: Virtual Rick-ality |
| 10 | Swordsman VR | Swordsman VR |
Free-to-Play (PS5 + PS4)
| | US/Canada | EU |
| --- | --- | --- |
| 1 | Fortnite | Fortnite |
| 2 | Apex Legends | Rocket League |
| 3 | Call of Duty: Warzone | Rec Room |
| 4 | Rec Room | Yu-Gi-Oh! Master Duel |
| 5 | Yu-Gi-Oh! Master Duel | Call of Duty: Warzone |
| 6 | Rocket League | Apex Legends |
| 7 | Destiny 2 | eFootball 2022 |
| 8 | Genshin Impact | Genshin Impact |
| 9 | Brawlhalla | Destiny 2 |
| 10 | Rogue Company | Brawlhalla |