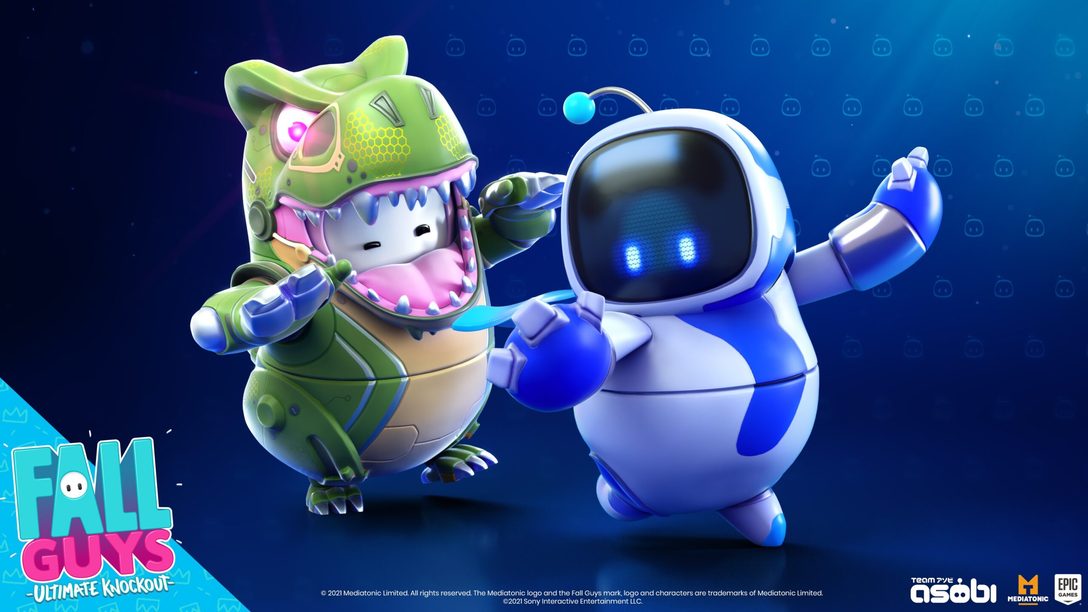 How Mediatonic is bringing the loveable robot and T-Rex to the Blunderdome.
We've teamed up with PlayStation and the legendary Astro is tumbling into the Blunderdome. Yes, that's correct – you can now be PlayStation's cutest robot right here in Fall Guys.
And because so many of you have asked how our incredible art team put together these designs, we thought we'd give you a crash course on the making of a Fall Guys costume. Enjoy!
The making of an Astro Bot bean
Creating a Fall Guys costume is about more than transformation. Our talented team of artists believe that you need to really feel like you're wearing the costume, not just becoming a totally different character. We think of a Fall Guys costume like real clothes made for your bean's bulbous body. It's like a fashion designer's dream!
We pour all of our crazy, silly, clumsy personality into every single one. From the iconic Astro to something cute and cuddly (and also a bit terrifying) with the T-Rex. Without blowing our own trumpet too much… we think we've nailed it.
Concept art created by the Fall Guys team as they began to imagine how Astro and T-Rex could look as cute little beans.
Bringing Astro and T-Rex to the Blunderdome
As well as being fun and cool, our costumes are picked because they feel like a marriage made in madness. For example, Astro has become a famous face. But he's just got so much cute charisma that we took one look at him and knew he slotted seamlessly into our world of wacky. It was the fastest yes we've ever said. You couldn't say anything quicker than how we said yes.
The cute vibes, the round bod, the absolutely unmistakable design. It all works. Especially when you consider how popular both games are on the PlayStation system of consoles. But what if you're not making a costume based on an iconic character? It still has to be recognizable in its own right. And that's when costumes like the T-Rex come in. At the core, it's a wonderful design that epitomizes the collectathon buzz we know our players all have. It's a costume that you want to have in your locker.
Early renderings, shaping and mapping of our beloved T-Rex costume.
How do you make costumes for a Fall Guy?
To get to that stage, we go through a ton of iteration. And it all starts with the art team's sketches.
This is where the madness gets whittled down and ironed out. We explore every angle. What shapes can we use? What colours? Do we want snazzy glow? And how much of the original character do we bring into our Fall Guys design. For example, the design of Astro's eyes are set lower than our usual designs to match the proportions. It's this attention to detail that we love.
Concept drawings of the T-Rex costume, with a little Fall Guy proudly donning the in-progress costume.
From sketch designs and drawings, we head to rendering.
Our initial concepts often change a lot at this point, and for many different reasons. From practicality to the fact that some designs simply don't work as well in 3D as they did in 2D designs.
Astro posing proudly after our amazing 3D art team has completed the renders of the most up-to-date concept. Astro is now ready to drop into the Blunderdome.
We spend a lot of time here polishing and refining, before heading into the poly sculpt stages. It's here that we create the 3D shell, then add textures, and finally put our digital sculpting knives down to admire our finished masterpiece.
Now onto the sweet event stuff (Sweet Thieves)
No Fall Guys costume drop is complete without a new challenge event, right? Sweet Thieves is a huge event with new and immersive ways for play. And a huge collaboration like Astro Bot felt like the perfect way to celebrate the new dose of shameless joy, goofiness and mischief.
What's more, the T-Rex will be available, too. It'll set you back five Crowns for the Top and five Crowns for the Bottom. Look out for it during the event!
And your rewards are:
Astro Pattern – 100 Points
Astro Nameplate – 200 Points
Astro Lower Costume – 400 Points
Captain Astro Nickname – 600 Points
Astro Upper Costume – 800 Points
Astro's Wave Emote – 1000 Points
These adorable rewards are available to unlock via the Sweet Thieves Astro Bot challenges from March 8 – 13 in Fall Guys! And there's more! T-Rex will be available to buy in the Fall Guys store from March 10 – 13.
Final bit
This has been a long time in the making. It's been a labour of love – from the concepts to sketches to renders to reiterations and finally to the finished costumes. We cannot wait for you to get your clumsy mitts on Astro or T-Rex.
Thanks for reading, Beans – and see you all in the Blunderdome for a sugar rush!