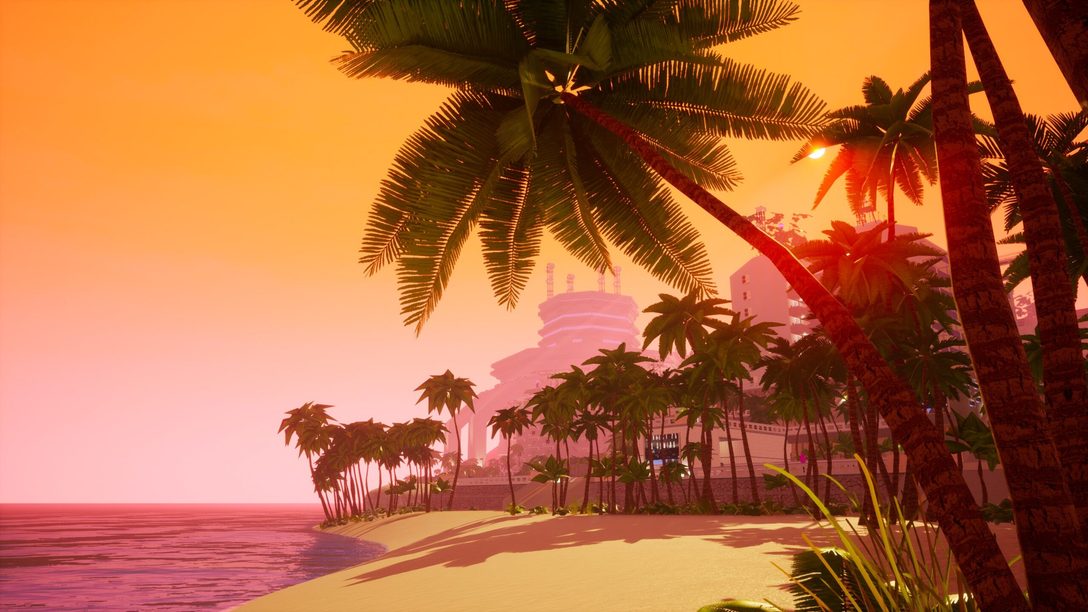 Kaizen Game Works details the upgraded visuals, new music and gameplay it's furnishing Paradise Island with.
I wouldn't be here writing this blog if I hadn't had an original PlayStation growing up. I liked games just fine before getting one but titles like Resident Evil and Metal Gear Solid changed my life and set me on a path to a career in the videogame industry. So it gives me huge joy to be able to announce we're releasing Paradise Killer onto PlayStation 5 and PlayStation 4 this month – March 16 to be exact!
Paradise Killer is an open-world murder mystery set on a bizarre island ruled by a secret society that worship goat headed alien gods. Monolithic crystal statues rise up from the ocean and gaze down on an island full of secrets, demons and shrines dedicated to unspeakable cosmic beings.
We knew it would look fantastic on PS5 — withall our gleaming black marble, golden temples, and towering crystal statues were just screaming out to be blanketed in glorious ray-tracing. It also feels very fancy and surprising every time I boot up the game and the PS5's SSD loads the whole world stupidly quickly. Besides it looking super nice and flying along at 60fps, the DualSense wireless controller's haptic feedback adds immersive touches to the likes of ladder climbing, turning your torch on, and buying drinks from vending machines (my personal favorite addition). I wasn't sure what haptic feedback would add to Paradise Killer but now friends, I can tell you it adds a whole lot. So on PS5, you're looking at 4k, 60fps with ray tracing. The PS4 Pro version is 4k at 60fps, and the PS4 version targets 60fps at 1080p.
We were already hard at work on our next game when we got the opportunity to work on the PlayStation version of Paradise Killer so we needed some help. We have been fortunate enough to work with our friend Harry on the port and couldn't be happier. We wanted to handle the ports of Paradise Killer ourselves but we didn't have the resources in house. Fortunately Harry came highly recommended by our art director Rachel and could thankfully join us for the project, handling the porting and implementing PlayStation 5 only features like the haptics.
It is scary giving something so personal to someone else to work on but Harry has done an amazing job working with our technical director Phil to bring the game to PlayStation. Rachel has now joined the team full time as art director and helped us balance new lighting to improve the game but also keep the style of the original release. Rachel had worked on areas of the original version of the game and the PlayStation release gave her the chance to revisit her work, balancing new lighting that was still in keeping with the original's style.
Here's what she has to say about the new version:
---
"When we heard that we had the chance to bring Paradise Killer to PlayStation we got really excited about the potential of some of the visual improvements we could add to the game. Now that it's all ready to go, we can't wait to show you the new-and-improved Paradise Island. We were conscious not to lose the charm of Paradise Killer's visual style however, it's still the nostalgic Paradise Island that players know and love, but with some visual tweaks to polish it up and make a new, shinier version of it. My favorite change is the new and improved lighting and ray tracing, it really makes those sunset island views come alive that little bit more!"

– Rachel Noy, Art Director
---
We use Unreal 4 to bring Paradise to life – with the move to PlayStation we've made great use of all the very latest technologies on offer, plus a few custom additions to ensure the shiniest rendering at the glossiest of framerates. We've taken some things out too – like loading screens. If anything, the world loads too fast now. What if I miss loading screen tips?
We definitely didn't want to just release Paradise Killer with just technical improvements though. We have been blown away by the reaction to the game and wanted to add some extra cool stuff in. I want to be a little cryptic here because I want to surprise players but there is new music, new skins for your investigation assistant Starlight, new collectables, a new side quest giver that is a ghost [REDACTED] and a bunch of rogue AIs trapped in corrupted vending machines. These dreadful cyber wretches hold the key to unlocking the new belting music tracks by Barry "Epoch" Topping. They are well hidden but are extremely worth hunting down.
We are overjoyed to be releasing PS4 and PS5 versions of Paradise Killer. When we quit our jobs to make this unique game we assumed we would fail to find an audience but we were wrong. Now we get to introduce all of our beautiful freak children like Lady Love Dies, Sam Day Break and Shinji to a whole new group of players. We hope PlayStation owners enjoy breathing life back into Paradise!