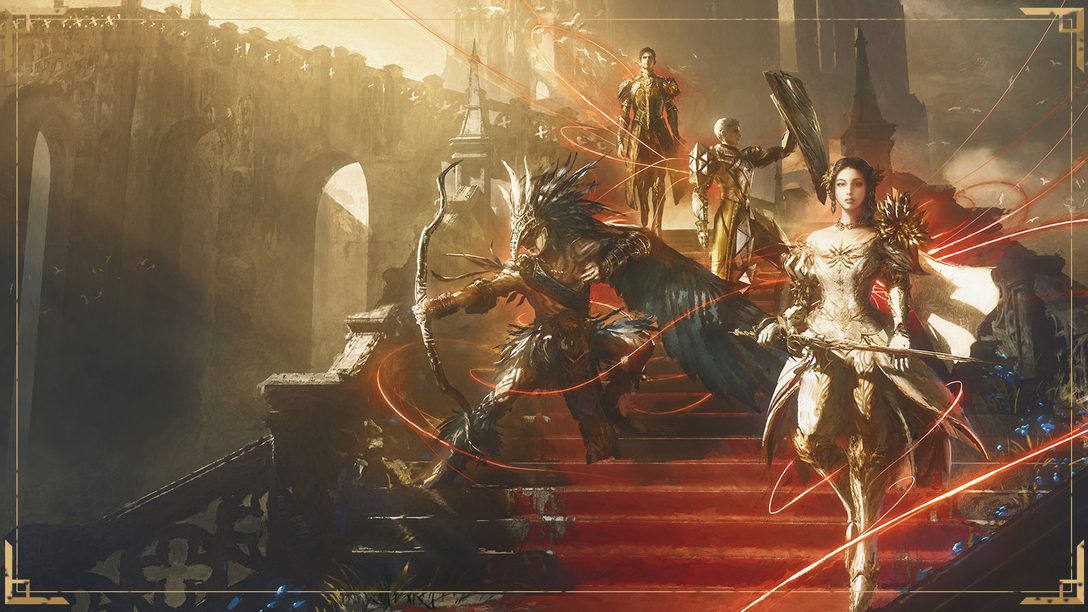 Progress from the demo transfers to the full game when the co-op action-RPG launches March 3.
Hey everyone! Square Enix and PlatinumGames are excited to show you our brand-new Combat 101 trailer for Babylon's Fall and take a deeper look at all things combat. In Babylon's Fall you take on the role of a Sentinel, the once conscripted prisoners of the Empire. A parasitic device called the Gideon Coffin is implanted into your back which grants you unrivaled powers. You need to master your true potential to survive the summit and take on the Tower of Babel.
Load up your arsenal
As the above trailer shows, weapons are your choice as you can quad wield four weapons in Babylon's Fall. Each weapon type has distinct skills and abilities, with endless customization for you to find exactly how you like to play.
Quad wielding not only allows you to customize your playstyle, it also allows you to react to all of the threats that the Tower of Babel will throw at you. Whether it's equipping four of the same weapons or mixing it up, the choice is yours with hundreds of builds available.
However, you'll want to consider the different types of enemies when arming yourself for battle, as you will face all manner of foes from flying to shielded to ranged to melee. Each weapon will be adept at handling different situations, such as striking flying enemies with ranged weapons will yield greater success. While attacking shielded enemies with a hammer will break their guard with ease.
Let's take a closer look at the load out options:
Swords – A great choice for all round combination attacks. New Sentinels will find this suitable for all the dangers thrown at you, however experienced Sentinels might want to add range to their arsenal. Launch your enemies into the air with special Spectral Attacks.
Hammers – For those warriors that seek power over speed, hammers are your friend. Enemies will know when your hammer is at full strength. Strike devastating blows and smash your foes into dust.
Bows – Those who want to pick off their enemies from afar should always bring their trusty bow with them.
Wielding the bow allows a Sentinel to keep out of the heat of battle, by firing off a salvo of arrows at their foes. But for those who seek elemental destruction should look to Rods.
Rods – Offering huge versatility on the battlefield, rods allow you to not only strike from afar but also deliver debilitating debuffs to your enemies or boost your party with powerful buffs. But be aware utilizing the full power of rods is taxing on even the hardiest of Sentinels.
Shields – Don't forget about shields! You can use them to taunt waves of enemies and deploy protective barriers to assist other Sentinels that join you on your adventures. What they lack in offensive capabilities they more than make up for in protecting you and your fellow Sentinels.
Each weapon comes with its own set of stats and enchantments meaning that one sword may differ heavily from another. So be sure to gather as much loot as possible from your adventures.
Specializing in these weapons is going to be key in your ascent of the tower. But be sure to coordinate with fellow Sentinels using emotes (gestures) in-game to work together to handle the toughest of foes.
The Gideon Coffin
You might have heard gutwork mentioned in the trailer, which brings us back to the Gideon Coffin.
This device brings the ability to use gutwork actions to help you master your journey through the tower. Gutwork actions are special actions that utilize the Gideon Gut with various advantages, below are some examples:
Soul Corrupt enables you to channel dark energy into the soul of a tethered enemy. You can weaken them with debuffs.
Use Soul Snatch to tether to a downed or recently killed enemy and gain the ability to steal their HP and SP.
Now you have these fundamentals you'll be ready to begin your ascent of the tower of babel.
Babylon's Fall arrives on March 3. PlayStation owners will have access to a free downloadable demo of Babylon's Fall beginning tomorrow, February 25, with any progress made available to transfer over to the full game.