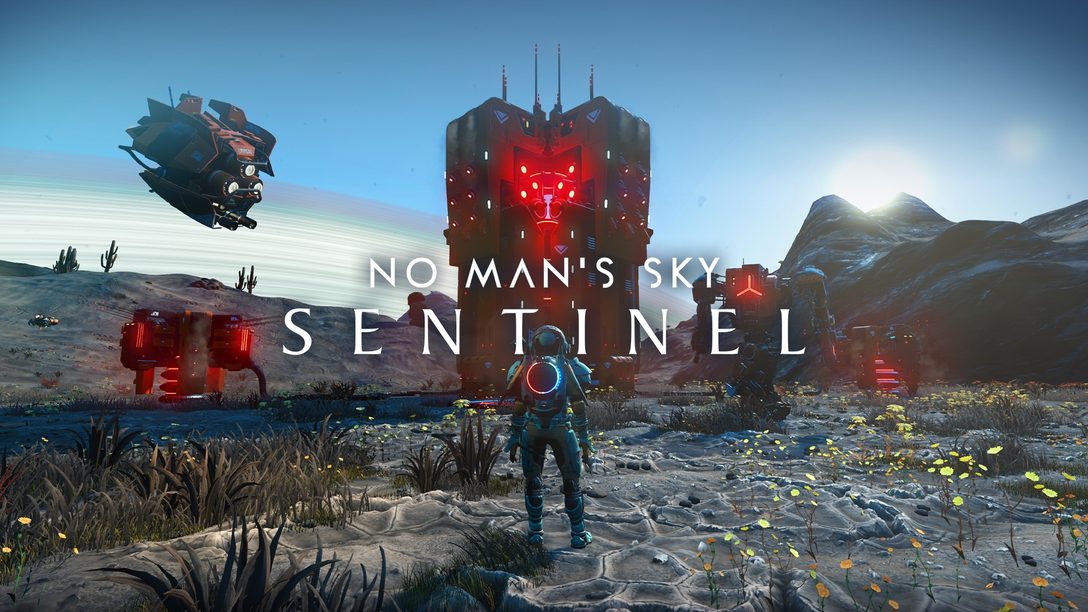 The Sentinels strike back in the latest No Man's Sky combat update.
Hello, we are starting off 2022 as we mean to continue! We are pleased to announce that the first update of the year is available to download for free today for PlayStation 4, PlayStation 5, and PlayStation VR players. It's called No Man's Sky Sentinel.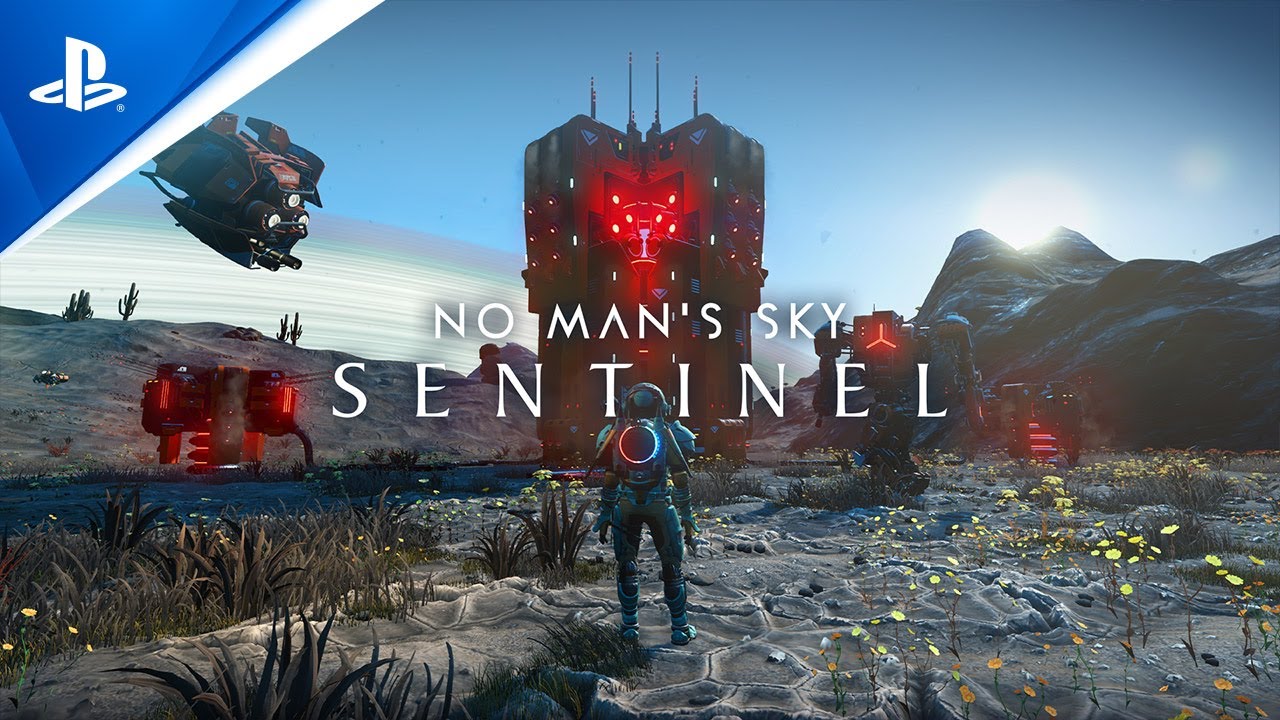 The Sentinel update brings an overhaul of the combat systems in game and enemies you meet, to create something much more challenging and exciting. No Man's Sky is a game about exploration, but our universe has always been one filled with hazards and danger. Sentinels police the planets you explore, and have long been an element of the game we wanted to make more interesting, deep, and fun – whilst also allowing players to defeat and overcome them in a more meaningful way.
Fortunately this update comes with a huge array of combat improvements and enhancements for the battle-scarred Traveller. You have access to new weapons and upgrades, like the high-energy Neutron Cannon, an active camo cloaking device, and a new electrifying stun grenade. You can even install an AI in your own Minotaur Exomech and have it protect you in combat.
Sentinels have become more formidable too. You'll need to fight against new elite classes of drone – including heavies, summoners and repair units – and even against their own fearsome Hardframe Exomech. Sentinels now deploy their own mobile energy shields, and have access to new weaponry, such as terrain-destroying grenades and a plasma-powered flamethrower. And for the brave, the locations of mysterious Sentinel PIllars have been made known, with exclusive rewards and mysterious stories awaiting those who would breach its robotic archive.
With the Sentinel update, players will learn about the lore of how Sentinels came into being. As you work through a substantial chain of new story-driven missions, you'll have the chance to re-programme and adopt your very own friendly AI drone, as well as salvaging parts to create defences of your own.
There is also a new Exobiology Expedition launching next week, with a ton of exclusive new rewards.
This is a huge update, but here are just some of the additions:
Sentinel Hardframe Mech
Battle against a brand new robotic enemy – the huge, heavily armoured Hardframe mech. Equipped with lasers, terrain-destroying grenades, and a plasma-powered flamethrower, this fearsome new Sentinel launches itself across the battlefield with a high-powered jetpack.
Total Visual Overhaul for Weapons
All Multi-Tool systems, from the Mining Laser to the Scatter Blaster, have received a significant visual overhaul, benefiting from new projectiles and beams, muzzle flashes, lighting effects, refraction, new impacts and more.
Advanced Combat Upgrades
New upgrades add depth to combat, with the ability to add stun or incineration effects to your existing weapons, or to set up your Multi-Tool to deal extra damage to targets you've previously tagged. Or, take advantage of the new Cloaking Device to vanish mid-fight and gain the strategic upper hand.
AI Robotic Companions
Players can reassemble and reprogram their own friendly robotic drone companion, or go one step further and salvage Sentinel Hardframe parts to build their own autonomous AI-powered giant mechanical escort.
New Stories and Missions
Work with the crew of the Space Anomaly on a substantial new story-driven mission, or raid the sinister Sentinel Pillars to access their archives and probe the secrets of the Atlas and the World of Glass…
Combat Flow and Feel Improvements
A vast list of tweaks and refinements have been made to weapon feel and flow, making for a more dynamic and impactful combat experience.
New Drone Enemies
Regular Sentinel units have been overhauled, with heavy combat and shield drones, dedicated repair drones, and even advanced summoning units joining the existing patrol drones.
Last year saw the No Man's Sky team releasing a ton of updates (including Companions, Expeditions, Prisms, Frontiers) and our first expeditions (like Beachhead, Emergence, Pioneers, Cartographers). I don't doubt that 2022 will be just as productive for our small team.
We look forward to seeing our PlayStation communities take on the reinforced might of the sentinels in this, the 18th No Man's Sky update.
Our journey continues.