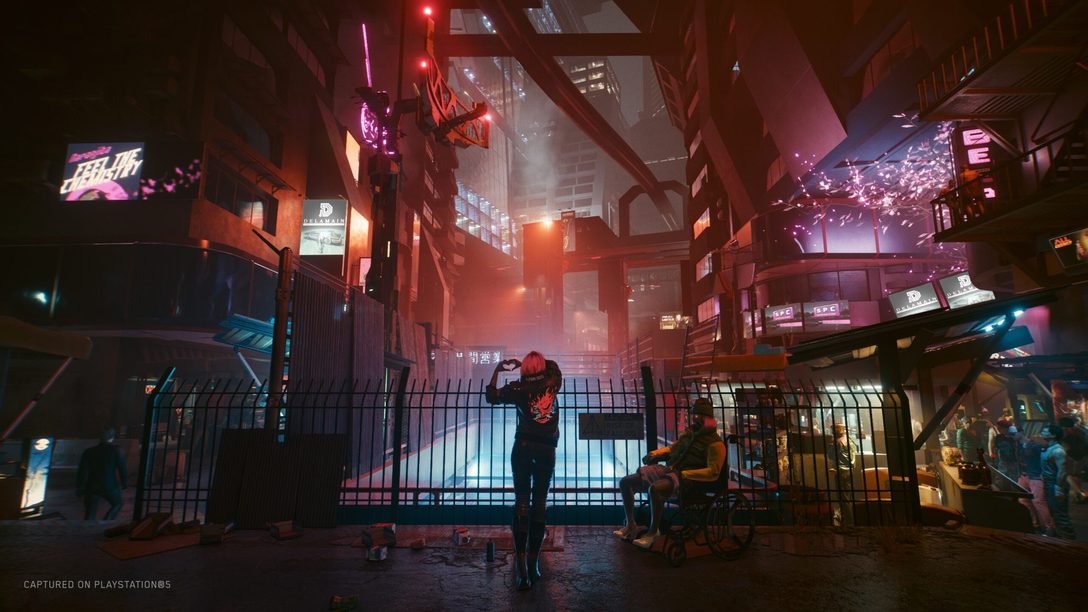 CD Projekt Red details next-gen enhancements — and more — coming to Night City today.
Night City's a place like no other. It's a ruthless one, for sure, where corporations rule and oppress the populace and gangs own the streets. It's also a place of endless opportunity, especially for someone like you — V; a cyber-enhanced mercenary looking for a shot at the big leagues. But one false step is all it takes to go from diggin' Night City to diggin' your own grave. Still, life around here's too short to play it safe, and with Cyberpunk 2077 just now hitting next-gen on PlayStation 5, there was never a better time than now to sink your teeth into what the most dangerous megalopolis of the dark future has to offer.
The next-gen version of Cyberpunk 2077 comes equipped with an assortment of enhancements made possible by the extra power of the PlayStation 5 hardware. Visuals and performance have received an upgrade across the board, with dynamic 4K resolution scaling, improved reflections, and SSD-fueled loading times, to name a few. There's more, of course, as gamers are now able to choose between two Graphics Modes to play in, adding further to the list of enhancements on offer with ray-traced local light shadows in Ray Tracing mode, or gameplay targeting 60 FPS in Performance Mode.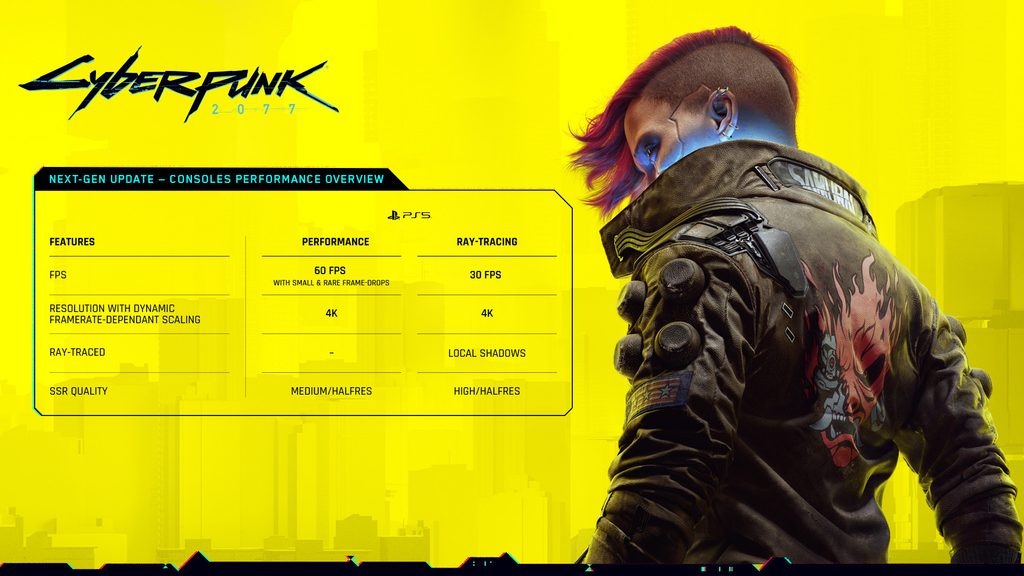 With Cyberpunk 2077 on PlayStation 5 you'll not only be able to see Night City come to life like never before — you'll also feel it. The DualSense wireless controller's haptic vibrations bring a new level of sensations to the palms of your hands, while the adaptive triggers will react uniquely depending on a multitude of factors: type of combat — ranged or melee — or whether you're driving a car, exerting different amounts of pressure for each weapon, action, and vehicle. So whether you're firing a Militech M-10AF Lexington or slicing through an enemy with a katana; driving a Makigai Mai Mai P126 versus the Rayfield Caliburn — you'll feel the difference.
You'll also hear the difference, too, thanks to two new audio features in the PlayStation 5 version. Utilizing the Tempest 3D AudioTech engine grounds players deeper within the world of Cyberpunk 2077, and does so whether they're playing with 3D audio-enabled headphones or even built-in TV speakers. And coming back to the DualSense controller, there's the built in microphone which will now come into play whenever there's a holocall or message coming in, which is the next best thing to listening to these directly in your head!
Like we said, Night City is a dangerous place with lots of things to see and do. It's a good thing, then, that on PlayStation 5 we've added support for Activity Cards. These'll help you keep track of what it is you're currently up to in the game in and out of it, and where your progress with a particular activity is at. Chances are that sometimes the city will bring you to your knees — you won't be the first. But that's where Game Help comes in, with detailed info on how to not just get by, but do so in a style worthy of a Night City legend.
In addition to the next-gen enhancements and PlayStation 5-exclusive features, this latest version of the game also comes with a slew of gameplay tweaks and quality of life changes. Think, improved AI and crowd reactions, tweaks to the UI, map usage and the open world, new interactions with potential love interests, as well as improved Fixer and Gig gameplay and rewards. And did we mention new pieces of free additional content added, too, like bonus rentable apartments for V, new weapons and gear, and new customization options?
So you see, even if you've been to Night City before there's plenty to look forward to experiencing for the first time and falling in love all over again. Best thing is, if you're a current owner of Cyberpunk 2077 for PlayStation 4, disc or digital, you can transfer your save to the PlayStation 5 version and continue exactly where you left off! Wanna know what's even better? All current owners of the PlayStation 4 version are entitled to a next-gen upgrade available right now — completely free!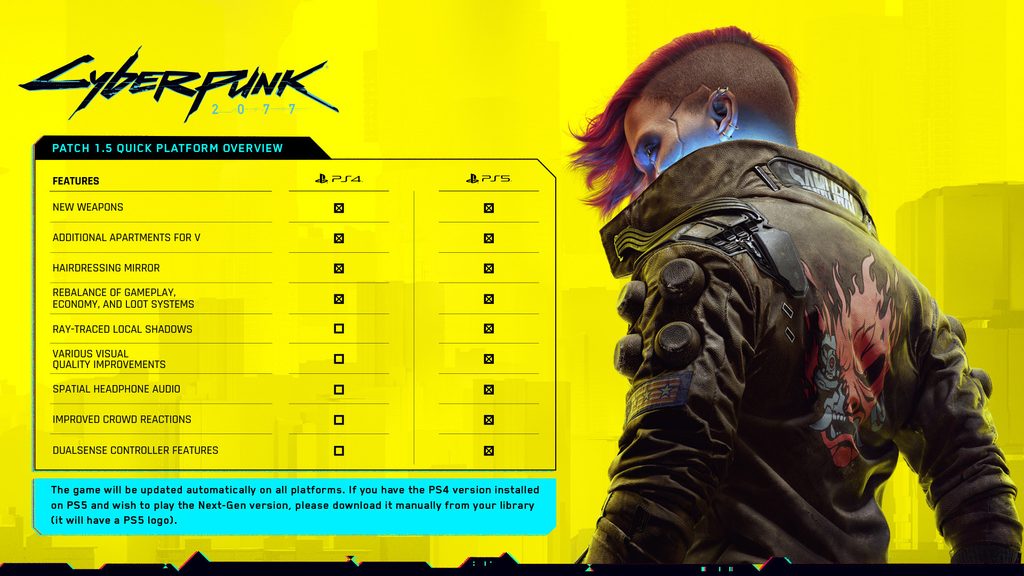 If you don't yet own Cyberpunk 2077, and want to experience the next-gen version right now, you can buy the dedicated PlayStation 5 release this very moment directly off the PlayStation Store. If, however, you'd like to see if it's a game for you first, there's currently a free trial version available until March 15, giving you 5 hours of otherwise unrestrained access to the game and all its features. If you liked what you played, you'll be able to purchase the full version and with your progress carried over — continue playing like you never stopped.
If you'd like to know more about the next-gen version of Cyberpunk 2077 or the free next-gen update and trial, we've got a dedicated website set up with any and all additional information you need to get your cyberpunk career off the ground — or keep it going — on PlayStation 5.
See you in Night City!