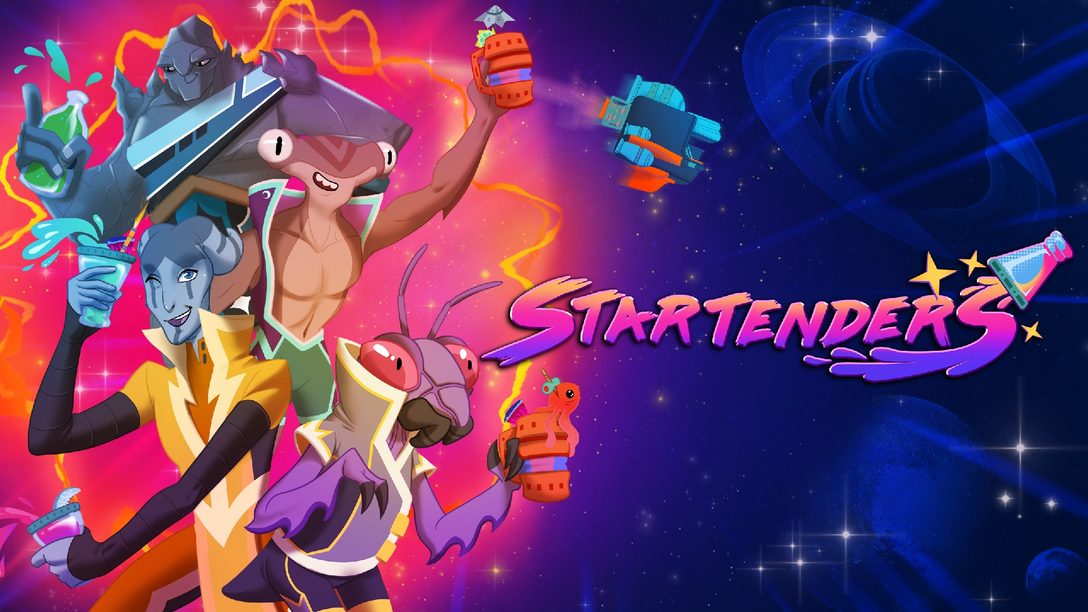 Be the bartender at an intergalactic cantina in this PlayStation VR game launching next month.
Hi PlayStation Blog readers! I'm Chris Youles, co-founder of Foggy Box Games and creative director on Startenders. We're a small core team of five from the UK and we're super happy to finally show the galaxy our latest game Startenders, releasing March 17 for PS VR on PS4 and PS5.
At its heart, Startenders is an intergalactic bartending game with a key focus on getting the player moving around and using machines, pouring drinks and memorizing the bar. The game allows you to enjoy the life of a cosmic mixologist – with a narrative that runs alongside your progression, albeit one you can take at your own pace.
The core design of Startenders revolves around what we think current VR is great at: big, physical interactions. The entire cocktail making process had to feel great and it was a key pillar in our design philosophy. We use a variety of interaction techniques in Startenders, like big satisfying levers or physical buttons you can smash with your hand or any object you can think of for that matter.
We have 100 recipes in Startenders and we use unique iconography to give the player a clear way to represent each of our 32 ingredients, 13 garnishes, 12 machines and 3 cups. That's a lot of icons, but it gives us a way to represent a vast number of recipes to the player that are easy to read in the fast paced world of Startending.
The open ended nature of Startenders meant we couldn't create our own shifts otherwise you'd end up doing the same ones over and over. So each shift is procedurally generated from a seed which dictates the recipes, customers and location. Every drink is rated for complexity and you'll get harder recipes as you progress. Don't worry though, you can set the difficulty for the shifts if you're finding it too hard! And you're not entirely on your own – your AI assistant R.I.L.E.E will help you along the way.
You'll encounter many unique ingredients in Startenders, each with their own behaviors that will make you think about how you slice, shake and serve. You'll have an arsenal of machines at your disposal, each with upgrades that you can choose to purchase. You'll have to contrast these machines yourself in the workshop though.
It's not all hard work, though. In between shifts we wanted the player to be able to relax, so we made the habitat. In the habitat the player can buy new ingredients, build upgrades to their bar machines or relax and unwind by doing some of the many activities in the room.
Startenders isn't just an open-ended story, we also have some game modes that will have you coming back over and over again. Daily play will generate the same shift everyday for every Startender – you get one chance to put your best score on the leaderboard until it refreshes the next day! If you have more than one budding Startender in your social circle then you can play our Pass The Headset social mode. Each player will do the same shift and the winner is the player with the most tips.
If you're ready to enroll you can pick up Startenders on March 17 for $14.99/£11.99/€14.99 at PlayStation Store.