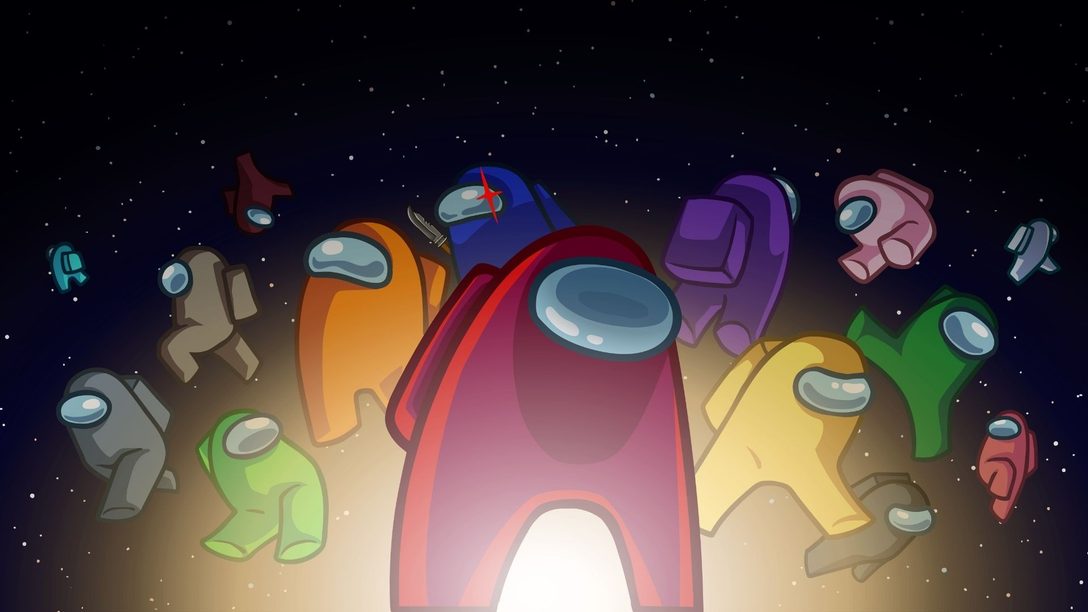 Hidden identities, Super Heroes, and sports top last month's downloads.
Greetings! Question for you: Do you like… tables? No, not like dinner tables. Like, the tables that always seem to be really hard to get to show up right in presentations, essays, blog posts… yeah, those tables.
Well, we've got some fresh ones for ya. Read on and see which games moved the most copies at PlayStation Store in the first month of this here new year, and hit the comments to share your predictions for February. 'Til next time!
PS5 Games
| | US/Canada | EU |
| --- | --- | --- |
| 1 | Marvel's Spider-Man: Miles Morales | Among Us |
| 2 | Among Us | FIFA 22 |
| 3 | NBA 2K22 | Marvel's Spider-Man: Miles Morales |
| 4 | Madden NFL 22 | F1 2021 |
| 5 | Five Nights at Freddy's: Security Breach | It Takes Two |
| 6 | Tom Clancy's Rainbow Six Extraction | Five Nights at Freddy's: Security Breach |
| 7 | Call of Duty: Vanguard | Call of Duty: Vanguard |
| 8 | Star Wars Jedi: Fallen Order | Tom Clancy's Rainbow Six Extraction |
| 9 | FIFA 22 | Star Wars Jedi: Fallen Order |
| 10 | Mortal Kombat 11 | Tom Clancy's Rainbow Six Siege |
| 11 | Demon's Souls | Metro Exodus |
| 12 | It Takes Two | Kena: Bridge of Spirits |
| 13 | Tom Clancy's Rainbow Six Siege | NBA 2K22 |
| 14 | Ghost of Tsushima DIRECTOR'S CUT | HITMAN 3 |
| 15 | Assassin's Creed Valhalla | UNCHARTED: Legacy of Thieves Collection |
| 16 | UNCHARTED: Legacy of Thieves Collection | Assassin's Creed Valhalla |
| 17 | HITMAN 3 | Demon's Souls |
| 18 | Kena: Bridge of Spirits | FAR CRY 6 |
| 19 | Ratchet & Clank: Rift Apart | Mortal Kombat 11 |
| 20 | Returnal | Ghost of Tsushima DIRECTOR'S CUT |
*Naming of products may differ between regions
*Upgrades not included
PS4 Games
| | US/Canada | EU |
| --- | --- | --- |
| 1 | Grand Theft Auto V | FIFA 22 |
| 2 | Marvel's Spider-Man: Game of the Year Edition | Among Us |
| 3 | Minecraft | Grand Theft Auto V |
| 4 | Among Us | The Witcher 3: Wild Hunt – Game of the Year Edition |
| 5 | Gang Beasts | Minecraft |
| 6 | The Witcher 3: Wild Hunt – Complete Edition | Marvel's Spider-Man: Game of the Year Edition |
| 7 | NBA 2K22 | The Forest |
| 8 | Madden NFL 22 | Red Dead Redemption 2 |
| 9 | Call of Duty: Vanguard | Gang Beasts |
| 10 | Marvel's Spider-Man: Miles Morales | Need for Speed Payback |
| 11 | Five Nights at Freddy's: Security Breach | F1 2021 |
| 12 | Red Dead Redemption 2 | A Way Out |
| 13 | The Forest | The Crew 2 |
| 14 | Injustice 2 | Horizon Zero Dawn Complete Edition |
| 15 | FIFA 22 | Need for Speed Heat |
| 16 | Five Nights at Freddy's | Marvel's Spider-Man: Miles Morales |
| 17 | Horizon Zero Dawn: Complete Edition | Five Nights at Freddy's: Security Breach |
| 18 | Dying Light | Call of Duty: Vanguard |
| 19 | For Honor | Dying Light |
| 20 | STAR WARS Battlefront II | Assassin's Creed Odyssey |
*Naming of products may differ between regions
PS VR Games
| | US/Canada | EU |
| --- | --- | --- |
| 1 | Beat Saber | Beat Saber |
| 2 | Job Simulator | Job Simulator |
| 3 | Creed Rise to Glory | SUPERHOT VR |
| 4 | SUPERHOT VR | Creed: Rise to Glory |
| 5 | Swordsman VR | Swordsman VR |
| 6 | Rick and Morty: Virtual Rick-ality | Rick and Morty: Virtual Rick-ality |
| 7 | Zenith: The Last City | Sniper Elite VR |
| 8 | GORN | Astro Bot Rescue Mission |
| 9 | ASTRO BOT Rescue Mission | GORN |
| 10 | Drunkn Bar Fight | Fruit Ninja VR |
Free-to-Play (PS5 + PS4)
| | US/Canada | EU |
| --- | --- | --- |
| 1 | Fortnite | PUBG: BATTLEGROUNDS |
| 2 | PUBG: BATTLEGROUNDS | Fortnite |
| 3 | Yu-Gi-Oh! Master Duel | Yu-Gi-Oh! Master Duel |
| 4 | Call of Duty: Warzone | Rocket League |
| 5 | Rec Room | Call of Duty: Warzone |
| 6 | Rocket League | Rec Room |
| 7 | Apex Legends | eFootball 2022 |
| 8 | Genshin Impact | Genshin Impact |
| 9 | Destiny 2 | Apex Legends |
| 10 | Brawlhalla | Brawlhalla |